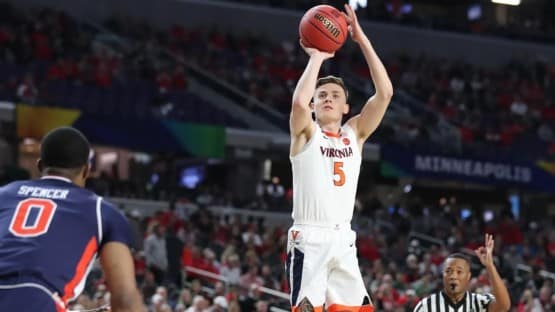 UVA basketball alum Kyle Guy was held in check in Game 2 of the ACB semifinals on Thursday, scoring five points for Joventut Badalona in a 90-73 loss to Real Madrid.
Guy, a 2019 UVA hoops alum, had exploded for 30 points in a 93-83 Game 1 win on Tuesday, the scoring output fueled by 8-of-13 shooting from three-point range.
In Thursday's Game 2 loss, Guy was just 1-of-7 from the field, including 1-of-5 from three.
Game 3 in the series between Joventut Badalona (19-15) and Real Madrid (28-6) is set for Saturday.
The winner of the best-of-five semifinal series will play the winner of the series featuring top seed Barcelona (29-5) and #5 seed Unicaja (24-10) in the finals.
Joventut Badalona, the #7 seed in the ACB Spanish pro league, upset the #2 seed, Baskonia (29-5), in the playoff quarterfinals with a two-game sweep.
Guy, who spent his first three pro seasons splitting time between the NBA and the G League, is averaging 12.8 points and 2.2 assists per game for Joventut Badalona, shooting 48.0 percent from the field and 38.0 percent from three-point range in league play.