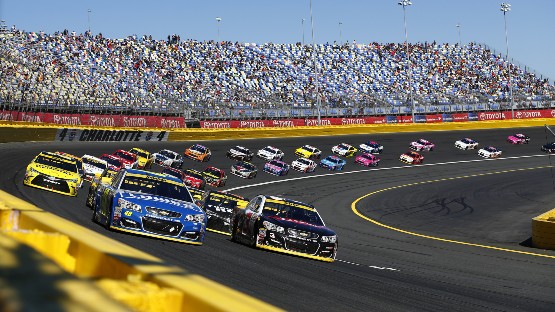 Joe Gibbs Racing driver Christopher Bell won his third straight pole position of the season Friday and will start from the top spot in Saturday's Bass Pro Shops Night Race at Bristol Motor Speedway.
Bell, driving the No. 20 Toyota turned a lap of 126.997 mph (15.174 seconds) around The World's Fastest Half-Mile claiming his fifth pole position of the season and ninth of his career. He also won the Bristol Dirt Race this spring, has two top-5 and four top-10 finishes in seven Bristol Cup Series starts.
"I just have really, really great Camrys to drive," Bell said. "This is my favorite race of the year – the Bristol Night Race. It's the most intense race of the year. I tell everyone this needs to be on their bucket list."
Bell and fellow teammate Denny Hamlin will make up the front row for the Bass Pro Shops Night Race (starting time 6:35 p.m., on USA Network on TV, PRN Radio on over-air radio and Sirius XM). The race's start time was bumped up one hour earlier Friday due to forecasted inclement weather late Saturday.
Saturday's Bass Pro Shops Night Race is the centerpiece of The Last Great Colosseum's NASCAR weekend, which marks the first time Bristol has hosted playoff rounds in all thee of NASCAR's top series. In addition, the race is the first cutoff race of the 2023 NASCAR Cup Series playoffs, with the number of championship contenders dropping from 16 to 12 following Saturday's checkered flag.
Drivers with earlier playoff victories such as Kyle Larson and Tyler Reddick have already secured advancement to the Round of 12. Martin Truex Jr., the Cup Series' regular season champion, is seven points below Kevin Harvick in 12th place, the last spot for advancement and has endured many troubles as of late, dropping in the standings hanging on for dear life.
"We just had two terrible races," commented Truex, who will start fifth on Saturday. "You can't afford to have two bad races. Hopefully [Saturday] night goes better. It's a terrible spot to be in."
Another Toyota driver, Bubba Wallace is 19 points behind the final spot, with Ricky Stenhouse Jr. trailing by 22 points back and Michael McDowell 40 points behind. Among other championship contenders, William Byron will start third, Brad Keselowski will start sixth and defending Cup Series champion Joey Logano will start 28th.
Bell and defending Night Race champion Chris Buescher are 13 points above the cutline for advancement.
"This is my favorite race track," said Buescher, who will start 20th. "Our cars are always competitive here. There's a lot riding on this race. You have to go out and run 100 percent. We need to race up front and grab stage points early.
"[This race] hits a little different for me. The Bristol Night Race is at the top of my bucket list to me. Now that we got one, we want another one."
Kyle Larson, who was quickest in practice, had trouble in the middle of a turn with a left rear tire issue and qualified last in 36th.
The Bristol's Cup Series qualifying record is held by Ryan Blaney, who turned a lap of 132.075 mph (14.528 seconds) in 2019. Blaney, who is also a championship contender, will start 11th on Saturday.
"We're 25 points to the good," Blaney said earlier this week. "Twenty-five points can go away just like that if you have an issue early in the race. I feel like you can never really be too safe."
Other Notes about Bristol Motor Speedway and NASCAR
There had been much speculation about the Spring Race after the Dirt Race was held in April. After three years on dirt, Bristol will revert back to concrete for the Spring and the Fall Races in 2024.
Questions began flying after the announcement of the removal of the dirt race if Bristol would continue to host a NASCAR Spring race. Now the speculation and questions have been laid to rest thanks to BMS President and General Manager Jerry Caldwell who released the following statement on Friday before the NASCAR Xfinity Race.
"As the motorsports world focuses on America's Night Race tomorrow (Saturday), we are thrilled to announce Bristol Motor Speedway will host the return of the Food City 500 on the concrete high-banks of the World's Fastest Half Mile in the spring of 2024," said Bristol Motor Speedway President and General Manager Jerry Caldwell. "We will revive a logo reminiscent of the first Food City 500s in the early '90s and resurrect the track's vintage trademark look and feel of the era. We're looking forward to a great weekend of racing and what's to come in 2024."
As for a date, speedway officials said discussions are ongoing but there will be two races at Bristol in 2024. The 2024 Official NASCAR Schedule should be released in the next few weeks.
The Food City 500 is one of the longest continuously running race sponsorship in the modern day NASCAR era.  With the ever changing sponsorship picture and team sponsorship changing daily, The Food City 500 sponsorship is one of the most recognizable business sponsorship in the sport.