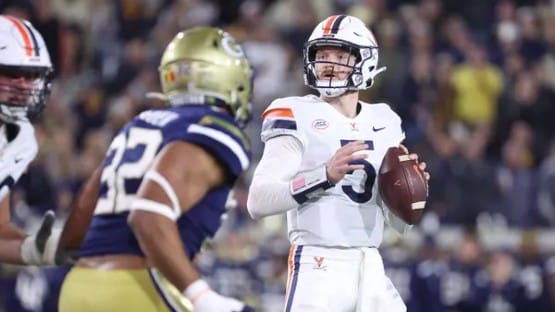 Brennan Armstrong left Virginia for NC State via the transfer portal to reunite with his former offensive coordinator, Robert Anae, which you'd assume he would hope would get him back on track toward a shot at an NFL job.
Two games in, the Armstrong move doesn't appear to be working out at all.
"I played like crap. I threw three picks. You're not gonna win the game if you put your defense in a tough spot," BA told reporters after the Pack's 45-24 loss to Notre Dame in Week 2.
Armstrong was 22-of-47 passing for 260 yards and two TDs in addition to those three INTs, a week after putting up so-so numbers in State's 24-14 win over UConn – Armstrong was 17-of-26 for 155 yards in that one.
His rushing numbers – BA leads the team with 122 yards rushing on a team-high 31 attempts – will look familiar to Virginia fans.
Anae, dating back to the Bryce Perkins days, used his QBs as his primary ball-carriers in his take on the Air Raid, to the consternation of so many.
The approach puts enormous pressure on the QB to basically do all of the heavy lifting, both in the passing game and on the ground.
Armstrong is at least used to what he's being asked to do, having run Anae's system for two years as a starter, and serving as Perkins' understudy for two years before that.
State's receivers still seem to be getting used to their responsibilities in the offensive scheme, with the receiver group having noticeable issues getting separation in the read-and-react offense, and with drops – eight drops, to date, through two games – being a major issue.
That's the kind of thing that will come with repetition and timing, but it is notable that State is still having these issues two games in after having a full spring and full training camp to get the offense installed.
State at least gets a bit of a breather in terms of competition level this week, with the Pack hosting VMI, an FCS program, in Carter-Finley Stadium on Saturday, ahead of next week's matchup with UVA in Charlottesville on Friday, Sept. 22.
That one will be an obvious emotional homecoming for Armstrong, Anae and Garett Tujague, who was the offensive line coach at Virginia for six years before leaving to reunite with Anae down in Raleigh.
Armstrong and Tujague were last on the field at Scott Stadium on Nov. 12, for a 37-7 UVA loss that opened with Armstrong throwing picksixes on the first two plays from scrimmage to get Pitt on top to stay.
Anae's last game in Charlottesville was the 29-24 loss to Virginia Tech in 2021 that ended with the UVA offense failing on four shots from the Tech 10 in the game's final minute.
Armstrong passed for 400 yards in that one, the capper to his record-setting 2021 season – in which he passed for 4,444 yards and 31 TDs, drawing speculation that he may leave school early to take a stab at landing an NFL job in the spring of 2022.
Instead, Armstrong decided to hang around for one more run at Virginia after Tony Elliott got the job, ahead of a miserable 2022 season at UVA under new offensive coordinator Des Kitchings that saw his season passing yards total more than halved (2,210 yards) and his TD-pass total drop from 31 to a ghastly seven.