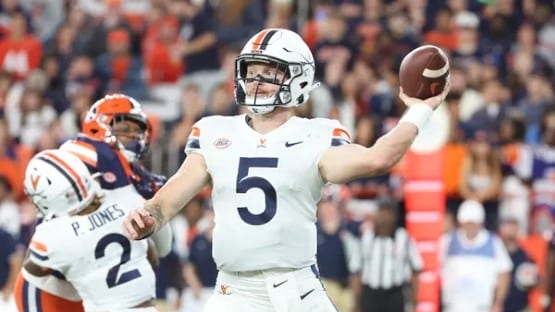 UVA football fans who fondly remember the great offense from 2021 – seems like a different lifetime now, doesn't it? – might want to keep their eyes on what's going on down at NC State, where offensive coordinator Robert Anae has gotten some of the band back together.
Anae, who spent last season at Syracuse, hired Garett Tujague away from Virginia to be his offensive line coach, and then landed Brennan Armstrong, the starting QB at UVA for the past three seasons, off the transfer portal to run Anae's Air Raid down in Raleigh.
The trio are being looked upon by State coach Dave Doeren to breathe some life back into the Pack's offense, which averaged a paltry 339.8 yards per game in 2022, ranking 11th in the ACC, one spot behind Virginia, to put in perspective how bad things were for them last year.
Armstrong, after putting up video-game numbers in 2021 running Anae's Air Raid at UVA, throwing for 4,449 yards and 31 TDs, never did get comfortable in new head coach Tony Elliott's pro-style offense, seeing his passing yards per game cut nearly in half, his completion rate drop from 65.2 percent to 54.7 percent, and his TD total fall all the way down to, gulp, seven.
It was no surprise that Armstrong decided to enter the transfer portal in December, and also wasn't a surprise that he ended up using his COVID-redshirt season to run it back with Anae, to try to reclaim the magic that they had together in 2020 and 2021, with an eye on putting himself back on track for a shot at a job in the NFL.
"I mean, at the beginning when I was a freshman/sophomore, I used to hate him. He knows that. He was on me all the time," Armstrong told reporters at the ACC Football Kickoff in Charlotte this week, describing his relationship with the enigmatic Anae, who can, yes, be a bit demanding.
"It grew as I got older, and now it's honestly a great relationship," Armstrong said.
"It was weird, I said this before, it was weird going into the NC State facility and then seeing Coach Anae, a familiar face in a different area. That was a little weird for me, and just a new experience."
Speaking of weird, it was weird for me to see Armstrong step out of the van with the NC State contingent when they arrived at the Westin Charlotte for the Kickoff event Wednesday evening.
Last year, Armstrong was at the Kickoff with the guys in the orange and blue talking about how he wanted to build on that mega-successful 2021 season to set the Elliott era off to a nice start.
Then on Thursday, I was sitting beside Armstrong, decked out in red and white, on radio row, being asked by Richmond sports radio host Adam Epstein how much Virginia football was going to miss the guy to my right, who was talking with another radio host.
My answer, which went on for a couple of minutes, could be boiled down to: a lot.
Doeren, when it was his turn to talk to reporters in the big ballroom at the Westin, set the expectations for what Armstrong, Anae and Tujague can bring to the State offense about as high as he could.
"I think the ceiling is being the best in the league. That's our goal," said Doeren, whose team finished 8-5 in 2022 even with the lack of production from his offense.
"We can't control the stats and all the things outside of the ACC. We got to try to win the ACC," Doeren said.
"Our goal is always going to be to be the best statistically in the areas that we consider important. So, I know Coach Anae has his pillars on offense that he preaches to these guys that they're going to be working hard to attain."
Doeren brought Armstrong in to replace four-year starter Devin Leary, who missed the final seven games of the 2022 season with a torn pec that required surgery, then surprised a lot of us when he decided to transfer out before landing at Kentucky in the offseason.
Leary started the 2022 season at State with outsized expectations from his own big 2021 – he passed for 3,433 yards and 35 TDs, with just five INTs, as that State team came home to a 9-3 finish.
But even before the injury, Leary was having just a so-so, for him, 2022 – his completion rate dropped from 65.7 percent to 61.1 percent, his TD:INT ratio was a respectable 11:4, but that was a noticeable drop from his 2021, and his passing yards per game was also down, from 286.1 yards per game in his 12 starts in 2021 to 227.0 yards per game in the five games that he started and finished in 2022.
Armstrong, with four years, including his redshirt year, in 2018, in Anae's system at Virginia, arrived in Raleigh with a wide base of knowledge in how the coordinator wants things done.
He introduced himself to his new teammates by putting his head down and earning their respect the hard way.
"Going back to the winter runs, we put him in a competition, and he was winning every rep," Doeren said. "You see how he cheers on his teammates when they win things, and his excitement level for that. How hard he competed in spring ball, and you would see him coaching guys. The way he goes about his business is where the respect for me is."
"I think Coach Doeren hit it. My coming into the team, I just put my head down and worked hard, and now I'm just trying to start, I've kind of started to be a vocal leader," Armstrong said, who made his mark even as the backup to Bryce Perkins his first two years at UVA with his intensity.
"I kind of said this a few other times out there, I was starting to, I think I'm going to start showing a little bit more fiery side of me," Armstrong said. "I've been cool, calm, and collected. I don't want to scare some guys on game day if I get fired up out of nowhere because technically that's how I play.
"I've been kind of playing it cool, so I think I'm going to incorporate that here in the fall camp and just continue to be a voice, try to instill confidence and just determination on the offensive side," Armstrong said.
The way the schedule works out, Armstrong, Anae and Tujague get the chance to say hi to the folks they still know at UVA in Week 4 when State comes to Charlottesville to face the 'Hoos on a Friday night.
Anae's last game in Charlottesville was the 29-24 loss to Virginia Tech in the regular-season finale in 2021 that ended with Virginia failing to score on four tries from the red zone in the final minute.
Armstrong and Tujague's last game at UVA was the Nov. 12 loss to Pitt that started with Armstrong throwing pick-sixes on the first two snaps from scrimmage.
That one was a day ahead of the tragic mass shooting on Grounds that claimed the lives of UVA football student-athletes Devin Chandler, Lavel Davis Jr. and D'Sean Perry, and led to the understandable decision by the athletics department to cancel the final two scheduled games of the 2022 season.
Armstrong still keeps up with a number of his former teammates, noting that what happened last fall "made us definitely become closer," but as far as the Sept. 22 game, "it's another game."
"I think every ACC game is going to be very important, especially without the divisions now. The top two go to the ACC Championship Game," Armstrong said.
"It's going to be a good experience," he said. "Boos, cheers, whatever comes with it, I'm just there to win a game. That's my mindset going into that game."
His mindset going into the 2023 season: just enjoy it.
That's what he likes the most out of working with Anae.
"He just lets me be me," Armstrong said. "I don't feel confined. I don't feel like I'm locked up at all. I am just allowed to do play how I want to play.
"I think he has a good idea of how I play, kind of my thoughts, and I have a good idea how he thinks," Armstrong said. "Everyone talks about the running quarterback. He lets me run the ball. He doesn't care. He designs things for those things, too, and I think I'm at my best when I'm able to play free and not worried about those type of things, like sliding or anything like that.
"Obviously, there are certain situations to do those things in, and I'm well aware of that, but he just allows me to play free and just lets me go out there and play the game and have fun."