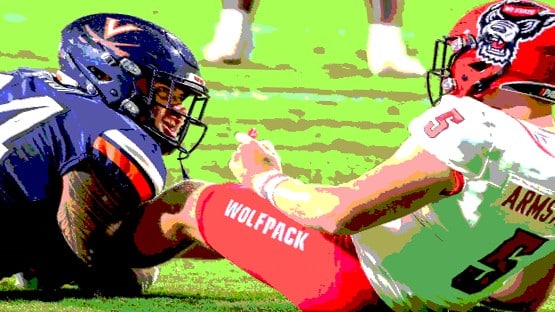 Brennan Armstrong, reuniting with Robert Anae, his offensive coordinator for four years at Virginia, was supposed to get back to where he was back in his record-setting 2021 season, when he looked like a future NFL guy.
He's nowhere near.
Armstrong was 15-of-30 for 180 yards, two TDs and an INT, and had 64 yards on the ground last night in his one and only return to Charlottesville – not awful numbers, but not anything close to what he, Anae or NC State fans expected.
Through four games, BA is completing 60.0 percent of his passes, has five TDs and four INTs, and a pedestrian 119.7 passer rating.
He's averaging an underwhelming 214.8 passing yards per game, actually less than the 221.0 yards per game he averaged last season at Virginia, and still looks like he's thinking rather than playing, which was the big issue for him last year as he struggled to try to pick up Tony Elliott's pro-style offense.
Armstrong is clearly frustrated with himself.
"It is important to win, especially to start in the ACC. I'm bad at taking wins when the offense doesn't do their job. I got to be better at that. But a win is a win," said Armstrong, who told reporters after last night's 24-21 State win that he was still running plays through his head that didn't play out the way they were supposed.
"The game should have been over," he said. "The defense gave us two opportunities to seal the game, and we didn't do that as an offense. There's stuff to improve on. But like you said, you start off the ACC with a win on the road, it's a great thing. It's hard to do. But we got to get better as an offense."
Armstrong averaged 404.5 passing yards per game and passed for 31 TDs in his record-setting 2021 season at Virginia, a breakthrough year that seemed to put him on track toward getting a look from NFL teams.
His decision to return to Virginia after Anae's departure, which came on the heels of the resignation of head coach Bronco Mendenhall at the end of the 2021 season, would end up setting him back toward that end.
Armstrong never did pick up the nuances of the pro-style offense favored by Elliott and installed by the new OC, Des Kitchings.
The reunion with Anae was supposed to solve all of that, but a third of the way through the 2023 season, it just isn't.
The Pack is 11th in the ACC in total offense (381.3 yards per game) and 10th in scoring (29.3 points per game), and Armstrong is 12th in the conference in pass efficiency.
The guy who replaced him as the starter at Virginia, true freshman Anthony Colandrea, a three-star recruit who back in the spring was competing to be the #3 QB on the depth chart, is eighth in the ACC in pass efficiency, running the offense that Armstrong couldn't get the feel for.
"I'll say this, and I mean this with all sincerity, I'm a Brennan Armstrong fan," Elliott said after the game. "He did so much for this University, he did so much for me last year, and he really put his heart and soul into trying to help with the transition, and so really excited to see him get an opportunity to come back. It's kind of weird, and he'd probably even say it's a little bit different coming into the stadium as an opposing guy, but he handled it well."