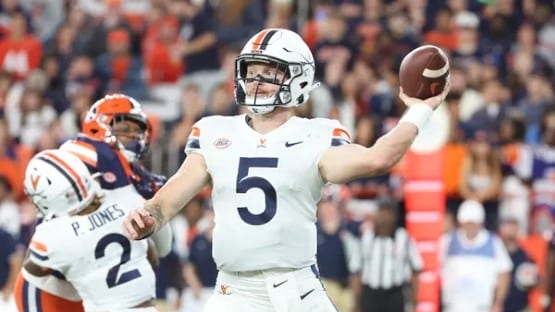 UVA alum Brennan Armstrong had a coolly efficient day throwing the ball, accounting for 264 yards and a TD, as NC State bounced back from an ugly defeat at the hands of Notre Dame, defeating VMI, 45-7, on Saturday.
Armstrong, who transferred to NC State in the offseason after three years as the starting quarterback at Virginia, was 27-of-32 passing on the day, and added 39 yards on the ground for the Pack (2-1).
"It feels good. This game was kind of our bounceback game after coming off a loss against Notre Dame, not playing really well, especially offensively," Armstrong said. "This was a great game for us, to just get back on track and play efficient."
VMI (1-2) got a nice day through the air from QB Collin Shannon, who was 14-of-24 passing for 176 yards in his first start in 2023.
"I give North Carolina State a lot of credit. They are a good football team, and they didn't play down today," first-year VMI coach Danny Rocco said. "I spoke all week about starting fast and striking early, but they did not allow that to happen. It's a talented team, it's a good team and they came with the right mindset today that they were going to set the tempo of the game, and they put us in a place early that we were having to play catch up."
NC State next plays Virginia (0-3) in the ACC opener for both teams, on Friday night in Scott Stadium in Charlottesville.