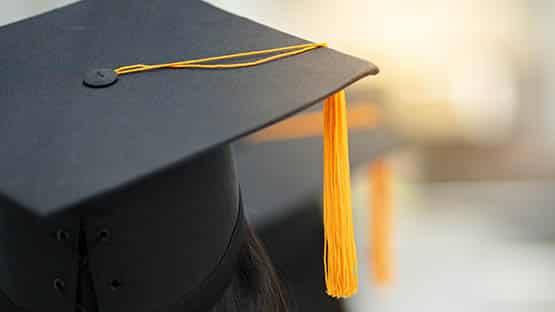 Blue Ridge Community College President Dr. John Downey is usually unsure what to share when someone asks him: What's new?
"But, this year, so many things are new at Blue Ridge Community College that I'm more than comfortable fitting them altogether in an entire presentation focused on that question: what's new?," Downey said at Hotel 24 in downtown Staunton on Thursday morning to guests of a breakfast hosted by BRCC.
First of all, Downey has a new boss: Virginia Chancellor David Dore visited BRCC and 22 other community colleges in the spring.
Downey's priorities for BRCC include doing well in the accreditation process, which occurs every 10 years, addressing the needs of the local community and the college's budget.
Downey shared two achievements of BRCC for 2023: Virginia Business Magazine ranks the Weyers Cave community college as No. 6 best in the Commonwealth.
"That tells me that the college's work to allotting our programs and services to the high demand workforce in college transfer needs to the community is working," Downey said.
And personal finance website WalletHub determined that BRCC is second among Virginia's community colleges.
WalletHub's rankings are best on cost and finances of community colleges in Virginia, and BRCC comes in after Northern Virginia Community College and before Tidewater Community College.
"Those colleges have tremendous resources that Blue Ridge Community College doesn't enjoy," Downey said.
BRCC has new transfer and workforce programs to offer students, including in agriculture, designed to meet the needs of local industry. Augusta and Rockingham counties are the largest agricultural counties in the Commonwealth.
Nine new Associate's of Science degrees will soon be available, as well as one new Associate's of Art degree. Both will address credit transfer concerns for students.
BRCC is also expanding its heavy equipment course offerings at the Weyers Cave campus. The courses enable Virginia to assist supply chain issues which have hurt the American economy in the last two years.
In addressing the nurse shortage in America, BRCC is expanding its openings for a CNA degree.
In a partnership with the Waynesboro Players, community theater shows are performed on campus.
In late October, Shenandoah Cabaret will perform at BRCC to benefit the Shenandoah Hunger Symposium.
Also in the college's Fine Arts building is an art gallery in which is displayed works by students, faculty and community artists.
Exotic animals live on campus with the school's veterinary technology program. The COVID-19 pandemic encouraged many families to adopt exotic pets.
"With that comes a new need to be sure our veterinary technology students are exposed to the health care needs of those animals," Downey said.
BRCC's truck driving program trains 200 truck drivers per year, and is scheduled to have a new $2.7 million training range at the Weyers Cave campus. Previously, the program was conducted at the Augusta County Government Center where a new courthouse will be constructed. The new range will take two years to build. BRCC's program must be out of the government center in Verona by December 2023.
Downey said that what is not new at BRCC is continued dedication and commitment.
With a declining birth rate in the United States, community colleges are important in the training of future members of the workforce. In addition, Downey said that three factors are keeping some Americans out of the workforce: opioid addiction, video game addiction and childcare needs.