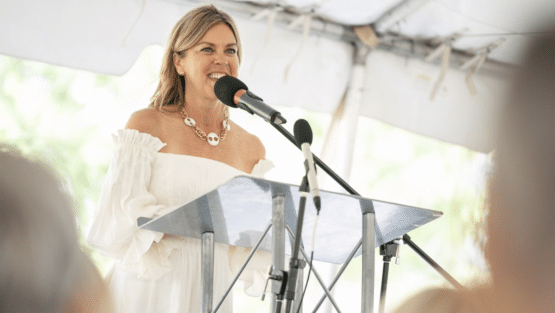 A 2023 Spirit of Virginia Award was given to the Boulder Crest Foundation on Friday.
Boulder Crest, on 37 acres in Bluemont, is a nonprofit retreat facility that serves veterans, first responders and their families. Boulder Crest provides evidence-backed practices to encourage Post-traumatic Growth programming and restoration while conducting invaluable research. The foundation has served more than 3,500 Virginians at no cost to participants.
The award was presented by Gov. Glenn Youngkin and First Lady Suzanne S. Youngkin.
"As we observe September's National Suicide Prevention Week and continue to honor our first responders and military heroes, we acknowledge Boulder Crest as a unique place of natural beauty, community, support and healing," First Lady Suzanne Youngkin said. "We are truly honored to play a small part in the organization's big, 10th anniversary milestone today."
The Youngkins were joined by Secretary of Veterans and Defense Affairs Craig Crenshaw and Secretary of Public Safety and Homeland Security Terrance Cole.
"It is a true honor for Boulder Crest to be recognized with the Spirit of Virginia Award," Boulder Crest Foundation and Board of Directors Chair Ken Falke said. "For this acknowledgement to coincide with our 10th anniversary is incredibly poignant and energizes us as we look to the future. We are deeply grateful that the Governor and First Lady are spotlighting our work as part of their ongoing support for veterans, first responders and their families."
The Spirit of Virginia Award recognizes unique qualities and standout achievements across the Commonwealth and salutes Virginians for uncommon contributions in private industries, education, culture, the arts and philanthropy. Three more awards will be presented in 2023.