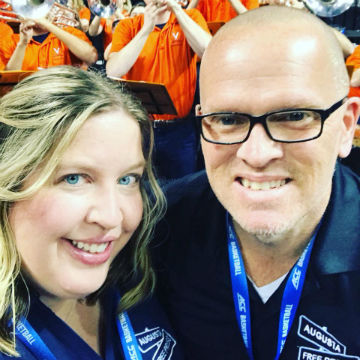 What's it like being backstage at something like an ACC Tournament? You remember those "This is SportsCenter" commercials from back in the day. Like that, on steroids.
Let me take you on a tour.
Wednesday, lunch, media room: "That guy right there," I say to my wife, Crystal, who served as host of our Facebook Live broadcasts and tweeted game updates, photos and videos just about incessantly all week.
I was pointing to Sean McDonough, the ESPN play-by-play guy.
"That," I said, almost muttering, trying to be on the down low, "is the Monday Night Football guy."
I doubt he leaned over at the same point in time to tell Dan Dakich, "Dan, that guy back there, he does VMI games on ESPN3."
Actually, Sean is a nice guy. He and I chatted over lunch at the 2016 ACC Tournament in Washington. I told him how I loved his call of the final play of the Michigan-Michigan State game from the previous fall, the one that ended with the botched punt being returned for a touchdown that won the game for Sparty on the final play, and he joked about his voice cracking like he was going through puberty.
That night, sitting courtside, literally – my seat was under the basket on the home team end – there was something of a skirmish involving Virginia Tech forward Chris Clarke and Notre Dame guard Matt Farrell.
That game had been a blowout, Tech leading by as many as 21, and my seatmate for the week, the Notorious MCG of the ACC media, Tucker McLaughlin of the South Boston News and Herald, and I had been engaging in a podcast-worthy dissection of how Duke's one-and-dones do (Tucker's contention) or don't (mine) play good defense.
Seriously, if we'd recorded that 20-minute give-and-take, it would be worth the listen, times ten.
We'd come to a lull in our back-and-forth when Clarke ended up with a loose ball underneath the Tech basket, but his foot was on the sideline. The official signaled Notre Dame ball, and Clarke held onto the ball as if to protest.
Farrell reached for the ball, but Clarke, the size of an NFL linebacker, wasn't giving it up, and when Farrell tried again, Clarke gave him a slight nudge.
That slight nudge sent Farrell, who is my size, and I run marathons, in our direction. I felt something at my feet, then looked up and saw the folks at the table to my right bracing Farrell, who had fallen into our laps, knocking soft drinks and coffee and laptops all askew.
My first thought was, did that just happen? Then: I hope Farrell didn't sprain his ankle stepping on my foot.
Then: we're going to be on TV. And we were. Within about a minute, Seth Megginson, an AFP contributor, posted a screenshot from ESPN, featuring me looking up with wide eyes before Clarke's nudge, obviously not believing what I was about to see.
So, that was fun.
What else … on Thursday, second game, after filing my game recap, column and videos from UVA's quarterfinal win over Louisville, I was back under the basket for the second half of Clemson-Boston College, just chillin', when a loose ball came in my direction.
Actually, it was headed straight for Tucker's laptop, and he was in the media room.
So I had two reasons to reach out to grab the loose ball, to protect Tucker's ability to file the rest of the week, but more importantly, to get my hands on a ball being used in a live ACC Tournament game.
Sniff, made the catch like an old pro, and for a second, I was in heaven. I play pickup ball at the YMCA down the street, and let me tell you, the feel of that ball that the ACC uses is … indescribable. The only thing I can remember thinking in the nine-tenths of a second it took me to flip the ball back to the official was, I could make some shots with this ball.
What else … well, some random stuff. Walking back from the media room at halftime of the Duke-Carolina game Friday night, a guy hands me his phone to take his picture with another guy. The other guy: Eric Montross, former UNC great, now the color guy on Carolina radio broadcasts, who is hard to get into a frame at 7'0" with a guy handing me a phone who is at best 5'8".
But I got the snap, then headed out to my seat, and had to snake past Jay Williams, Jay Bilas and Seth Greenberg, coming back from doing an on-court halftime report.
And actually, there was a cool moment before that game. After Virginia's win over Clemson in the semis on Friday, I was headed back from my seat under the basket to the UVA locker room, but I had to squeeze past the Virginia band and cheerleaders, who were set up behind me, to get there.
Traffic jam in the hallway: the Virginia band and cheerleaders were leaving the floor, and the Duke band and cheerleaders were backstage waiting to replace them. Then UVA coach Tony Bennett and players Jack Salt and Ty Jerome had to make their way through to get to the media interview room on the other side.
You had cheerleaders, bands, I forgot to mention the two school mascots, Coach Bennett.
I heard a Duke cheerleader say out loud: "This is weird."
And then, in a flash, it was over. Virginia won the championship, as you know, if you've read this far. Having covered tournaments for now – let me think, this was my ninth as a reporter, and I've attended three as a fan – I knew the drill for the postgame. There'd be confetti raining down from the rafters, a cool ceremony on the court, then I'd head back to the locker room to catch the jubilation there, and then I'd get to work trying to share all that with the world.
There's nothing more satisfying on earth than being in the locker room of a college basketball team that has just won a championship. Reporters huddle around players to get comments, teammates joining in with their mobile phones to conduct mock interviews of each other.
I wish I'd gotten video of Kyle Guy lugging his MVP trophy back from the interview podium. Guy is listed at 6'2", 170, and from the looks of that trophy, it's in the neighborhood of 5'1", 125. Guy could hide behind the trophy without trying too hard, is what I'm saying.
I'm not sure what was most amazing about his week: his two dunks, one dunk, whatever, winning the MVP trophy after spraining his MCL in the regular-season finale, or carrying that trophy a half-mile through the Barclays Center back to the locker room.
Nobody wanted to leave that locker room, but it had to end at some point. I made my way back to the floor, and it couldn't have been an hour after the game, and the work crews were already tearing everything down.
Everything. The tables, the cords, anything left on tables, if somebody wasn't there to object, it was gone.
I was up until 5:30 a.m. filing, which of course would have been 4:30 if not for the brilliant move to schedule the spring forward for a night with a snowstorm barreling its way up the East Coast.
For me, though, it wouldn't be an ACC Tournament without snow on the way home. Going to Greensboro in 1997, 29 was a sheet of ice all the way to Danville; it snowed in Virginia and into North Carolina on our way to Tampa in 2007; we hit snow on the return from Greensboro in 2013, and then the 2014 return trip was epic.
The final was still on Sunday, and that was the year UVA won its first ACC Tournament title since the miracle 1976 team. Temperatures had been warm all week, but on Sunday, it was Nor'easter time. The game was over around 3, and the usual post-championship celebrations, interviews and the rest had us past 4 p.m. and still in the locker room.
Joe Harris was the tourney MVP that year. The tourney MVP has a lot more media responsibilities than his teammates. Meaning it was past 4, and everybody else had showered and changed for the trip home, and Joe was still standing there in his uniform with his MVP trophy.
A UVA staffer goes to Joe and tells him at this point that he needs to get on the bus, and Joe looks at him like, Um, dude, I need to shower?
But it's already snowing in Lynchburg, he was told.
The MVP stunk up the bus on the way home, and yes, it was snowing like hell in Lynchburg when we got there, so good call.
Story by Chris Graham