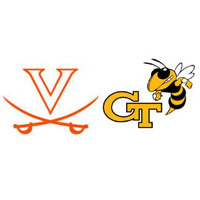 The margin of error is gone for UVA football coach Mike London, whose tenure as the Virginia Cavaliers head man is tenuous after a 28-27 loss to North Carolina last weekend.
The Cavs dropped to 4-4 in 2014 with the loss, and with three of the next four on the road, beginning this weekend in Atlanta at Georgia Tech, it is widely assumed that UVA will have to get wins in two of those games to save the job of London, who is 22-35 overall and 10-26 in ACC play in his fifth season in Charlottesville.
That task is compounded by the second leg of the two-game road trip before the second bye week of '14, next weekend at #2 Florida State. They actually play the games because you have to before you know what happens, but it's safe to say that UVA will go into that one in Tallahassee as a heavy underdog.
Then factor in that the final two games after the bye are at home against improving Miami on Nov. 22 and the regular-season finale on the Friday after Thanksgiving in Blacksburg at Virginia Tech, which owns 10 straight wins in the Commonwealth Cup series, and you can see why there is no workspace left for London and his 'Hoos.
I'd already declared as must-win games this year the Sept. 13 home tilt with Louisville (a 23-21 win), the Oct. 4 home game with Pitt (a 24-19 win) and last weekend's game with UNC, so credit where credit is due, Virginia is 2-1 in 2014 in must-win games.
This one trumps all must-win games (at least until the Miami game on Nov. 22). A loss here drops UVA to 4-5 on the season with the visit to FSU looming as a likely precursor to a 4-6 record that itself could trigger a quiet reach-out by the athletics administration to a head-hunting firm to begin putting together a list of candidates to be the next next guy to try to follow in George Welsh's footsteps.
Sorry for the long preamble to this week's game breakdown. To the statistical analysis:
Offense: Georgia Tech is unlike anybody you play the rest of the season. Even a spread passing or run-focused read-option has a basis in a conventional scheme that you can defend with something resembling your base defense. Tech's triple-threat option forces you to do everything you do in the spring, summer and the fall differently for one week; whereas of course they do what they do 52 weeks a year, and are pretty good at it, averaging 481.9 yards and 37.1 points per game in 2014. You'll want to focus on the run, with the Yellow Jackets gaining 326.1 yards per game and 6.2 yards per carry, but don't get lulled into defending dives, pitches and keepers, or quarterback Justin Thomas will make you pay with his play-action passing, throwing for 1,106 yards, 11 touchdowns and a 154.96 passer-efficiency rating. The O takes care of the ball, committing just nine turnovers leading to 21 opponent points.
Virginia will want to employ a strategy similar to the one that offensive coordinator Steve Fairchild used last week against North Carolina, devising a ball-control game plan that kept the potent UNC offense off the field (UVA had a 37:35-22:35 advantage in time of possession). The Cavs are averaging 411.8 total yards and 28.8 points per game, running for 170.1 yards per game and 4.2 yards per carry and putting up 241.6 yards per game through the air. It's assumed that Virginia will start Greyson Lambert (60.3 percent completion rate, 825 yards, 4 TD, 6 INT, 112.04 passer rating, 2-3 record as a starter) over Matt Johns (55.8 percent completion rate, 1,012 yards, 8 TD, 5 INT, 124.77 passer rating, 2-1 record as a starter), which is not the right way to go, but that's another argument for another day. The offense has committed 20 turnovers leading to 44 opponent points.
Defense: Georgia Tech gives up 429.4 yards and 28.2 points per game, and is prone to being gashed on the ground, giving up 5.4 yards per carry and 189.1 yards per game, has an anemic pass rush (seven sacks in eight games), and has a hard time getting off the field (opponents convert 52 percent of their third downs). The pass defense is ranked 12th in the ACC in pass efficiency (138.2 opponent passer rating). The defense has forced 16 turnovers leading to 87 Yellow Jackets points.
Virginia gives up 336.6 yards and 22.9 points per game, holds opponents to 3.0 yards per carry and 100.4 yards per game on the ground, and is seventh in the ACC in pass efficiency (119.6 opponent pass efficiency). The pass efficiency number is surprisingly low considering Virginia's 26 sacks in 2014, fourth in the ACC. Opponents convert 35.7 percent of third downs (fifth in the ACC), and the defense has forced an ACC-leading 20 turnovers that the 'Hoos have converted in 72 points.
Special Teams: Georgia Tech kicker Harrison Butker is 7-of-12 on the season on field goals and is 2-of-2 on kicks between 40-49 yards, but is just 1-of-2 between 30-39 yards. Punter Ryan Rodwell averages 41.3 yards per kick with just one touchback and 11 of his 20 punts downed inside the 20.
Virginia placekicker Ian Frye is 16-of-19 on the season on field goals, with two of his misses beyond 50. Punter Alec Vozenilek averages 44.1 yards per kick, with six touchbacks and nine of his 38 punts downed inside the 20.
How this one will play out: This is the rare game where you need to look at past performance in the series as the key indicator over how the current rosters are showing on the field this season. That metric doesn't look the best for Virginia, which surrendered 500+ yards to Georgia Tech in 2012 (a 56-20 loss in Atlanta) and 2013 (a 35-25 loss in Charlottesville). The Jackets gained 394 yards on the ground in the 2013 win, which was remarkable in that quarterback Vad Lee (now at JMU) only ran four times for a net loss of two yards. Three Tech runners (Zach Laskey, Robert Godhigh and Davis Sims) each surpassed the 100-yard mark on dives and pitches, taking advantage of the trademark Jon Tenuta defensive aggression that works well 11 weeks out of 12, but can be a killer against the misdirection that is the heart of Paul Johnson's scheme.
Virginia will score on Georgia Tech, and it will have to. The problem will be turnovers, which were the key factor in three of the Cavs' four losses in 2014 (UCLA, BYU and UNC). In a game with a team that is a danger to score on every possession, one turnover can be the game, and turnovers will be the story on Saturday.
An early Georgia Tech score will put even more pressure on a Virginia team that very well knows the stakes, and the pressure will stack. The Yellow Jackets build a comfortable lead by the half, and hold off a nice effort at a second-half UVA comeback in posting a 38-30 win.
– Column by Chris Graham