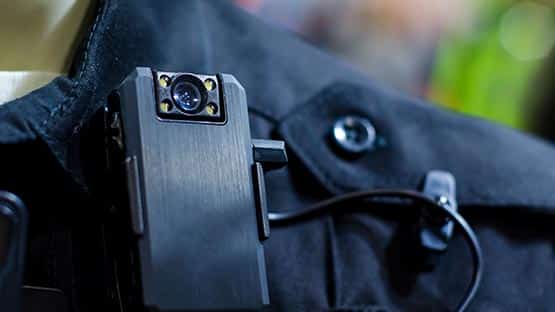 Augusta County residents, by wide margins, support outfitting county sheriff's deputies and their vehicles with body and dash cams, and using county tax dollars to do so.
When I say wide margins, we're talking about 90 percent, according to a community survey presented to the Board of Supervisors last month, backing body and dash cams – just 2 percent are opposed – and 80 percent agreeing that county tax dollars should go toward purchasing the body and dash cams – with 8 percent against the use of county tax dollars.
It's hard to get even 80 percent of anybody to agree on what day of the week it is, so these numbers mean something.
The only argument against it that we get from Sheriff Donald Smith, who, by the way, is up for re-election this fall, is that he has other priorities – more money for salaries for deputies and emergency dispatchers, a good thing, and more money for school resource officers, maybe a good thing, probably not, given that school resource officers have been found not to deter school shootings, and to lead to dramatically increased criminalization of routine school disciplinary issues.
The real issue here, of course, is that the matter with body and dash cams for Augusta County sheriff's deputies has gotten caught up in the years-long feud between Smith, Commonwealth's Attorney Tim Martin, who is also up for re-election this fall, and the locally infamous Nexus Services, whose CEO, Michael Donovan, and two company vice presidents, Richard Moore and Timothy Shipe, were indicted last year in a case in which it is alleged that Donovan and Moore stole $426,000 from Zachary Cruz, the brother of Parkland High School mass shooter Nikolas Cruz.
Nexus Services, which began operations in 2014, has been the focus of numerous state and federal criminal investigations in its short history, including a $1.5 million employment tax fraud indictment against Moore announced in 2021, and a 2021 lawsuit filed by attorneys general in three states, including Virginia, and the federal Consumer Protection Bureau alleging that the company preys on immigrants held in federal detention centers by concealing or misrepresenting the true nature and costs of its services.
Nexus Services established a corporate headquarters in Augusta County in 2015, amid some amount of local fanfare, not surprisingly, given the company's gifts in the PR realm, with county leaders excitedly touting the reported 250 jobs that Nexus Services, which helps post bond through third-party licensed bondsmen for people held in immigration detention centers while they await court cases, would bring to the local economy.
The era of good feelings would be short-lived.
The company filed a federal lawsuit against Smith, the county sheriff, in 2016, alleging that Smith was working with a local bail bondsman to derail its bonding program, which it later dropped.
In 2019, an effort to link Smith to a Harrisonburg man who was convicted in a 2018 labor-trafficking case during Smith's run for re-election was linked to a PAC formed by a Nexus Services VP.
Nexus Services was also at the center of a series of protests at the Augusta County Sheriff's Office in 2021 that led to the arrests of 19 people on noise ordinance and disorderly conduct charges, most of which were eventually dismissed in Augusta County General District Court.
The protests were organized in the aftermath of two officer-involved shootings, one of which led to the death of a Grottoes man who had told family members of his desire to die by suicide-by-cop.
The spectacle that those protests being organized by people who are trying to deflect attention from their own myriad legal issues being what it is, the body and dash cam issue obviously, from the recent community survey, has widespread support among county residents, so it's not just the Nexus Services folks, "paid people pushing an agenda," Smith called them last year, and shouldn't be dismissed as such.
Nine in 10 county residents support outfitting sheriff's deputies and their vehicles with body and dash cams; eight in 10 support using county tax dollars to pay for it all.
The feud between Smith, Martin and the Nexus Services folks is what it is.
It's time for Smith and Martin and county leaders to move past the Nexus Services cat-and-mouse game to do the right thing.