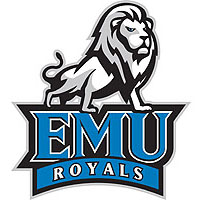 Eastern Mennonite University has announced the hiring of current assistant coach Melvin Felix as the new head men's basketball coach. He has been the lead assistant at EMU under Coach Kirby Dean the past seven seasons.
Felix will take over the reins of the program on March 1. Dean recently announced he would step down at the end of the current season.
"I would like to thank President Susan Schultz Huxman, Dave King and the search committee for trusting and believing in me," Felix said. "Thanks for giving me the opportunity to work with a great group of young men. This program, university, community and players mean a lot to me and I look forward to the start of this new journey."
After a standout playing career at ODAC-rival Roanoke College, Felix joined the EMU staff before the 2011-12 season. Along with his involvement in all aspects of the Runnin Royals program, he also leads the developmental program.
EMU Director of Athletics Dave King said he was excited to have Felix step into the head coaching position.
"The loyalty and commitment to EMU and the basketball program demonstrated during his seven years as an assistant to Kirby, makes him an ideal fit for EMU.  The committee was convinced that Melvin was ready for this position. He has been involved in nearly every aspect of the program and Kirby has done a great job of preparing him for his next step."
Adding that the current players are supportive of Felix becoming head coach, King said it is fulfilling to give an up-and-coming coach the chance to reach their goals.
Felix inherits a program that has seen many of its most successful years under Dean, including a run to the Elite Eight of the NCAA Tournament in 2010.
He said he was humbled and excited to become the 10th head coach in the history of men's basketball at Eastern Mennonite.
"The community of Harrisonburg has become home for me and I am really looking forward to continuing to develop the culture that was established by Coach Dean," Felix explained. "This program has always been and it will continue to be about developing student-athletes on and off the court."
Felix assumes leadership of a team that will need to replace five seniors from the current season, but he also provides the continuity of having recruited the existing and incoming players.
"Continuity is a critical element in the success of any athletic program," said King. "We are fortunate to have someone who is eager to step in and maintain the level of excellence and competitiveness that has been established in the men's basketball program. Melvin knows the university, the players, recruits and the program. And it will be exciting to see him put his own stamp on the program."
Having been in Harrisonburg for nearly half of Dean's 15-year tenure, Felix understands what his mentor meant not only to the school, but especially to the players.
"I have been privileged and blessed to have coached under Coach Dean," said Felix. "He has been a great mentor to me not only with X's and O's but more importantly with life: how to be a leader, father and positive role model for the program. I will always be thankful that he gave me a chance right out of college. That opportunity changed my life and for that I will always be grateful."
Felix and Dean will have two more home games together this week as they wrap up the regular season. The ODAC Tournament starts next week Tuesday.