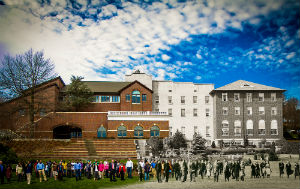 For Eastern Mennonite University's 100th anniversary in 2017, EMU's centennial planning committee is soliciting ideas and proposals for special productions of music, theater and the visual arts.
"We would like to debut a major theater or music production – or both – for our centennial celebration," said Louise Otto Hostetter '79, chair of the planning committee.
Homecoming and Family Weekend, October 17-19, 2017, will be a pivotal point for the celebration, but commemorative activities will be held throughout the 2017-18 academic year.
Other artistic ideas are also welcomed, Hostetter said, such as wall murals, fresh art for EMU's gallery spaces, photo-journalism projects, and film productions.
"Ideally, we'd like to commission a member of our alumni base to serve as the centennial playwright or composer," said Hostetter. "But we are open to proposals from any sources."
To submit ideas or proposals, visit emu.edu/centennial, click on "Submit proposals, ideas, photos," and fill in "Centennial Celebration Ideas Submission Form." Or email [email protected].
Submissions are due January 1, 2015. The centennial committee's selections will be announced on August 1, 2015.
Already underway is a fresh history of EMU written by alumnus Donald Kraybill, the nation's best-known writer on Amish and Mennonite culture.
The centennial committee is encouraging alumni to upload photos from the history of EMC/EMU for possible centennial-celebration usage. This can be done via the "celebration ideas submission form" mentioned earlier.
Eastern Mennonite School K-12 shared its first 50 years of history with EMU. The weekend of October 13-15, 2017, will be a joint celebration. In addition, the school and the university will host their own anniversary events during the year.
Article by Bonnie Price Lofton. Image by Jon Styer