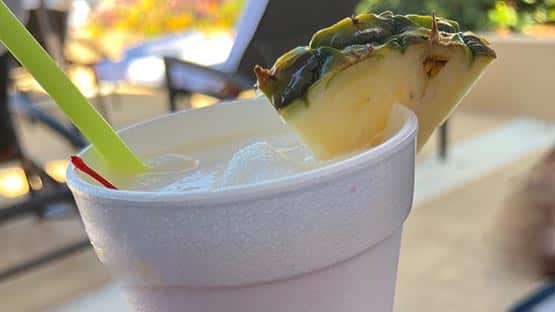 It wasn't how I intended to spend my day, but there I was, spending a solid 10 hours in the Charlotte Douglas International Airport with two friends, while we waited for a flight to connect us to our final destination in Biloxi, Miss.
Mechanical issues, we're told, were the reason for our delay from Charlottesville to Charlotte via American Airlines. Apparently, there was a brake light out in the dash of the plane when they went to take off from Charlotte to Charlottesville on this particular morning.
With our trip to the Beau Rivage Resort delayed indefinitely, we made several fun bets about the odds we'd make it to Charlotte in time to make our connecting flight.
When it was clear that was an impossibility, we were rebooked for a 10:30 p.m. flight out of Charlotte instead of the 12:10 p.m. arrival time we had anticipated.
The late arrival meant no Commodores show (boo! We had seventh row seats), and we'd have to cancel dinner reservations (that were hard to get and that we couldn't rebook – bummer).
I'm not new to travel, though this was my first flight post-COVID. I've lucked out in the past, however, with most flight delays only lasting a couple of hours at most.
Once I had to take a taxi from Charlottesville to Dulles to make my connecting flight, but even though it was hectic, I still made it to my destination (Orange County, Calif.) on time.
Another time, my Amtrak train was cancelled due to forecasted snow that never arrived, and I had to take a taxi from Dulles back to the Charlottesville train station (and that certainly wasn't cheap, ya'll).
So, trying to figure out how to spend 10 hours in an airport, well, that was going to take a minute for me to wrap my head around. Sure, we could leave the airport and venture into Charlotte for sightseeing, but we felt with our carry-on luggage and such, it was a better idea to stick to the airport venue and maybe log a few work hours and eventually take a nap.
We thought we'd make the best of it – planning to shop and enjoy some good food while we waited it out. My travel companions, a couple I've known for more than a decade, handled it far better than me in the end. Both were able to sneak in a few minutes of rest throughout the day.
We did devour some Mexican food when we deplaned in Charlotte – and enjoyed every sip of our $25 margarita. We roamed the airport and had a couple of adult beverages throughout the day, but let's be honest, how many overpriced drinks can one consume in a 10-hour window? We had a couple, to be sure.
We picked up a few magazines, shopped at the airport Spanx store (where I found some pretty fabulous jeans) and even had a Cinnabon cinnamon roll (all while discussing "Better Call Saul").
We even managed to snag a Minute Suite for the day – giving us some time to at least enjoy some quiet in one of the nation's busiest airports. The suite had a private bathroom, couch, small desk and TV. A pretty good find in the midst of the hustle and bustle of the airport.
As our 10 hours were coming to an end, we got word that due to bad weather throughout the Northeast, our incoming flight was delayed and had not boarded. We were tired, and it definitely was not the news we had hoped for.
My travel companion was busy messaging the airline worried our flight would be cancelled altogether, and we'd need to find overnight accommodations in Charlotte, when we got a message that our flight gate had been updated, and our delay was gone. It appeared that another flight that was destined to travel in the storms was rerouted to take us to Mississippi.
We had to hustle through the airport to get to our gate in time for boarding, but we weren't alone – numerous other people were running alongside us.
Our day had started when my friends picked me up at 6 a.m. to head to the airport. We arrived at our destination in Biloxi, checked in to our hotel, and got to our rooms around 2 a.m.
The next day, sitting poolside alongside palm trees, drinking a pina colada and eating frozen grapes, the stress of the day before was in our rearview mirror. We were still able to relax and unwind – we even scheduled a hot stone massage (we certainly deserved that). We missed our concert and missed out on a fabulous dinner, but somehow we still made an adventure of it all.
The flight home was uneventful, thankfully.
While it was my first flight since COVID, and the amount of time spent in the airport was far beyond what we expected, we're already thinking ahead to our next trip.
New Orleans? Captiva?
Italy, anyone?