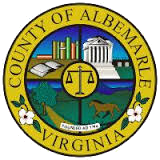 Albemarle County is proud to have won 1st place in the Information Technology (IT) as Efficiency Driver – Government to Government category at the 17th annual Commonwealth of Virginia Innovation Technology Symposium (COVITS) in Richmond on September 3.
Crystal Rejonis, Technology Training Specialist in the IT Department, developed the Technology Training Anytime, Anywhere program which won the award. County staff is spread out over 726 square miles and work a variety of shifts. The program redesigned technology training to make learning more accessible to all staff by using on-demand, web-based training and a mobile classroom. The project was funding through the County's newly established Innovation Fund which is focused on supporting operational efficiency, process improvements and customer service.
Considering the cost of travel time, mileage and overtime wages for staff, the project will have a complete return on investment after the first three online courses. The first training offering was developed for a financial application with approximately 200 users and was viewed over 600 times in the first two weeks. Several additional offerings are scheduled to be released each month.
"We are very proud to have received this recognition," said Albemarle County Executive Tom Foley. "In addition to an innovative use of technology, this program lines up directly with one of our core values; learning. Albemarle County encourages and supports lifelong learning and personal professional growth."
COVITS is designed to help spread best practices and spur innovation in the public sector. The summit has an advisory board that gathers public- and private-sector leaders to create a relevant and actionable agenda for the state and local government organizations attending. Participants use the inspirational keynotes, leadership discussions, networking breaks, and the timely topics discussed in the numerous breakout sessions to help advance the goals of their organizations.