ACC Football News and Notes
ACC in the national polls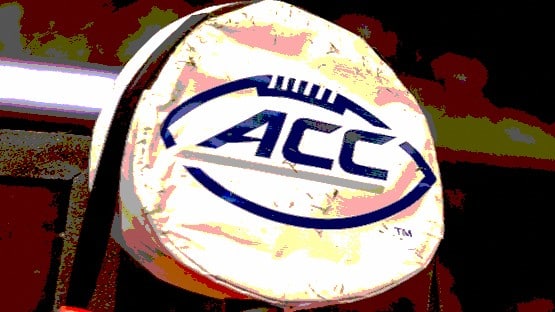 For the second consecutive week, the ACC had four teams ranked in the AP Top 25 poll. Florida State moved up to No. 3 in the Week 3 poll, while North Carolina (No. 20), Duke (No. 21) and Miami (No. 22) also ranked in the top 25 for the week.
After 20 consecutive weeks in the AP Top 25, the Clemson Tigers fell out of the poll, receiving 68 votes overall.
Florida State also moved up to the No. 3 spot in the USA Today Sports AFCA Coaches Poll, while North Carolina came in at No. 18 overall. Duke moved up to No. 20 overall in the coaches poll, ahead of both Clemson at No. 22 and Miami at No. 23. Wake Forest, Syracuse and Louisville also received votes.
ACC in nonconference play
The ACC has faired well this season in non-conference play, going 18-6 over the first two weeks of the season. The ACC is 4-1 versus the SEC with North Carolina's win over South Carolina (Sept. 2), Florida State defeating LSU (Sept. 3), Miami downing Texas A&M (Sept. 9) and Wake Forest beating Vanderbilt (Sept. 9).
The four wins over the SEC are the most by the ACC in a single season since winning four matchups in 2017.
Schedule: Week 3
Thursday, Sept. 14
Bethune-Cookman at No. 22 Miami 7:30 p.m., ACCN
Series: Miami leads series, 6-0; Last meeting: Miami, 70-13 (2022)
ACCN: Jorge Sedano (play-by-play), Orlando Franklin (analyst), Marilyn Payne (sideline)
Line: n/a
Friday, Sept. 15 
Virginia at Maryland 7 p.m., FS1
Series: Maryland leads series, 44-32-2; Last meeting: Maryland, 27-26 (2013)
FS1: Eric Collins (play-by-play), Devin Gardner (analyst)
Line: Maryland -14.5
Saturday, Sept. 16 
Louisville at Indiana noon, BTN
Series: Indiana leads series, 2-0; Last meeting: Indiana, 21-0 (1986)
Big Ten Network: Connor Onion (play-by-play), Brock Vereen (analyst), Megan McKeown (sideline)
Line: Louisville -10
No. 3 Florida State at Boston College noon, ABC
Series: Florida State leads series, 15-5; Last meeting: Florida State, 44-14 (2022)
ABC: Dave Pasch (play-by-play), Dusty Dvoracek (analyst), Tom Luginbill (sideline)
Line: FSU -26
Wake Forest at Old Dominion noon, ESPN2
Series: Wake Forest leads series, 1-0; Last meeting: Wake Forest 42-10 (2021)
ESPN2: Roy Philpott (play-by-play), Roddy Jones (analyst), Taylor McGregor (sideline)
Line: Wake Forest -14
VMI at NC State 2 p.m., The CW
Series: VMI leads series, 11-7-1; Last meeting: NC State, 49-7 (1946)
The CW Network: Tom Werme (play-by-play), James Bates (analyst), Tabitha Turner (sideline)
Line: n/a
Northwestern at No. 21 Duke 3:30 p.m., ACCN
Series: Duke leads series, 12-10; Last meeting: Duke, 31-23 (2022)
ACCN: Chris Cotter (play-by-play), Mark Herzlich (analyst), Sherree Burruss (sideline)
Line: Duke -18.5
Virginia Tech at Rutgers 3:30 p.m., BTN
Series: Virginia Tech leads series, 12-3; Last meeting: Virginia Tech, 13-10 OT (2012)
Big Ten Network: Joe Beninati (play-by-play), Adam Breneman (analyst), Taryn Hatcher (sideline)
Line: Rutgers -3.5
Minnesota at No. 20 North Carolina 3:30 p.m., ESPN
Series: First meeting
ESPN: Beth Mowins (play-by-play), Kirk Morrison (analyst), Stormy Buonantony (sideline)
Line: UNC -7.5
Pitt at West Virginia 7:30 p.m., ABC
Series: Pitt leads series, 62-40-3; Last meeting: Pitt, 38-31 (2022)
ABC: Sean McDonough (play-by-play), Greg McElroy (analyst), Molly McGrath (sideline)
Line: WVU -1
Georgia Tech at No. 17 Ole Miss 7:30 p.m., SECN
Series: Ole Miss leads series, 3-2; Last meeting: Ole Miss, 42-0 (2022)
SECN: Tom Hart (play-by-play), Jordan Rogers (analyst), Cole Cubelic (sideline)
Line: Ole Miss -18
Syracuse at Purdue 7:30 p.m., NBC
Series: Series tied at 1-1; Last meeting: Syracuse, 32-29 (2022)
NBC: Noah Eagle (play-by-play), Todd Blackledge (analyst), Kathryn Tappen (sideline)
Line: Syracuse -2.5
Florida Atlantic at Clemson 7:30 p.m., ACCN
Series: Clemson leads 1-0; Last meeting: Clemson, 54-6 (2006)
ACCN: Wes Durham (play-by-play), Tim Hasselbeck (analyst), Taylor Tannebaum (sideline)
Line: Clemson -24.5