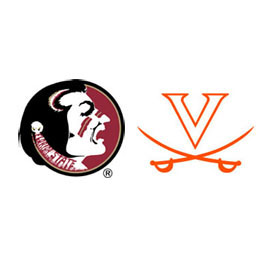 The No. 7 UVA baseball team (14-5, 3-4 ACC) used a five-run seventh inning to get past No. 11 Florida State (17-6, 5-2 ACC) and earn an 8-4 victory Friday night (March 20) at Davenport Field.
Kevin Doherty (Jr., Laytonsville, Md.) started the game playing left field, hitting a two-RBI single to center field in the second inning, but moved to the pitcher's mound in the seventh inning, throwing 1.1 innings of relief and earning his first career win.
Trailing 4-3 heading into the bottom of the seventh, Virginia sent 11 batters to the plate in its half of the inning. Kenny Towns (Sr., Burke, Va.) laced a two-out single to right field to plate a pair of runs. Matt Thaiss (So., Jackson, N.J.) doubled to right field to score two more before Ernie Clement (Fr., Rochester, N.Y.) singled to left to score Thaiss.
Thaiss finished the game going 2-for-3, including hitting a solo home run to right in the fourth inning, with three RBI. Thaiss leads the team with seven homers this season.
Florida State scored three runs in the top of the second off starter Nathan Kirby. Virginia scored two of their own in the bottom of the inning when Towns singled to lead off the inning, starter Boomer Biegalski issued a walk to Thaiss before Doherty drove those two in.
After Virginia took its 8-4 in the bottom of the seventh, Florida State had runners on the corners with one out in the top of the eighth when Josh Sborz (Jr., McLean, Va.) relieved Doherty on the mound. Sborz struck out the final two batters of the inning to preserve the four-run lead.
Kirby (3-1), who did not earn a decision, worked six innings, allowing six hits, four runs, only two of which were earned, with five walks and 11 strikeouts. It was the third time this season Kirby had logged double-digit strikeouts.
Sborz earned his fifth save of the year, working 1.2 innings, allowing one hit, issuing one walk, and striking out four.
Doherty allowed one hit, had a walk and two strikeouts in his 1.1 innings on the mound.
Dylan Silva took the loss in relief for the Seminoles, working 0.1 innings, giving up four unearned runs on three hits. Biegalski worked 6.1 innings, allowing four runs, three of them earned, on five hits, walking four and striking out nine.
The series continues at 1 p.m. Saturday and wraps up with a 1 p.m. Sunday game. WINA 1070-AM will have the radio broadcast of the Saturday and Sunday games. Live audio will be available online at VirginiaSports.com for each game of the series as part of the Cavaliers Live subscription package. Live statistics also will be available all weekend. The audio and live stats also can be accessed through the Virginia Sports app, which is available through iTunes.