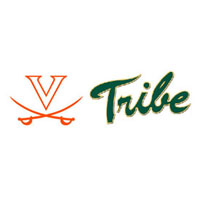 The No. 6 UVa. women's lacrosse team (3-4, 0-2 ACC) had a dominating road victory, downing William & Mary (1-4, 0-0 CAA) 22-9 on Wednesday, March 12 in Williamsburg, Va.
"We are excited by the outcome of today's game," said Virginia head coach Julie Myers. "William & Mary certainly started strong and really challenged us to make some big plays and to dig deep to come out on top. All in all, I was excited by our energy, how fast we played, how many people played and how many were able to contribute to a pretty important win at this time of the season."
Virginia held a 9-5 advantage at halftime, but outscored William & Mary 13-4 in the second half, with the Tribe scoring two of those goals in the final minute of the game.
Junior Courtney Swan (Vero Beach, Fla.) tallied eight points with four goals and four assists, while also winning seven draw controls. Junior Casey Bocklet (South Salem, N.Y.) also scored four goals with a pair of assists. Junior Morgan Stephens (Olney, Md.) scored a hat trick, also adding an assist, two draw controls, two ground balls and two caused turnovers.
William & Mary's Ellen Shaffrey and Taelor Salmon scored two goals apiece.
The Tribe got off to a quick start, jumping out to a 2-0 lead in the first two minutes of the game. Stephens scored back-to-back goals to tie the game, 2-2, with just under 26 minutes left in the first half. After William & Mary retook the lead on Salmon's first goal, Virginia scored five straight goals, including the first career goal for freshman Posey Valis (Baltimore, Md.) to take a 7-3 lead with just over five minutes remaining in the first half. Stephens scored her third goal of the period with 45 seconds remaining to send UVa into the break with a 9-5 lead.
Playing in a steady rain, Virginia scored the first four goals of the second half. After William & Mary scored with 21:30remaining to make it a 13-6 game, Virginia went on a 9-1 run capped by sophomore Kelly Boyd's (Baltimore, Md.) second goal of the game, this one set up by a pass from her twin sister Brooke Boyd (Baltimore, Md.), giving UVa a 22-7 lead with 1:41 remaining.
Virginia held a 39-20 edge in shots, including a 22-7 advantage in the second half. Virginia won the battle in the draw circle, 20-13.
Senior goalkeeper Liz Colgan (Cockeysville, Md.) logged five saves, all in the first half. Freshman Britt Brown (The Bronx, N.Y.) played the final 7:03 in goal, allowing two goals without making a save.
The Cavaliers have now won 13-straight games against the Tribe and 19 of the last 20 match-ups. Since 2007, Virginia has only lost three times to unranked opponents, going 48-3 in that span against teams not ranked in the top-20.
The Cavaliers close out the week by heading to Princeton, N.J., to face the Princeton Tigers on Saturday, March 15 at 12 p.m.
The Cavaliers return to Klöckner Stadium on Wednesday, March 19 when they host James Madison at 7 p.m.
Single-game reserved seats are available for all women's home games for $7. Single-game general admission adult tickets for women's home games are $5, while youth (18 and under), seniors (60 and over), and UVa faculty and staff tickets are $4 each.