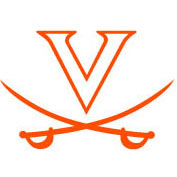 Senior guard Sammy Zeglinski scored a season-high 20 points and sophomore guard Joe Harris scored 17 points and had a game-high seven rebounds to lead Virginia to a 57-50 victory over Towson Friday night (Dec. 30) at John Paul Jones Arena.
The victory was the 10th in a row for the Cavaliers and improved their record to 12-1. The 10-game winning streak is the longest for UVa since the 2000-01 season and Virginia is 12-1 for the first time since the 1982-83 season.
Virginia is ranked No. 23 in this week's Associated Press poll and No. 24 in the ESPN/USA Today Coaches poll.
The loss dropped Towson's record to 0-13. Freshman guard Kris Walden led the Tigers with 15 points and sophomore forward Marcus Damas scored 13 points and had six rebounds.
Towson jumped to a 10-2 lead with 14:36 left in the first half, but the Cavaliers out-scored the Tigers 22-6 the rest of the half to take a 24-16 lead at halftime. Virginia scored the last eight points of the first half with Zeglinski scoring five of those points.
Zeglinski scored 10 points for UVa and Walden had 10 points for Towson in the first half.
An 11-3 run by the Tigers cut Virginia's lead to one point (33-32) with 12:56 left in the game. Senior forward Robert Nwankwo scored six points for the Tigers in that run.
Towson was still within two points at 44-42 after Nwankwo made a free throw witih 5:40 to play, but the Cavaliers took control with an 8-3 run capped by a three-point basket by freshman guard Malcolm Brogdon. That Virginia surge gave the Cavaliers a 52-45 lead with 47 seconds remaining in the game and the Tigers got no closer than four points the rest of the way.
Brogdon added nine points and senior forward Mike Scott seven points for the Cavaliers, while sophomore forward Erique Gumbs scored nine points and Nwankwo seven for Towson.
Virginia is now 8-0 at home this season and has won nine consecutive home games, its second-longest winning streak at John Paul Jones Arena.
The Cavaliers shot 34.8 percent (16-46) from the field for the game, including 36.8 percent (7-19) from three-point range, and 69.2 percent (18-26) from the free-throw line. Virginia out-rebounded Towson 32-29.
Towson shot 44.4 percent (20-45) from the field, including 27.8 percent (5-18) from three-point range, and 50 percent (5-10) from the free-throw line.
Virginia is back in action on Monday (Jan. 2) when the Cavaliers play at LSU. That game is scheduled to begin at 7:00 p.m. Eastern time.