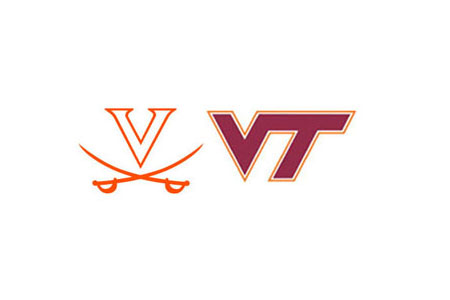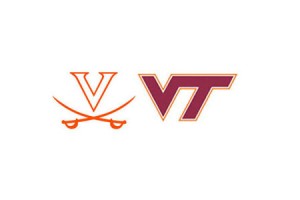 The second-ranked UVa. baseball team pounded Virginia Tech, 9-2, Saturday afternoon at Davenport Field. The Cavaliers (22-4, 9-2 ACC) have taken the first two games of the series, clinching their fourth straight ACC series win of the year as well as their eighth consecutive ACC home series, dating to 2012.
Joe McCarthy (So., Scranton, Pa.) had a big day at the plate for Virginia, going 3-for-4 with four RBI and falling a triple shy of the cycle.
Virginia freshman reliever Connor Jones (Chesapeake, Va.) picked up the win and improved to 4-0 on the year (3-0 in ACC play) with 4 2/3 innings of scoreless innings of relief. He gave up three hits and a walk and struck out three. Jones now has thrown 16 shutout innings of relief in conference play.
UVa starter Josh Sborz (So., McLean, Va.) battled some control problems but grinded through four-plus innings, giving up two earned runs, four hits and three walks while fanning a pair. Virginia Tech starter Sean Keselica (2-1) was saddled with the defeat after giving up four runs (two earned), four hits and a walk in 3 1/3 innings.
Virginia's pitching buckled down in tough situations throughout the day. The Hokies had runners on base in all but one inning and stranded 13 runners, including nine in scoring position.
Virginia Tech (12-11-1, 5-6) threatened in each of the first two innings, leaving two runners on base in each frame. With the bases loaded and one out in the second, Saige Jenco flied into a double play, with left fielder Mike Papi (Jr., Tunkhannock, Pa.) throwing out Kyle Wernicki by 20 feet at the plate to end the inning.
The Hokies cashed in for their lone two runs in the third inning on a two-run Brendon Hayden home run to right-center field.
After managing just two base runners in three innings against Keselica, the Cavaliers knocked the Hokies' starter from the game in the fourth inning while sending 11 batters to the plate and scoring five times. Papi lined a 0-2 pitch back up the middle for a leadoff single. Nick Howard (Jr., Olney, Md.) laid down a sacrifice bunt and reached when Keselica's throw pulled Hayden off of first base. McCarthy doubled to center to score Papi, and Brandon Downes (Jr., South Plainfield, N.J.) hit a sacrifice fly to tie the game. Robbie Coman (So., Lake Worth, Fla.) cranked a double to left-center to plate McCarthy and give UVa a 3-2 lead, forcing Keselica from the game.
Reliever Tanner McIntyre entered the game and walked three batters, with his final walk to Daniel Pinero (Fr., Toronto, Ontario) forcing in a run. Phil Sciretta entered the game and plunked Papi with a pitch to force in another run.
McCarthy homered into the right-field bleachers on the first pitch of the fifth inning, his second long ball of the year.
Virginia extended its lead to 9-2 in the sixth inning. After the Cavaliers loaded the bases with none out, Papi hit a sacrifice fly to center. With two outs McCarthy singled to right to bring home Branden Cogswell (Jr., Ballston Lake, N.Y.) and Pinero.
Virginia goes for the series sweep at 1 p.m. Sunday. Free coffee and hot chocolate will be available for all spectators. In the case of any inclement weather, there will be no postgame activities on the field