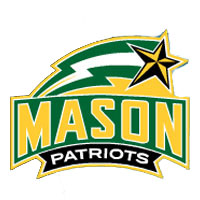 For the second time this season, the George Mason men's basketball team took No. 10 Saint Louis to overtime in a contest mirroring the first meeting between the squads earlier this month. The Billikens once again survived in the extra period, pulling out the 89-85 Atlantic 10 Conference win. Redshirt senior Sherrod Wright set a career-best with 34 points in the contest.
It all came down to the final two minutes of regulation as the Patriots trailed 69-67 before Wright tied it up for the eighth time converting a fastbreak layup at the 1:46 mark. With the teams tied, Saint Louis' Rob Loe once again hit a crucial trey with less than a minute on the clock, draining the triple with 49 seconds to give SLU a 72-69 lead. Wright would slice it to one point before Jalen Jenkins hit a pair of free throws with five seconds to put the Patriots up 73-72. SLU gave the ball to Jordair Jett for its final possession as the Billiken was fouled with 1.1 seconds remaining. Jett missed the first free throw and converted the second to send the game to overtime.
In the overtime period, Mason quickly went up by four with free throws from Jenkins and a bucket from Wright, but the lead was short-lived as Loe hit back-to-back triples to give SLU the lead with 3:10 to play. Copes would tie the game for the final time on the ensuing play as SLU would pull away with a six-point lead over the final minutes and close out its 18th straight win.
Wright finished with a game- and career-high 34 points to mark the second 30+ point game from a Patriot this season. Bryon Allen was the first Patriot to score 30 points this season, coming in career-high fashion at Saint Louis. Jenkins was Mason's only other player in double-figures with 16 points on the night. Jenkins also led the Patriots on the glass with eight rebounds as Mason won the battle, 37-30.
For the game, Mason finished with a 49.2 percent clip from the field and went 23-for-28 at the free throw line (82.1 percent). However, the Patriots converted just four of its 15 three-point attempts, while the Billikens went 12-for-25 from long range (48.0 percent).
Jett paced the Billiken offense with 25 points after scoring only one point in the first half. Jett was one of five Billikens in double-figures and recorded a team-best eight assists. Loe and Jake Barnett both finished with four three-pointers each.
Mason has a bye this weekend and returns to action next Wednesday, February 26 hosting Richmond at 7 p.m.The game will be televised on Campus Insiders/SNY/MASN.