Mark Warner demands release of full Mueller Report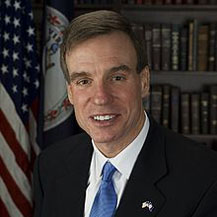 U.S. Sen. Mark Warner (D-VA), Vice Chairman of the Senate Select Committee on Intelligence, requested that the Senate immediately take up and pass a resolution calling for the public release of Special Counsel Robert S. Mueller III's report.
However, Sen. Rand Paul (R-KY) objected to the unanimous consent request and blocked the immediate passage of the resolution, which previously passed the House of Representatives by a vote of 420 – 0.
"Simply put, a summary is not going to cut it," Sen. Warner said on the floor. "This is an extraordinarily extensive investigation that yielded a rich collection of facts about Russia's attack on our democracy. The American people deserve to see the results so they can judge the facts for themselves."
Sen. Warner highlighted that the Attorney General's four-page summary of the Special Counsel's report only focused on the criminal portion of the Muller probe, and barely mentioned the Special Counsel's counter-intelligence investigation into Trump campaign contacts with Russian officials and intermediaries.
He continued, "Our committee has made multiple criminal referrals to the Special Prosecutor based on what we learned in witnesses' efforts to lie to us and obstruct our investigation. This is what a counter-intelligence investigation is all about. We need to fully understand what the Russians were trying to do. And we need to be able to warn future campaigns and candidates about the lengths and new tools hostile governments will go to undermine our democracy… Let's make sure the full Mueller report is released to Congress — including the underlying documents and intelligence. And then let's make sure that the American people see as much of the report as possible, and as soon as possible. And let's do it in that bipartisan way that protect sources and methods."
Sen. Warner also emphasized that the resolution, H. Con. Res. 24, Expressing the Sense of Congress that the report of Special Counsel Mueller should be made available to the public and to Congress, ensures that the Special Counsel's report is released in accordance with the law, without publicly revealing sources, methods, or grand jury information.
Comments