Mamadi Diakite announces for NBA Draft: Latest 'Hoo to declare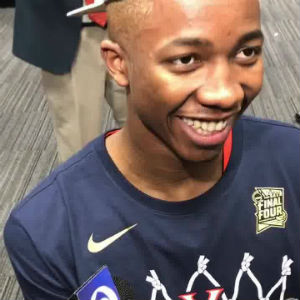 Update: Wednesday, 9:11 p.m. Diakite edited his Instagram post to graft in the following sentence.
"This process will allow me to test the waters, get valuable feedback and participate in the pre-draft process."
Original post: Wednesday, 5:43 p.m. Mamadi Diakite became the fourth member of the 2019 UVA Basketball national-championship team to declare for the NBA Draft.
"I would like to thank God and my wonderful family for the opportunity to play this game at such a prestigious university. Just a boy from Conakry, Guinea!!!" Diakite wrote on a post on his Instagram page Wednesday afternoon. "This has been an unbelievable experience and I can't even begin to put it in to words. I have grown so much from my first day on Grounds both on and off the court which is why I am confident in announcing my intentions to declare for the NBA Draft. I know that UVA will always hold a special place in my heart."
Diakite, a redshirt junior, averaged 7.4 points and 4.4 rebounds in 21.8 minutes per game in 2018-2019 at Virginia.
Diakite's ability as a quick, versatile defender with outstanding athleticism helped Virginia immensely.
Diakite, who only started playing organized basketball in high school, showed improved discipline and maturity in his redshirt junior year, which allowed him to avoid fouls and play at a much higher level.
He played at his best during Virginia's NCAA Tournament. Though the most memorable moment will always be his game-tying buzzer beater against Purdue in the Elite Eight, Diakite was solid the entire three weeks, averaging 10.5 points, 8.2 rebounds and 2.7 blocks per game during the Cavaliers' title run.
Diakite had five blocked shots in the 63-62 national semifinal win over Auburn, then contributed nine points, seven rebounds and two blocks in the 85-77 overtime win over Texas Tech in the national-title game.
Diakite would be eligible to return to Virginia, though he made no mention of returning, unlike Guy, who explicitly left that door open in his announcement. Diakite is not on the radar of any mock drafts, but he has the athleticism coveted by NBA teams looking for post players.
Reporting by Zach Pereles and Chris Graham
View this post on Instagram
Comments