There is a lot of buzz around meme coins this year as many experts think they are going to make the jump from a niche category token to a main staple of the investment community. A lot of this has to do with some of the coins that are being launched this year and in particular Love Hate Inu (LHINU).
We personally cannot remember more buzz surrounding a coin that is barely three weeks into its presale. A lot of this of course has to do with what most meme coins pride themselves on; virality. Ever since the inception of meme coins their main selling point has been their ability to go viral. Love Hate Inu seems to have this in spades but also, unlike most other coins in this market, has great utility.
We will go deeper into why Love Hate Inu has the potential to be one of the best-selling coins of 2023 in a little while but first, let's take a look at how we got here.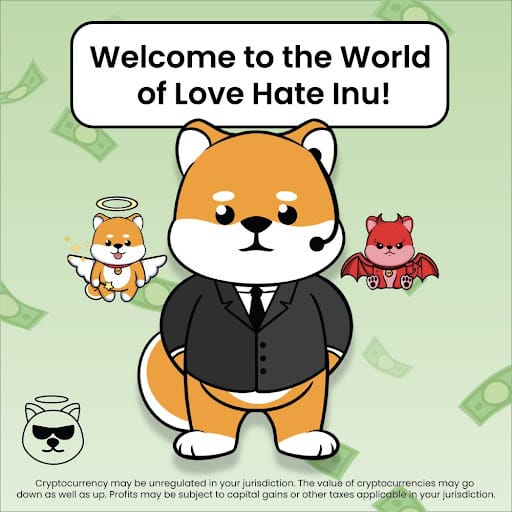 Why the Past has Molded Love Hate Inu's Potential
It is amazing we can sit here today and talk about a coin like Love Hate Inu possibly being one of the best-selling cryptos of 2023 when we think about how meme coins were invented. After all, Dogecoin (DOGE) was created by its founders as a joke and Shiba Inu (SHIB), its next closest competitor in terms of popularity, was created as a counter-joke to try to topple the popularity of the original.
However, now these coins are adding properties to their ecosystem to grow their utility and it's really starting to take effect as the whole sector of the industry grows. Shiba Inu at the moment are developing their layer 2 network which will signify a huge leap forward for meme coins as the faster and cheaper transactions will make skeptical investors more likely to take these tokens seriously.
Then you have new generation coins like Tamadoge (TAMA) which has a growing ecosystem of fun arcade games and has ambitious plans to integrate augmented reality into their projects in the near future. It is this cutting-edge thinking that has inspired Love Hate Inu as they have learned to replicate the positive properties of meme coins while also improving on what they lack.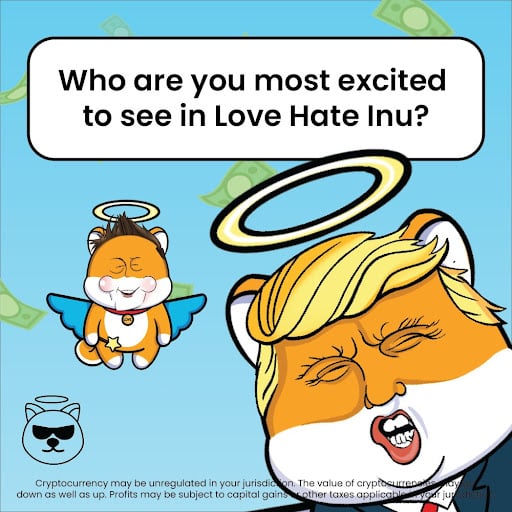 Why Love Hate Inu will change the game
We already spoke about the fact that Love Hate Inu (LHINU) has one of the most exciting ongoing presales and that is reflected in the numbers. Despite only starting just over three weeks ago the presale has already raised over $3 million which is setting all kinds of records for a meme coin. Early indicators did suggest this as the coin had already raised half a million after the first few days.
So, clearly Love Hate Inu ticks the most important box for a meme coin; potential vitality. Experts and influencers are already abuzz about the presale and one quick youtube search will show you pages of videos from influencers discussing their new favorite meme coin. 
The Twitter page also has over 32 thousand followers already and will be hoping that number will start to explode as they chase down Shiba Inu and Dogecoin. The former has over 700,000 but Dogecoin has over 3.7 million followers and really sets the standard in this regard. Love Hate Inu is clearly targeting Twitter as a platform they wish to grow as their account is very active and posts lots of fun updates.
Love Hate Inu is not just relying on virality however, utility is a big part of this coin as it will be the first meme coin that also doubles as a vote-2-earn platform. Investors are very excited about what to expect as they will be able to go to the site and vote on the most interesting, trending topics of the day. 
Right now if you visit the site you can see they have some fun examples of polls that they have. You can vote whether you love or hate some controversial celebrities but the really fun part is that each one is represented by a hilarious illustration of each celebrity as a devil and an angel.
The project has implemented a very sensible stake-2-vote system on its site that will greatly benefit LHINU holders. Users must stake the native currency for 30 days before they are allowed to vote. This system ensures the integrity of polls as they will not fall victim to things like spamming, but it also helps users retain anonymity. As there will also be a discussion platform this will be very useful as voters can express their honest opinions without fear of being shouted down or insulted.
For now, Love Hate Inu will decide what polls will go on the site but before the end of the year, the users will have a say. This too will involve staking, the more voters stake the more say they will have in polls and then they can suggest polls to the community. The LHINU that can be earned from voting will be put up by the creator of the poll.
Lastly, the hottest meme coin on the market has its future in mind too, and has implemented some very clever security measures. Meme coins have traditionally been very volatile and thus are victims of rug pulls and pump-and-dump schemes. To prevent this the inventors have allocated 90% of the total allocation of LHINU to be sold during the presale, thus ensuring only those truly invested in Love Hate Inu will have a say on its future.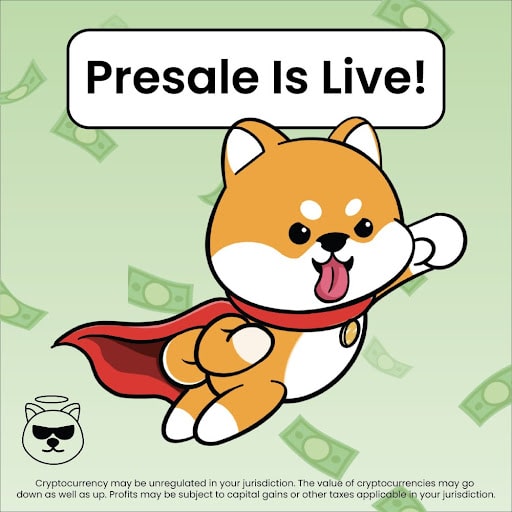 Buy Love Hate Inu Now!
Conclusion 
It really is an exciting time for anyone that has already invested in Love Hate Inu, the presale has already raised more than $3 million, its online presence is growing bigger every day, and experts and influencers can't get enough of this meme coin. 
Very positive early projections suggest that if you get involved before the presale price goes up you could see up to and maybe even over 500% returns. This number seems very high but after analyzing the coin in detail we really do think this could be one of the best-performing cryptos of 2023.