For a while now, the popular and distinct dog cryptocurrencies Shiba Inu (SHIB) and Dogecoin (DOGE) have made waves within the crypto economy. While Dogecoin has been around since 2013 and has seen massive gains in the previous years, SHIB made its place prominent in the market by jumping significantly in value in 2021. But is this it for Shiba Inu and Dogecoin with a new competition like Love Hate Inu making larger milestones in the market? 
While the crypto market begins to recover, with many new and exciting projects gaining popularity and old ones securing greater value in 2023, the performance of SHIB and DOGE seems to be declining. But it's not the same for everyone as LHINU is making its way up with the recent explosion in its presale, hitting a $1.2M milestone in only a few days. Let's go ahead and explore about it these cryptos and their growing potential below in detail.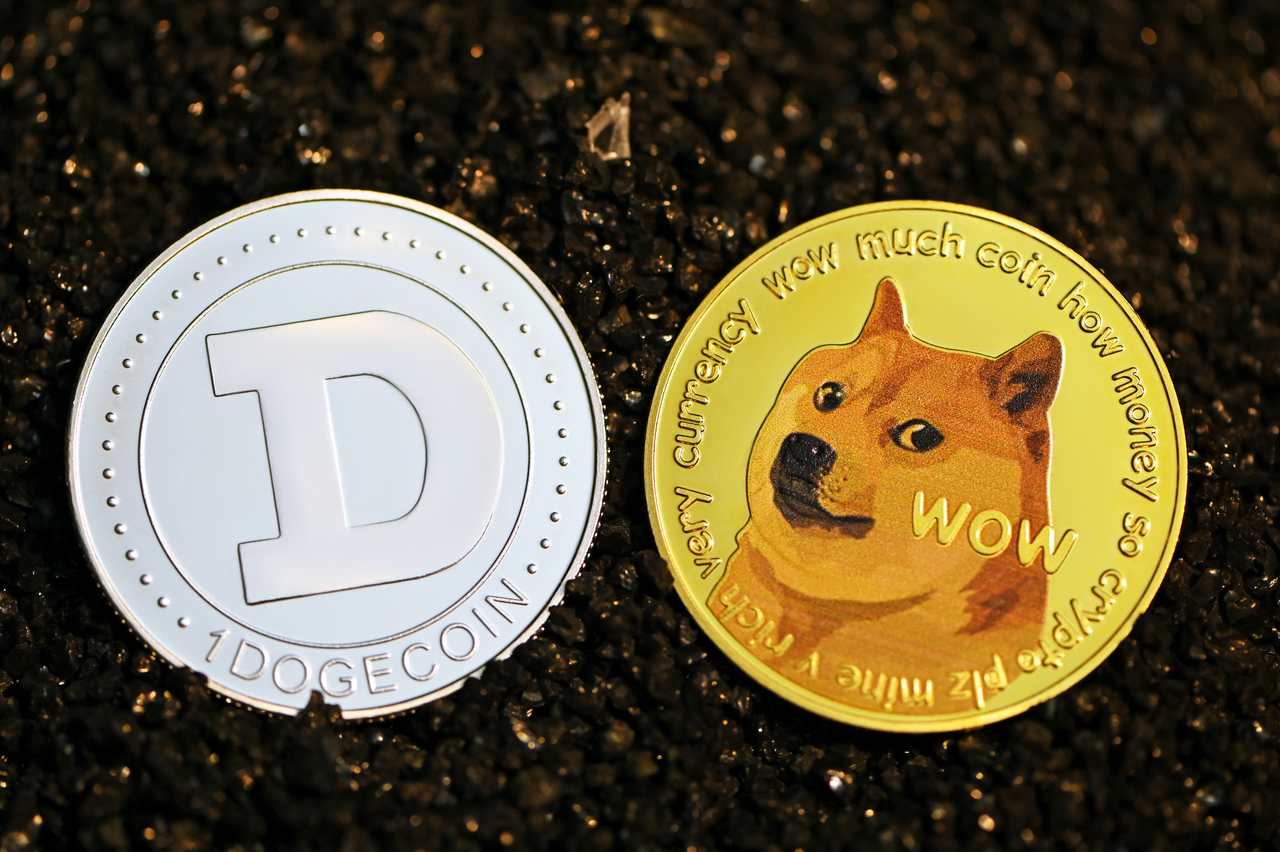 SHIB & DOGE Price Fall:
Despite having a great start and creating history in the crypto world, Shiba Inu and Dogecoin don't seem to be bringing much value to the table lately. Let's explore how the value of these coins has transitioned from highs to lows in 2023.
Shiba Inu (SHIB)
First, let's talk about Shiba Inu, the popular dog crypto that won many viewers' hearts and investors' trust soon after its launch. Considering the above-shown 3-month chart of Shiba Inu's value by CoinMarketCap, we can clearly see how this year started with a red performance for the coin. 
Initially, according to CoinMarketCap data, the price of Shiba Inu reached an all-time high of $0.00008 on October 28, 2021. This occurred when SHIB was listed on several prominent exchanges, including FTX, Binance, and Coinbase. At about the same time, Shiba Inu released its non-fungible Shiboshi NFT tokens, after which its market recorded a high of more than $34.29 billion.
Yet, it is worth noting that Shiba Inu's price slowly lowered to its ATH. In fact, because of the token's price decrease of more than 80% in a year, this coin was just featured at #14 on CMC. Many crypto specialists are now uncertain about SHIB due to its unusually modest shift in the expanding crypto market. So according to their assessments, SHIB will not be among the top cryptocurrencies in 2023.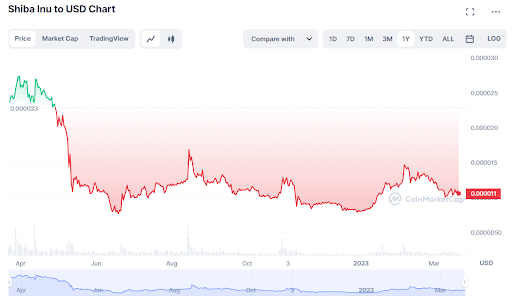 Dogecoin (DOGE)
During the 10 years of its presence, Dogecoin's value has also witnessed more lows recently compared to its frequent ups. Initially, this viral one-of-a-kind meme coin made a lasting impact after its humble launch in 2013 through Twitter. In fact, the purpose of the origin of this meme coin was to mock the crypto industry lightheartedly. But considering the above-shown 3-month chart of Shiba Inu's value by CoinMarketCap, we can clearly see that the coin is witnessing a constant red performance in 2023.
Initially, only 30 days after its launch, Dogecoin gained over 1 million visitors to its website. But the past years have been all about some highs and more lows for the coin. Similarly, in 2023, we can't see much change in DOGE's value, making the popular meme coin a questionable and highly risky investment this year too.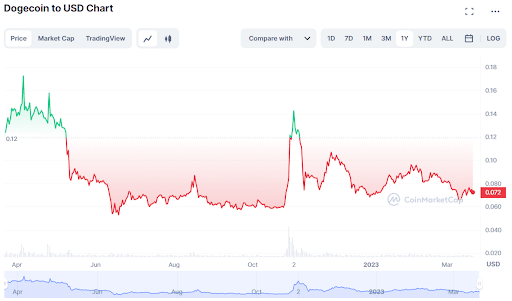 LHINU Changing How The World Sees Meme Coins in 2023
With the constant decline in the value of SHIBU and DOGE, the crypto investors became more apparent how meme coins can be a risky investment in the long run. But with Love Hate Inu's stable and growing popularity and coin value in 2023, the pumping crypto market may see a record-breaking meme coin in the face of Love Hate Inu. 
In a short time, LHINU has, in fact, accomplished a $1M milestone within the first two weeks of its presale. Recently, the platform hit a $1.2M funding milestone, taking LHINU closer to its funding goal. This milestone has turned the tables for this Vote-2-Earn (V2E) meme coin in front of crypto experts and influencers.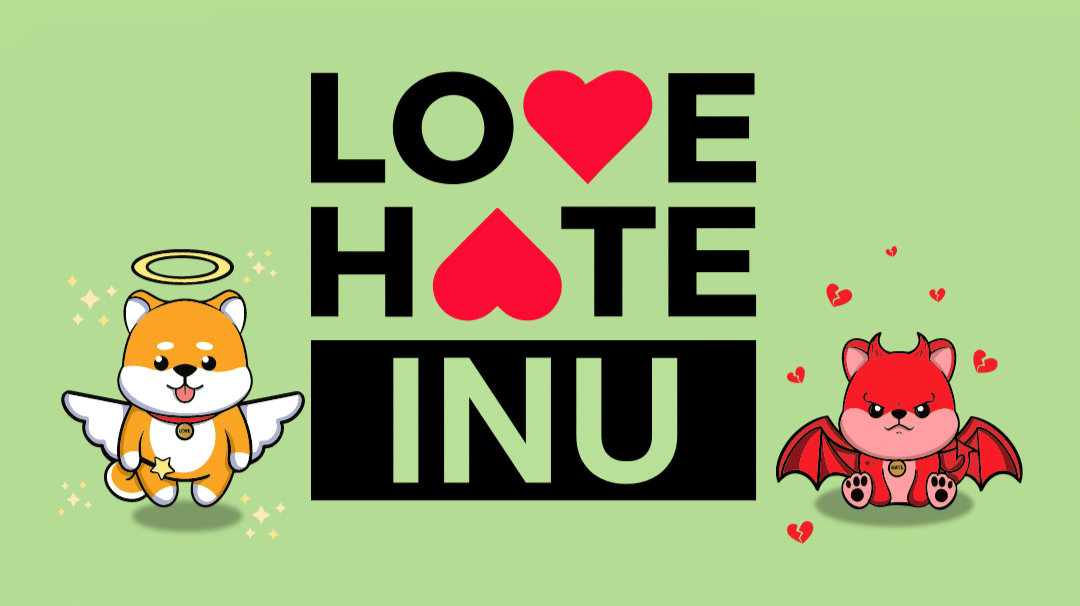 What Makes Love Hate Inu a Revolutionary Crypto?
Considering the many aspects of success that LHINU has acquired in such a short time, another evident aspect that guarantees this project's success in the coming time it its features. These features include: 
A Straightforward and Powerful Interface:

 
With its simple and powerful polling system, you can make the most of LHINU by simply purchasing the tokens, staking them on the website, participating in polls, and suggesting future poll topics. Having said that, sharing your opinion on the platform while acquiring profitable returns on your $LHINU couldn't be easier. 
Making Your Opinion Heard and Valued: 
Since Love Hate Inu is designed to be a polling system, the project serves as a platform for the one thing we all want to give away – our opinions. From social topics to web3 and crypto-related trends – you can share your opinions on all that matters to you with LHINU on the platform. 
Acquiring a 1.2M Funding Milestone and Early Investors
 Having reached the first milestone in a record time for this meme coin, which was launched at $0.000085 and is currently available at $0.00009, LHINU has already become an investment option in 2023 because of its features, popularity, and a large number of early investors.
Conclusion:
All in all, the early milestones of LHINU have made this coin pave the way for meme coins in the pumping crypto world, despite the value decrease of prior meme coins that failed to stabilize their place in the market. 
So if you're looking for a potential low-risk meme coin that guarantees high future returns, LHINU is undeniably a sure-shot crypto investment option in 2023. Moreover, with less than a week left until the price of 1 LHINU increases to $0.000095, this is your time to collect some Love Hate Inu coins at a lower rate of $0.00009 before the price increases.