Putting your opinion out there has never been easier with the digital world rising. But who knew there would come a time when you could even earn for voting in this digitally revolutionizing world? 
With various new, emerging, and innovative Web3 projects adopting the Vote-to-earn model, this approach allows people to voice their opinion in more substantial financial industries, including sports, stocks, cryptocurrency, etc. 
Now there have been web3 projects that have previously adopted this model and made rounds in the crypto market for their initiative, time and again. So it isn't hard to find platforms today adopting the V2E model to expand project awareness and value. 
But which V2E project can you expect to make it big and bring you returns for your investment among the huge competition? Here's one project we know that will boom: Love Hate Inu. 
By adopting a V2E model and making voting accessible and profitable for everyone – Love Hate Inu and its meme coin LHINU are all set to go viral in 2023. Want to know why? Keep Reading!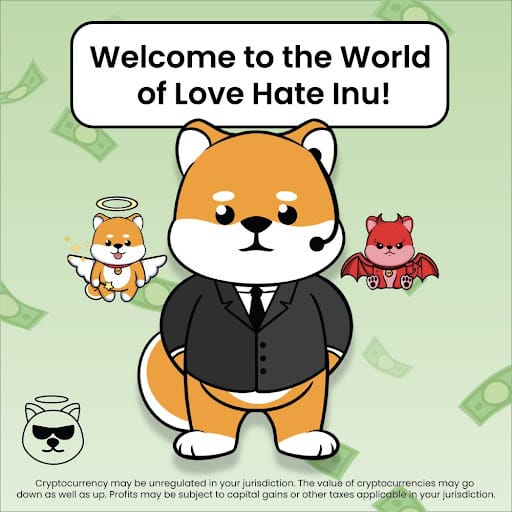 Love Hate Inu Overview:
Merging two rapidly growing sectors of the online survey market and meme coins, Love Hate Inu is all about great potential. Love Hate Inu is a Vote-to-Earn (V2E) platform that uses cutting-edge technology.
This project is designed to initially build polls on its own. However, later, it will give the polling authority to community members. So as a member of the community, you can choose what to vote on while being able to mint meme templates. 
Furthermore, the platform and its voting approach are transparent, safe, and free of manipulation, thanks to the $LHINU token staking approach. This means you can only vote on the platform after staking your tokens.
4 Reasons This Meme Coin Is Set To Be a Hit in 2023:
Simple and Powerful System
Another reason that guarantees that LHINU will be a hit coin is the simple and powerful interface of Love Hate Inu. Simply put, using this platform is very easy. 
Just purchase $LHINU tokens, stake them on the website for at least 30 days, and vote in existing polls. You can also suggest future poll topics. 
While maintaining a fair and authentic voting system, Love Hate Inu's staking mechanism gives you profitable returns of a fixed percentage. 
Opinion Focused: A Common Expression For Everyone
When you go through your Facebook or Instagram feeds, you'll see that people enjoy leaving comments on various topics. After all, if you're familiar with a topic or project, why not express your thoughts about it?
Yet, with Love Hate Inu's Vote-2-Earn model, you may earn with the same opinions you share. Namely, this innovative platform enables you to communicate your thoughts while making money from them.
This approach, as intriguing as it sounds, is capturing public attention, allowing individuals to indicate support or opposition to a specific person or trend – environmental worries or the emergence of a particular crypto project.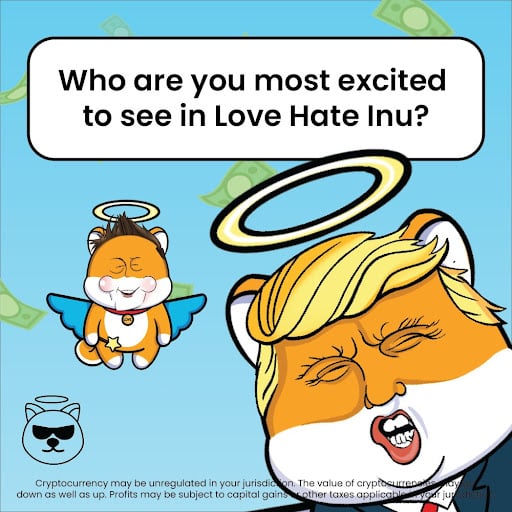 Buy Love Hate Inu Now!
Growing Social Media Popularity: 
Since the launch of Love Hate Inu on social media platforms like Twitter, the project has acquired enormous popularity among the audience. Only on Twitter, Love Hate Inu has attracted more than 35.4K followers since the creation of its account in February 2023. Likewise, the project's Telegram currency has more than  10,600 members so far.
But that's not the end, as the project is expected to seek more recognition and popularity as it continues to grow in 2023. Not to mention the success of the LHINU presale, which has added to the rapidly growing popularity and value of the project. 
Best Presale Of 2023 with Almost $75,000 Funds Secured:
Love Hate Inu coins LHINU have already achieved the buzz and recognition required to attract investors on a large scale, ranking as one of the greatest presales of 2023 at InsideBitcoins.
Now given its quickly expanding value and appeal, investors have been rushing to secure LHINU tokens. Initially, as the presale of LHINU began, the token was worth $0.000145. At this price, the project raised $150,000 in funds within just a few hours of the presale launch. As the project nears its fundraising target of $956,250, its price has increased to $0.000085.
So if you plan to purchase this meme coin designed to power the platform's blockchain-based social media polling network, the platform supports purchases with ETH, USDT, and a standard credit card.
But that's not all; Love Hate Inu plans to list this token for $0.000145. Hence, if you secure your position as an investor in LHINU now, you can expect a 70% paper gain when LHINU goes live.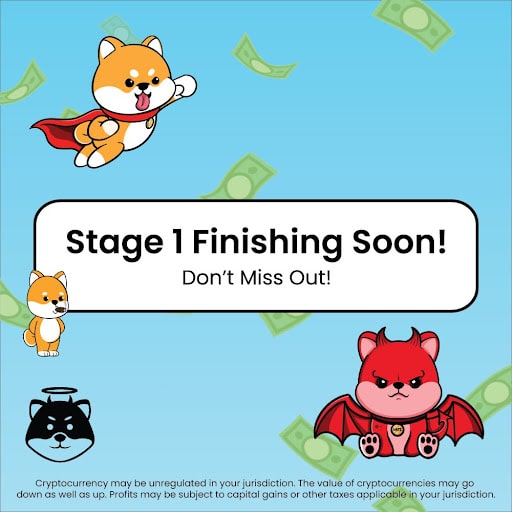 Buy Love Hate Inu Now!
Summing Up: 
With Love Hate Inu making the Vote2Earn model accessible to everyone with an innovative meme coin staking approach, it's certainly a unique Web3 project rising in the community at 2x speed. 
Having said that, if you're looking for a fun perspective introduced by a profiting crypto that you can invest in 2023, look no further than LHINU. Now with LHINU available at $0.000085 each until its price increases to $0.00009 in less than 3 days, this is the perfect time to invest in this viral token before the price increases.