Dash 2 Trade Will be Listed on Exchanges Early After Hitting $9 Million in Presale
There's a new crypto token in town that is ready for exchange listing after a VERY successful presale. 
Dash 2 Trade's crypto analytics project is fast drawing investors' attention due to its innovative technologies. As if its lineup of brilliant, utility-based features weren't enough, the project has gone on to outperform its own presale projections. So far, $9 million have been raised since it was launched to the public. 
Investors are clearly buying it in droves, spurred by the rather low presale price and the promise that the project holds for the near future. Given D2T's slowly budding reputation and popularity, its current presale price seems like a bargain compared to its perceived future benefits.
Without further ado, let's discuss some recent developments regarding the Dash 2 Trade project and highlight the features that make it such a fast-selling token in its presale stage.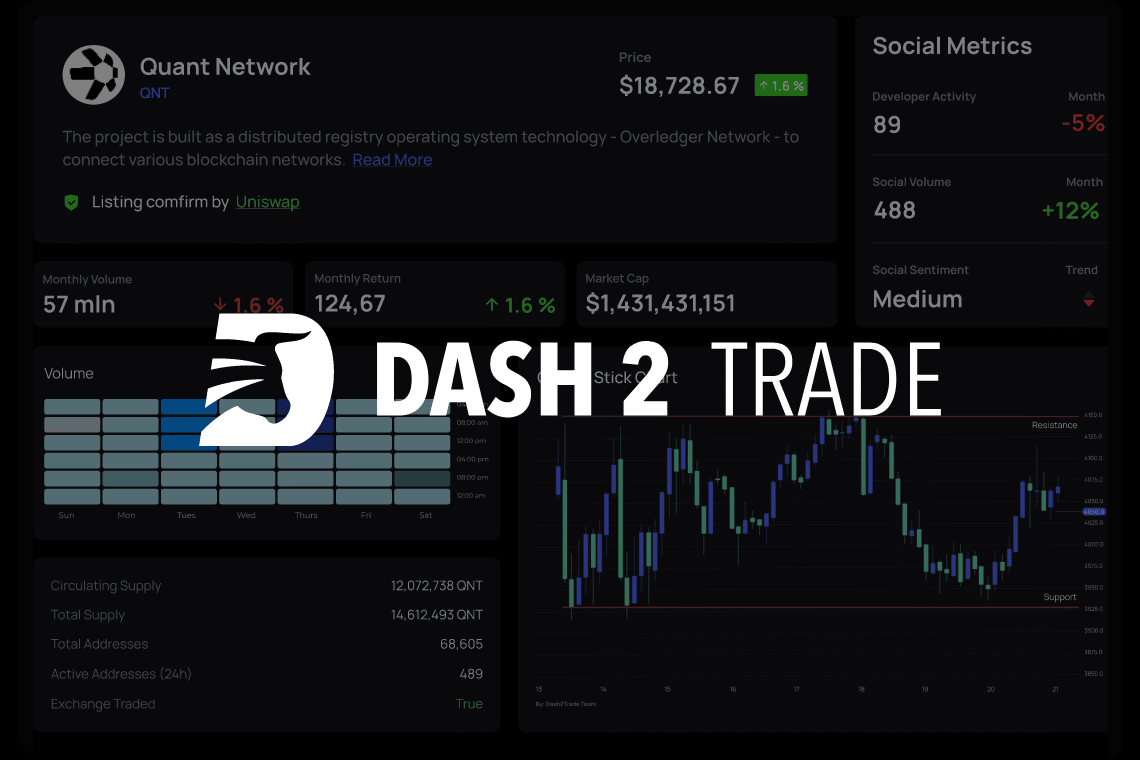 Dash 2 Trade – Recent Developments, Roadmap, and CEX Listings
Generally, new cryptocurrency projects are slow to attain CEX listing status after their launch. With D2T steadily hitting impressive presale figures weekly, barely two months into its launch, few would be surprised at the news that it has reached accords with two CEXs, Bitmart and LBank, to be listed on their respective platforms.
This is a massive win for the D2T team and project as a whole. In light of this development, investors are understandably watching proceedings keenly, with listing negotiations with other major CEXs well underway. 
Dash 2 Trade's negotiating position is from a place of reputation, as potential partners are aware of its affiliation with the successful, UK-based forex e-learning platform Learn 2 Trade. For those not in the know, Learn 2 Trade has more than 40,000 active traders and an impressive 4-star Trustpilot rating.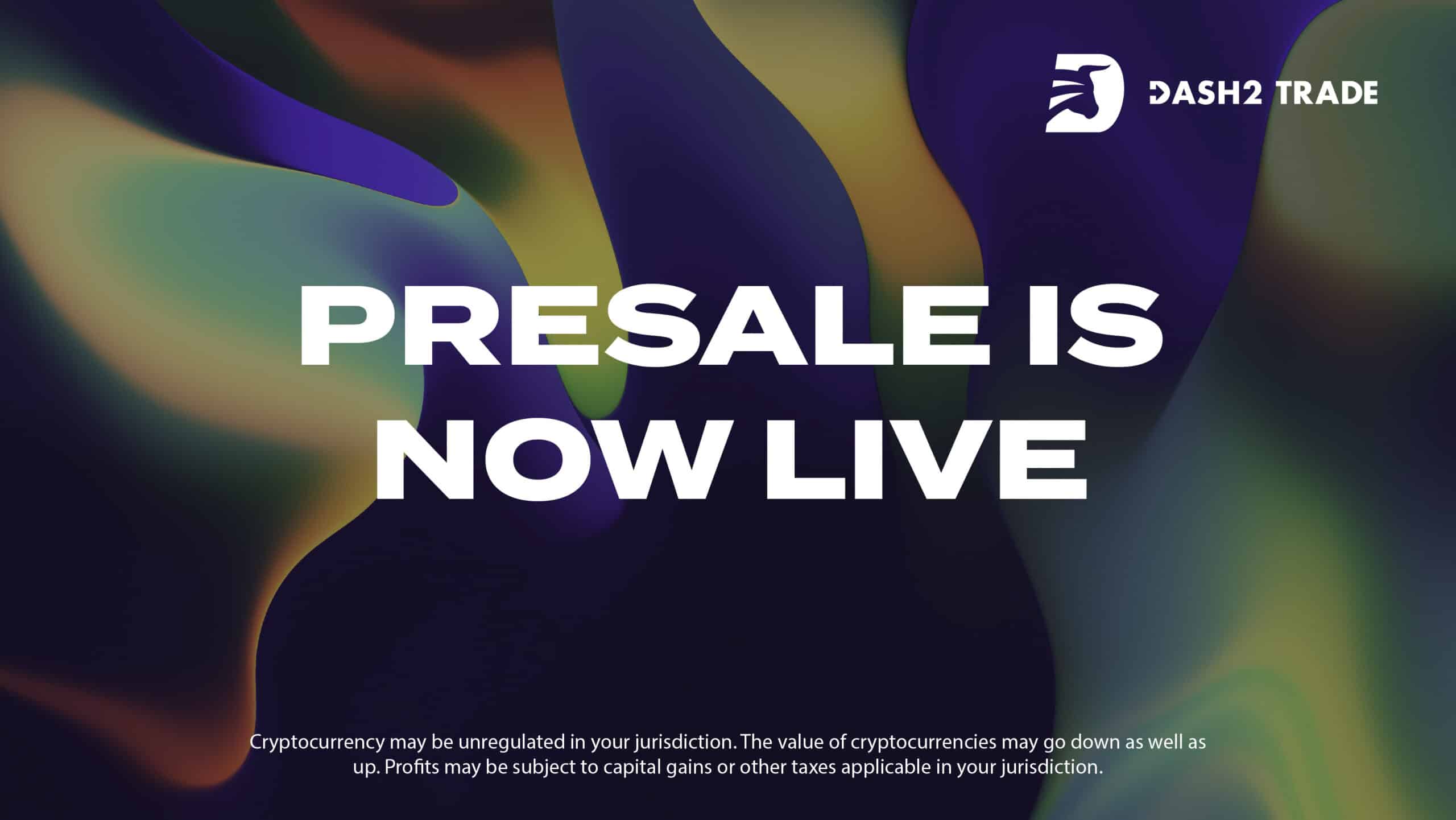 Features of the Dash 2 Trade Platform
At this point, it becomes imperative to delve into what makes Das 2 Trade such a viable crypto option for investors. Let's examine its major features below:
Comprehensive On-Chain Analytics
Dash 2 Trade is more than a crypto token. It has a comprehensive, on-chain analytics dashboard that strongly competes with standalone crypto analytics tools. The metrics on display in the dashboard are insightful, enabling traders to monitor whale movements in the crypto market and take advantage accordingly. The platform performs deep scans of major blockchains like Bitcoin and Ethereum to flag trends and reports to users. 
This crypto analytics platform stands out for its social trading insights tool that allows users to anticipate price movements based on speculation and social media trends. Major market price movements are often dictated by social media speculation. In the past, tokens like BTC, ETH and Dogecoin have benefited from speculation, seeing their prices rise sharply in response to the corresponding increase in demand.
The Dash 2 Trade dashboard keeps traders abreast of top trends in the crypto market with well-timed social insights. D2T's social indicators draw insights from platforms like Reddit and Twitter for traders' benefit. 
One of Dash 2 Trade's most interesting features is its scoring system for presales and ICOs. For each crypto token that goes live weekly, Dash 2 Trade provides rich insights and aggregate scores based on factors like social media buzz, tokenomics, smart contract audit, business model, team experience and other metrics. 
This tool will help investors gain a comprehensive insight into promising crypto projects and assess the legitimacy of token sales. 
One could argue that D2T's social trading feature is its most prominent. Well, it's easy to see why. D2T holders can interact within the platform and enter weekly prediction challenges, with insights from winning predictions made available to users within the network. Additionally, there's a D2T token reward for the winner. 
That's not all.
Trader AMAs facilitate community interactions for mutual knowledge sharing on crypto-related matters. Also, the platform features shareable strategies and signals within the community. Individual trading performances are tracked by D2T's built-in mechanism to allow users follow the best-performing traders. 
Dash 2 Trade provides exchange listing alerts to users who're keen on identifying promising crypto projects from early on. These alerts are crucial, as it means that investors can take advantage of early buying splurges or increased trading volume and capitalize for maximum profit.
Strategy Builder and Backtester
Traders who struggle to develop working trading strategies or often rely on trading bots will find Dash 2 Trade's strategy builder a handy tool. With it, users craft various precise trading strategies to use in real market scenarios. However, that's not what makes this feature special. 
D2T's strategy builder is of great interest and benefit to investors because it is accompanied by a backtester tool that allows users to test their trading strategies in a virtual simulation of real market scenarios, all without risking real funds. The accompanying risk assessment metric is a bonus for traders and is guaranteed to help them make better market decisions. 
Day traders typically use technical indicators as a yardstick for making short-term trades. However, other traders can equally use it to their benefit. Some of the indicators include aggregates like bands, supports, moving averages, order book stats and outliers in volume. 
Although these indicators are more commonly found in traditional forex trading, they've proved equally useful in crypto trading and provide a whole new level of market insight for traders.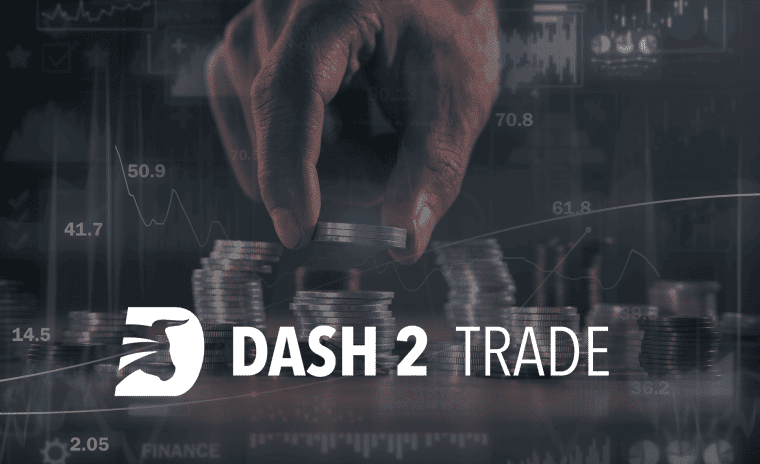 Conclusion
D2T is a taxless, deflationary, advanced trading platform and crypto token whose presale performances point to a bright future. With more CEX listings expected, don't be surprised to hear reports about the project hitting its $13,420,000 target in a few weeks from now. The present D2T buying spree is a real indication of strong market performance in the near future. 
Get on the bandwagon and buy D2T today!