Clemson holds off late BC rally, advances to face #1 Virginia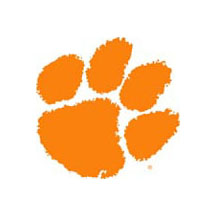 Gabe DeVoe scored 25 points and Shelton Mitchell had 21 as No. 19 Clemson beat Boston College 90-82 on Thursday to advance to the Atlantic Coast Conference Tournament semifinals for the first time since 2011.
The fourth-seeded Tigers (23-8) will face top-seeded and No. 1-ranked Virginia on Friday night.
The Eagles' excellent backcourt of Jerome Robinson (20 points) and Ky Bowman (23 points) combined to shoot 10-for-32 from the field, a day after the pair scored 50 points to carry BC (19-15) to an upset of NC State.
Clemson, picked to finish 13th in the ACC in the preseason, instead is having its best season in seven years under coach Brad Brownell. In their first game of this tournament, the Tigers were energetic on the defensive end and on target with their shots.
Clemson made 9-of-17 from 3-point range in the first half and Bowman and Robinson combined for seven points. That the Eagles (19-15) were down only seven was remarkable, but it quickly turned into a 15-point lead for Clemson in the second half – thanks to DeVoe.
The senior converted a steal into a layup, hit a 3, found Marcquise Reed under the basket for a lay-in and then dropped in a mid-range jumper in the first four minutes of the second half to make it 52-37.
Robinson and Bowman finally got going and BC closed the gap to 63-61 on Bowman's corner 3 with 5:46 left. That was as close as it got. Clemson righted itself behind Mitchell and DeVoe and beat Boston College for the seventh straight time.
#ACCTourney Notes
Clemson (23-8) advances to Friday's 7 p.m. semifinal game and will face the top-seeded and nationally top-ranked Virginia (29-2) … The Cavaliers defeated the Tigers 61-36 on Jan. 23 in Charlottesville during the regular season.
Clemson improved to 20-64 all-time in the New York Life ACC Tournament and to 13-37 in the quarterfinal round.
Boston College slips to 10-13 in ACC Tournament play, 2-5 in the quarterfinals.
Clemson's 90 points were its most ever in an ACC Tournament game … Boston College, which had never scored more than 85 points in an ACC Tournament game prior to this year, averaged 86.7 in its three 2018 tournament games.
Boston College became the 10th team – and the first team since Duke in 2004 – to score at least 80 points in three games of the same ACC Tournament.
Clemson is now 2-0 versus Boston College in the ACC Tournament … The Tigers will seek to defeat Virginia for the second time in eight ACC Tournament tries on Friday night.
Tiger senior Gabe DeVoe matched his career high with 25 points and connect on three shots from 3-point range to raise his season total to 74 and sole possession of 10th place on Clemson's all-time list … It marks the seventh time this season that DeVoe has led the Tigers in scoring and his fifth scoring at least 20 points.
Shelton Mitchell added 21 points for the Tigers, two shy of his career high and marking his 22nd game of the year in double-digits.
Clemson's Elijah Thomas pulled down a game-high 12 rebounds, marking his 10th game with 10-or-more boards and the 17th time this season he had led the Tigers in that category.
Ky Bowman, who led a late surge that saw the Eagles pull as close as two points in closing minutes, led Boston College with 23 points and eight rebounds … In his three 2018 ACC Tournament games, Bowman averaged 24.3 points and 8.0 rebounds.
Boston College All-ACC first-team Jerome Robinson, who posted his 31st double-figure scoring game of the year with 20 points, has averaged 19.9 points in seven career games at Barclays Center.
The Eagles' Jordan Chatman went 3-for-8 on 3-point shot attempts … Chatman ranks second among ACC players with 87 successful shots from beyond the arc this season …. Notre Dame's Matt Farrell leads the conference with 93 made 3-pointers heading into this evening's semifinal game against Duke.
Clemson and Boston College combined to hit 24 shots from 3-point range (12 apiece) … The tournament single-game record for two teams is 25 set on three previous occasions, most recently in the 2013 title game between Miami and North Carolina.