College Basketball Picks & Predictions – Our Expert NCAAB Free Picks
Our college basketball picks can help you beat the sportsbooks on a regular basis. Plus, betting on NCAAB games really heightens the fun, especially when you are winning. However, it can be difficult to stay on top of the various teams and conferences. That is where we can help.
The experts at Augusta Free Press watch college basketball obsessively, and they hunt out the best angles and lines throughout the season. Bookmark this page to receive free college basketball picks each week. Read on to learn more about NCAAB picks and how to handicap college basketball.
Free College Basketball Picks Today
Below you will find the latest college basketball picks from our esteemed experts. This section will be updated regularly during the NCAAB season, so make sure you check back in on a routine basis for the best NCAAB picks.
2023 NCAAB Championship Favorites
Most sportsbooks make Gonzaga the favorites once again for NCAAB championship glory. The Bulldogs finished runners-up in 2021, falling just short of a perfect season, so they were the preseason favorites last year. However, they faltered at the Sweet 16 stage. They are expected to be stronger this time around, but they will face stern competition from several ambitious teams.
| | | | | |
| --- | --- | --- | --- | --- |
| Team | BetOnline | BetUS | Bovada | SportsBetting.ag |
| Gonzaga | +700 | +850 | +800 | +700 |
| North Carolina  | +750 | +850 | +1000 | +750 |
| Houston | +1100 | +1000 | +850 | +1100 |
| Kansas | +1400 | +1200 | +1400 | +1400 |
| Kentucky | +1400 | +1200 | +1200 | +1400 |
| UCLA | +1400 | +1400 | +1600 | +1400 |
| Baylor | +1600 | +1600 | +1400 | +1600 |
| Duke | +1600 | +1400 | +1400 | +1600 |
| Arkansas | +1600 | +1400 | +1400 | +1600 |
| Creighton | +1800 | +2000 | +2200 | +1800 |
MyBookie and XBet do not have futures odds for the 2023 NCAA Tournament right now, but they will offer competitive odds closer to the start of the season.
Explore Our Sportsbook Reviews
Augusta Free Press College Basketball Picks & Predictions
It promises to be another ferociously competitive NCAAB season. Several big teams have high-quality returning players, while there have been some major transfers, and lots of exciting youngsters are ready to break out. Futures betting markets are already available at the top online sportsbooks, and these are some of our long-term NCAAB picks:
National Championship Winner
The North Carolina Tar Heels look perfectly capable of storming to victory at the NCAA Tournament in 2023. The sportsbooks favor Gonzaga, but UNC has a stronger roster. The Tar Heels lost by just three points to Kansas in the national championship game last season. Every rotation player, apart from Brady Manek who has moved to Australia, is back for another year. This is more than enough to make them one of the top college basketball picks.
That experience and continuity could prove vital. These players know how to get the job done during March Madness. Caleb Love was on fire at the NCAA Tournament, and he should be even better now. Leaky Black is a powerful defensive leader, and All-American Armando Bacot is a very precocious talent. Pete Nance adds more depth to this veteran core, and North Carolina is well priced at Bovada to win the championship.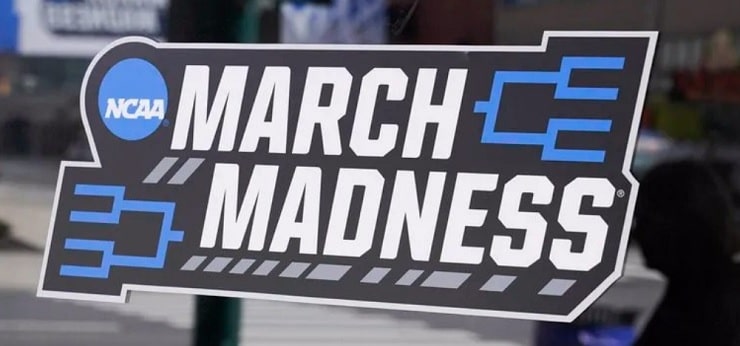 ACC Conference Winner
We found odds of +155 on the Tar Heels to win the ACC Conference, which looks seriously enticing. It will be difficult for anyone to stop Bacot, the 22-year-old power forward/center who blazed a trail of destruction across the NCAA Tournament in 2022. He is gunning for school records for rebounds and double doubles in his senior year, and UNC fans will be delighted that he decided against entering the NBA Draft.
Duke will put up a fierce challenge to the Tar Heels, as the roster boasts a wealth of potential NBA stars. However, the experience of UNC should ultimately trump the youth of Duke in college basketball picks. They look vastly superior to the likes of Virginia, Florida State, Miami (FL), and Notre Dame, so it could prove to be a two-horse race, which UNC should win.
SEC Conference Winner
For the SEC conference college basketball picks, Kentucky is the clear favorite to win the SEC this season. Some sportsbooks even make it the joint favorite along with Gonzaga and UNC for the national championship. Oscar Tshiebwe and Sahvir Wheeler are returning, while Cason Wallace arrives in a strong recruiting class.
The Wildcats will certainly be strong, but a longer shot on Arkansas looks very tempting. The Razorbacks head into the season with lots of question marks, having lost every key player from last season. However, they boast three five-star freshmen – Anthony Black, Nick Smith, and Jordan Walsh – and they have made some very shrewd transfers in the country's No. 2 ranked recruiting class. They could peak in time for March Madness, making Arkansas a legit contender.
Pac 12 Conference Winner
UCLA looks well-placed to clinch the Pac-12. The betting sites make Arizona the favorite after welcoming back Oumar Ballo, Kerr Kriisa, Pelle Larsson, and the talented Azuolas Tubelis. It has made some impactful transfers too. Yet UCLA looks even more exciting this year.
There is a veteran core featuring returning point guard Tyger Campbell and guard-forward Jaime Jaquez Jr. It also has a top-10 recruiting class, with lots of exciting prospects in the mix. If they can land center Michael Nwoko, the odds on them will shorten, so wagering on the Bruins now is appealing. They went to the Final Four last season, and they should go deep once more.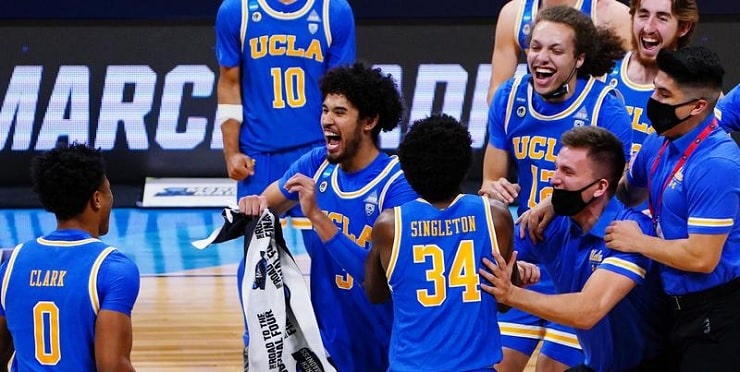 What are College Basketball Picks?
College basketball picks are predictions on betting markets, such as the point spread, total points, and the moneyline. You will also find picks on futures markets like the NCAAB championship winner.
Anyone can make college basketball picks. However, NCAAB picks from respected, professional handicappers gain the most attention. The experts break games down to the nth degree, harness advanced analytics, and rely on their vast experience to create winning college basketball picks.
Some give out picks for free, while others charge for NCAAB picks. You can consider college basketball picks and then conduct your own research to check you agree. Just make sure you find the best available odds and lines before betting on the best college basketball picks.
College Basketball Picks Against the Spread
The point spread is the most popular betting option. The sportsbooks decide which team is the favorite, and they then give that NCAAB team a handicap. It creates a point spread, which means the betting sites can offer similar odds on either team covering it. You just need to work out who will cover.
This is an example of a college basketball point spread:
Arkansas -4.5 vs. Duke (-110)
Duke +4.5 vs. Arkansas (-110)
In this example, you have two options. You can bet on Arkansas to cover if you think the Razorbacks will win by 5 or more points. Alternatively, you could bet on Duke if you expect them to win or lose by no more than 5 points.
Most college basketball picks focus on which team will cover the spread. Over/under total points picks are reasonably common, and some picks focus on the moneyline if the teams are evenly matched, but the majority of NCAAB picks concentrate on the spread.
College Basketball Parlay Picks
A parlay rolls two or more college basketball picks together for a single bet. It provides you with the opportunity to turn a small risk amount into a large profit, because the profit compounds inside the parlay. We can highlight the power of compounding with an example. Let's say you like four picks:
Houston -7.5 vs. Oregon State (-110)
Michigan -4.5 vs. UCLA (-110)
USC +6.5 vs Gonzaga (-110)
Baylor -3.5 vs. Villanova (-110)
If you have $100, you could bet $25 on each of them. If all four teams, you would $90.91 in profit. Alternatively, you could roll them into a $100 parlay. If all four covered, that $100 parlay would pay $1,228.33.
That is because the money you earn on each leg of the parlay goes onto the next leg. It means you can earn much larger payouts. On the flipside, just one loss will cause the entire bet to collapse, so it is riskier.
College basketball picks rarely focus on parlays. However, you can just identify your favorite college basketball picks and put them together to create your own parlay.
What are NCAA Basketball Computer Picks?
With so much happening during March Madness, it can be difficult to accurately predict all of the matches. That's why computer picks are becoming more and more popular when choosing the right NCAAB lines.
Computer picks are the result of advanced machine learning techniques. Modern computers take all the statistics and simulate games for more than 10,000 times to provide more accurate probabilities. These are dynamic and can be updated with new details, like player injuries, trades, and more.
Best College Basketball Betting Sites
The AFP experts set out to uncover the best college basketball betting sites right now. They reviewed dozens of reputable, legit NCAAB betting sites as part of this detailed exercise. We ultimately decided that these are the best sportsbooks for NCAA bettors:
Explore Our Sports Betting Guides
Where to Find College Basketball Expert Picks
Augusta Free Press is the best source of college basketball expert picks. We give out free picks on all the biggest games of the season, so remember to bookmark this page. However, we understand that you might want additional advice.
If you are looking for additional college basketball picks, we recommend the BetUS TV section. There is a dedicated section for video college basketball picks, featuring many esteemed handicappers. Twitter and Reddit are also sources of college basketball picks, and you can find some helpful YouTube videos too.
How we Make College Basketball Picks and Predictions
There are three key pillars required for successful college basketball picks and predictions:
Conduct Very Thorough Research
A high degree of expertise is required to produce winning college basketball picks on a consistent basis. Our handicappers are NCAAB experts. They have been watching college basketball games incessantly for several years.
They also have their own patches, focusing intently on specific conferences to ensure they boast immense expertise on certain teams. The handicappers work together on some picks, blending their expert knowledge to produce strong college basketball predictions. Their expertise allows them to effectively analyze data and use gut instinct to produce winning picks.
Find Useful Statistics
You can also harness the power of artificial intelligence to produce NCAAB picks. This is particularly helpful towards the end of the season, when a vast array of data is available on the various teams.
Handicappers can feed data into an AI program that crunches the numbers rapidly, cutting out human error. It focuses on the past performance data of the teams and players, analyzes how they performed against similar opponents and maps out how a game will unfold.
The AI can run thousands of simulations to arrive at a prediction on how many points each team will score. These insights can be used alongside the handicappers' expertise to come up with college basketball picks. Simple use of helpful statistics can also bolster their picks.
Shop for the Best Betting Lines
It is important to bet when there is perceived value. Pro bettors know how to spot a weak opening line and pounce on it. They also seek opportunities to fade the public closer to the start of the game, and they can uncover new opportunities too.
At a more basic level, you should always make sure you find the best available odds and lines before placing college basketball wagers. That will improve your chances of profiting in the long-term as an NCAAB bettor.
FAQs
Who will win the NCAAB championship?
How can I bet on March Madness?
Who is favored to win the NCAA Division 1 Men's Basketball Tournament?
Where can I find free college basketball picks?