Women's basketball: Liberty shoots past CSU in Big South opener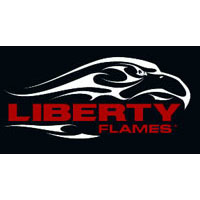 Liberty saved its best shooting performance of the season for its Big South Conference opener Tuesday evening at the Buc Dome. The Lady Flames tied a program single-game record with 12 three-pointers and hit 85.2 percent of their free throws in an 81-72 victory at Charleston Southern.
Liberty, which improves to 2-10 overall and 1-0 in Big South play, shot a season-high 50 percent (23-of-46) from the field, including 57.1 percent (12-of-21) from beyond the three-point arc. The Lady Flames matched their program record of 12 triples, originally set against CSU on Jan. 22, 1991. As a result, Liberty snapped its four-game losing streak and its nine-game road/neutral losing skid.
Lela Sellers hit four of those trifectas as part of a season-high 21-point evening for the Lady Flames. She was joined in double figures by Nene Johnson (season high-tying 13 points), Audrey Rettstatt (10 points, season-high seven rebounds) and Big South Freshman of the Week Keyen Green, who recorded her fourth double-double with 10 points, a game-high 14 rebounds and a season-best four blocked shots.
Despite a career-high 22-point effort by Rachel Burns and 14 points from Big South Player of the Week Ke'Asia Jackson, Charleston Southern falls to 6-6 overall, 0-1 in conference play with its fourth straight defeat. The Buccaneers have now lost six straight home games against the Lady Flames and 13 consecutive meetings with Liberty overall.
Six different Lady Flames scored points during the first 6:33 of the contest, including Johnson, who came off the bench for a driving layup at the 3:27 mark. Her hoop gave Liberty its largest advantage of the opening half (14-7), capping off a 7-0 run.
Back-to-back jumpers by Alyssa Mann ignited a 6-0 surge by the Buccaneers. However, the Lady Flames stayed in front by a slim 19-18 count after 10 minutes of play.
Both teams shot 50 percent or better during an entertaining second quarter which included nine three-pointers made, three ties and 10 lead changes. The final lead change came right at the buzzer, when Johnson's second triple of the first half tickled the twine. That put Liberty on top, 40-38, after its highest-scoring opening half of the season.
Johnson led all players with 13 first-half points, igniting a Lady Flames offense that shot 54.2 percent (13-of-24) from the field, 61.5 percent (8-of-13) from three-point range and 75 percent (6-of-8) from the foul line in the opening half.
Charleston Southern also shot the ball well before the intermission, paced by Rachel Burns' 12 points. The Buccaneers made 48.3 percent (14-of-29) of their field goals, 55.6 percent (5-of-9) of their triples and 71.4 percent (5-of-7) of their free throws.
Liberty won the first-half rebounding battle, 20-8, but committed 14 turnovers that led to 16 CSU points.
Sellers scored seven points during the first 5:08 of the second half, including a driving layup at the 4:52 mark which lifted Liberty to a 50-42 advantage. CSU scored the next five points, making it a one-possession game (50-47) on two Jackson free throws at 4:09.
However, Sellers banked in a three-pointer on Liberty's next trip to the offensive end and the navy blue-clad Lady Flames maintained their advantage for the rest of the quarter. Liberty led, 55-48, at the end of the third period.
Charleston Southern fouled Liberty early and often in the fourth quarter, but the Lady Flames were up to the challenge. Despite shooting just 57.1 percent for the season entering Tuesday's contest, Liberty made 17-of-19 (89.5 percent) from the charity stripe in the fourth quarter. That performance enabled the Lady Flames to close out a season-best 85.2 percent (23-of-27) night at the foul line and a nine-point victory.
CSU shot pretty well for the game, including 40.3 percent (25-of-62) from the field and 31.8 percent (7-of-22) from three-point range. However, Liberty's defense limited the Buccaneers to 33.3 percent (11-of-33) from the field and 15.4 percent (2-of-13) from long distance after halftime.
The Lady Flames also did a good job defensively against Mann. She entered the game just 20 points shy of 1,000 for her career but was held to seven points on 3-of-12 shooting on Tuesday. Mann did lead all players with her seven assists and three steals, though.
Sellers, who came into the game sporting a career high of nine points, tallied 15 of her 21 markers after halftime. Her efficient effort featured 6-of-10 shooting from the field, 4-of-7 from beyond the arc and 5-of-5 at the free throw line.
Green, the Big South's leading rebounder, headlined Liberty's dominance around the basket. The Lady Flames won the rebounding battle by a 40-25 margin and blocked a season-high seven shots.
Up Next
Liberty will now prepare for its Big South home opener against High Point (3-9, 1-0 Big South) on Saturday. The Lady Flames' first home game since Dec. 10 will tip off at 7 p.m. inside the Vines Center. Liberty has won five consecutive meetings with the Panthers.
Comments