The Candy Man tastes the rainbow victory at Bristol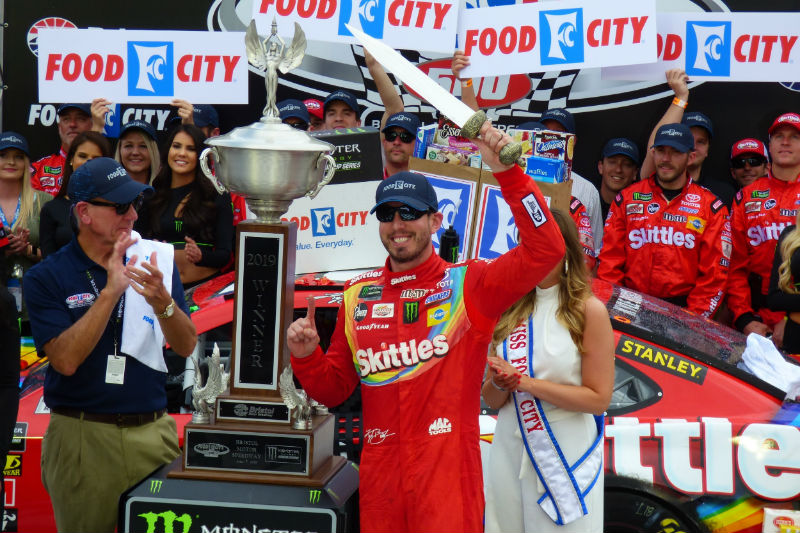 After a rough qualifying session on Friday, "The Candy Man", Kyle Busch was not in a mood to be trifled with.
In response to a local reporter's question of what did he see ahead?  His answer was short, terse and to the point; concrete.
Yes.  Concrete.
According to car owner Joe Gibbs, Busch was mad on Friday. Very mad.
But sometime between Friday and Sunday afternoon, Kyle Busch turned that pout and frown upside down and tasted the rainbow of victory in the Food City 500 at Bristol Motor Speedway.
It wasn't easy getting that frown turned to a smile in the early going of the Food City 500.  In fact, it appeared early in the race that Busch would not be a factor, given the lick he received in the rear panel of his Skittles Toyota Camry on Lap One.
With the bottom of the rear panel gone and the middle mashed in, Busch still had his spoiler intact and began his assault on The Last Great Colosseum.
Adam Stevens, Busch's crew chief, commented that the early hit could have affected the balance of the car in the early going of the race.  "We've been close all year, and with the two wheel tire deal and the aero package, but it was actually the worst car I've put under him."
Busch weaved his way through traffic, and began to close in toward the front and also benefiting from other driver's misfortune.  Those with bad luck on the afternoon included pole sitter, Chase Elliott who lost power steering in his No. 9 NAPA Auto Parts Chevy Camaro.  Elliott would struggle but manhandle his Chevy Camaro to an 11th place finish after leading 38 laps in the early going.
Other drivers who faced obstacles on the afternoon included Aric Almirola, driver of the Stewart-Haas Racing Ford.  The #10 car sponsored by Smithfield and the DC Comics movie, "Shazam!" was collected in an early mishap with Hendrick driver William Byron.  Almirola said after going out of the race that the "24 got loose under me" and was "out of control". Almirola attributed the mishap to Byron's inexperience. Almirola would register a DNF on the afternoon at Bristol.
Early in the race, it was anybody race to win.  Performances from Clint Bowyer put the Kansas driver in the lead but Bowyer faced strong runs from the Penske stable with Joey Logano, Brad Keselowski and Ryan Blaney all racing for the lead and trying to hold it.  "We had a good car," said Bowyer following the race.  "You get that close. Long runs were our strong suit but I couldn't take off all day long."
"It's just disappointing." commented Bowyer.
Logano would finish third, Blaney in fourth and Keselowski would finish 18th after the final restart on a caution.  "Nobody could figure out the lineup.  There wasn't enough communication and it was just a tough deal."
After Kyle Busch fought his way to the front of the pack in the closing stage of the race, a familiar face popped up in his rear view mirror; his brother Kurt.
After starting 27th on the day at Bristol, Kurt Busch found himself in the closing laps of the Food City 500 battling to reach the front but unable to get past his younger brother.
"The Monster Energy team is doing a good job," replied Kurt Busch following the race.  "I really wanted to beat him. I was going to wreck him."
Busch pointed out though that brother Kyle had "already won" and he felt the need to "give a little love to his brother."
"I wanted that one bad.  I feel like him right now. I'm all mad because I didn't win."
Kurt Busch added that his Chip Ganassi prepared Camaro is "not quite ready to win yet, but we are close."
Kyle Busch's car owner, Joe Gibbs said, "I admire this team, Adam and Kyle. With Adam and Kyle, they have a way of fighting through adversity."
Gibbs added that "the caution at the end really helped us, we had so many things wrong with our car, loose wheels with Martin (Truex) and Erik (Jones).  We just fought through adversity. Bristol is a tough place to win."
The Stage One winner was Ty Dillon with Stage Two won by Joey Logano.  Kyle Busch picked up his 54th Monster Energy Cup Series win and tied him in total wins regardless of class with Lee Petty. There were 11 cautions for 77 laps and 21 lead changes among 9 drivers.
The Top Ten finishing order of the Food City 500:
Kyle Busch
Kurt Busch
Joey Logano
Ryan Blaney
Denny Hamlin
Paul Menard
Clint Bowyer
Daniel Suarez
Ryan Newman
Jimmie Johnson
Other notables included Kevin Harvick, finishing 13th and on the lead lap. When Sunday dawned and time for the Stewart-Haas Racing Ford to go through inspection, the SHR Ford failed NASCAR inspection not once or twice, but three times before finally getting through on the fourth try.
In turn, Harvick's car engineer was ejected from the track, with Harvick docked 30 minutes of practice time at Richmond and the relegated to the rear of the starting grid.
Martin Truex, Jr. finished 17th, Kyle Larson finished in 19th, Bubba Wallace in 20th  and Ricky Stenhouse finishing 33rd.
The NASCAR Monster Energy Cup Series moves to Richmond Raceway this week for a doubleheader featuring the Xfinity Series and MECS teams.
By Rod Mullins | Augusta Free Press
Comments