Salem Red Sox blast Winston-Salem 12-1 for sweep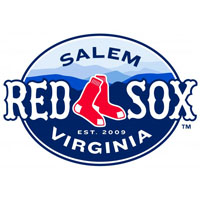 The Salem Red Sox sent 10 batters to the plate and scored six runs in the top of the fourth inning to seize control and run past the Winston-Salem Dash 12-1 Sunday afternoon at BB&T Ballpark. Salem completed a three-game sweep of Winston-Salem, and has now won 10 games in a row.
The Dash (52-74, 24-32) struck first when Marcus Davis hit a solo home run off Anyelo Leclerc in the bottom of the second inning to give Winston-Salem a 1-0 lead.
Salem (78-47, 35-21), however, tied the contest in the top of the third against Kelvis Valerio. Bryan Hudson tripled to right-center and scored two pitches later on a Mike Meyers sacrifice fly. Hudson went 3-for-5 with three stolen bases, a triple, two runs scored and an RBI batting out of the leadoff spot.
The Red Sox offense exploded against Valerio (3-5) in the top of the fourth, when the first five batters all reached base safely. A bases-loaded two-run single from Jordan Procyshen gave Salem its first lead of the game, and subsequent run-scoring hits from Jordan Betts, Hudson and Rafael Devers extended a 7-1 advantage.
Leclerc (3-2) had his best start of the season, lasting 5.0 innings for the Red Sox, allowing just one run on three hits, walking one and striking out five.
In the top of the seventh, Salem sent nine batters to the plate and scored another five runs against reliever Ryan Riga, with Procyshen delivering another two-run single as the Red Sox lead grew to 12-1. The catcher finished 2-for-4 at the plate with a career-high four RBIs.
Jake Cosart, Jeffry Fernandez and Bobby Poyner combined to toss 4.0 scoreless innings out of the bullpen to seal the victory for the Red Sox, allowing just three hits total.
With the win, Salem's winning streak now stands at a Red Sox-era record of 10 games. It is the longest winning streak in franchise history since the 2007 Salem Avalanche won 12 contests in a row. Salem's 78 wins this season are the most in Red Sox-era history.
The Red Sox enjoy a day off Monday before beginning a new series with the Potomac Nationals on Tuesday. Salem sends LHP Daniel McGrath (7-5, 3.96) to the mound, while Potomac has not announced a starter. First pitch is scheduled for 7:05 pm. Follow along with all the action on the Salem Red Sox Baseball Network, with pre-game coverage beginning at 6:45 pm.
Comments