Local
Richmond Flying Squirrels shut out by Trenton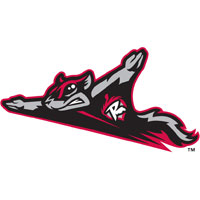 Four pitchers combined on a four-hit shutout as the Trenton Thunder (24-21) skunked the Richmond Flying Squirrels (21-22), 3-0, in front of 4,617 at The Diamond on Tuesday night.  The Thunder have grabbed the first two games of the four-game series and are now 7-2 against Richmond this season.
The ballgame remained scoreless into the eighth inning when the Thunder finally broke through.  Richmond lefty Phil McCormick, on in relief, conceded a lead-off single to Ramon Flores.  He then issued a walk Jose Pirela before being lifted in favor of right-hander Daryl Maday.  Maday recorded the first out of the inning before walking J.R. Murphy to load the bases.  Maday then uncorked a wild pitch that allowed Flores to come home for a 1-0 lead.  Slade Heathcott then laced a two-run double through the alley in right-center field to cap the scoring for the night.  McCormick (1-3) was charged with the first two runs in the inning and eventually took the loss as well.
Lefties Carlos Teller and Matt Tracy dueled through the first five innings of the ballgame, each keeping the opposition at bay.  Teller, making his second start for Richmond, had some command issues in the first inning, but quickly solved them.  He held the Thunder hitless through 4 1/3 innings before conceding a single to Casey Stevenson.  It was the only hit he allowed over five scoreless innings, issuing three walks and striking out five.
Teller did not factor in the decision despite his fine showing, as he was matched stride-for-stride by Tracy.  In fact, Tracy went an inning longer, blanking the Squirrels over six innings on just two hits.  However, he also didn't factor in the decision.  He walked two and struck out seven.  Combined in his two outings against Richmond this season, the lefty has turned in 11 shutout frames on just five hits.
Left-hander Edwin Quirarte worked 1 2/3 scoreless innings behind Teller, and McCormick finished off the seventh inning before his troubles to begin the eighth.
Righty Matt Daley (1-0) earned the win in relief for the Thunder, working 1 2/3 innings behind Tracy.  He allowed just one hit and struck out two.  Lefty Francisco Rondon recorded the final out of the eighth inning and righty Tommy Kahnle retired the side in order to complete the shutout.  Kahnle earned his fourth save of the season – his second against the Squirrels.
Game three of the four-game series is scheduled for 6:35 p.m. at The Diamond on Wednesday night.  Richmond RHP Fabio Castillo (2-2, 3.38) will make the start against Trenton RHP Jose Ramirez (0-1, 1.50).  Pregame coverage begins on Sports Radio 910, SportsRadio910.com and IHeart Radio at 6:05 p.m.