Potomac rally falls ahort in 5-3 loss to Winston-Salem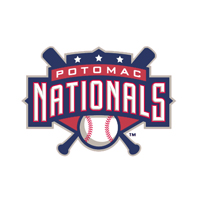 Down 5-0 in the bottom of the ninth inning, the Potomac Nationals (6-9) scored three runs with two outs and had the winning run at the plate, but RHP Luis Ledo (SV, 2) got LF Telmito Agustin to fly out to right field, as the Winston-Salem Dash (7-8) picked up a 5-3 victory. Potomac had just three hits over the first eight innings, and then tallied four hits in a span of five batters in the ninth frame.
The Dash got off to a quick start, as DH Luis Robert hit the second pitch of the game over the centerfield wall for his league-leading sixth home run of the season. RHP Nick Raquet (L, 1-2) allowed at least a run in each of the four innings that he pitched, as the Dash plated one run on a two-out double from 2B Tate Blackman in the second inning, two runs on a double by CF Tyler Frost in the third inning, and the club's final run of the night on an RBI double from 3B Yeyson Yrizarri in the fourth frame. Raquet allowed five runs on 10 hits over four innings in the loss.
LHP Kyle Kubat (W, 2-0) dominated Potomac throughout his six-inning outing. The left-handed starter surrendered just three hits over the quality start and saw just two Potomac baserunners reach scoring position. DH Cole Freeman was hit by a pitch in the first inning, but Potomac stranded him at third base, while Agustin walked to begin the sixth inning, but was erased on a line drive double play off the bat of CF Nick Banks.
Potomac got five innings of shutout relief out of the bullpen, as RHP Frankie Bartow allowed four hits and struck out three over three frames, while LHP Carson Teel allowed just one hit over two innings in his Carolina League debut.
Winston-Salem carried the five-run lead into the final frame and turned to LHP Kevin Escorcia after three-shutout innings from RHP Alec Hansen. Escorcia struck out the first man that he faced, but then walked Banks and gave up a single to 3B Anderson Franco. With men on second and third base and one out, RF Gage Canning took a called third strike, while SS David Masters got Potomac on the scoreboard with a two-out, two-run single. 2B Osvaldo Abreu followed with a double, which put the tying runs in scoring position and brought the potential tying run to the plate. The Dash went back to the bullpen and brought in Ledo, who quickly gave up an RBI single to Freeman. Freeman's single pulled Potomac within two runs, but Agustin lined out to right field on the first pitch from Ledo, which ended the game.
Off of three straight losses, Potomac will turn to RHP Malvin Pena (1-1, 9.00) on Friday in an effort to snap the skid. Pena allowed three runs over 5.1 innings in a victory over the Dash last Sunday. For Winston-Salem, RHP Cristian Castillo (0-1, 4.91) will make his second straight start vs. Potomac. On Sunday, Castillo allowed five runs on 10 hits over six innings in a loss vs. the P-Nats.
First pitch at Northwest Federal Field on Friday night is set for 7:05pm. The Potomac broadcast will get underway at 6:50pm with the P-Nats Leadoff Show. You can listen to the Potomac broadcast at potomacnationals.com or on the TuneIn Radio App.
Comments