Notes, Quotes and Comments: #11 UVa. 65, Miami 40
Team Notes
• Virginia won its school-record 15th ACC game of the season
• The Cavaliers extended their win streak to 12 straight games, their longest ACC win streak since 1981-82
• The 12-game win streak is Virginia's longest overall win streak since a 12-game win streak in 2011-12
• Tony Bennett recorded his 100th win at Virginia, becoming the seventh UVa coach to accomplish the feat (Lannigan, Tebell, Gibson, Holland, Jones, Gillen)
• The Cavaliers won their 24th game of the season, topping last season's win total (23) and becoming the only team in the nation to improve its win total the past five seasons (Colorado State, Indiana, North Carolina Central, Oregon, SE Missouri State and Southern Miss could also accomplish that feat this season)
• Virginia improved to 19 games over .500 for the first time since 1982-83
• The Cavaliers posted their 11th double-figure ACC win of the season, extending their school record
• Miami became the first UVa opponent to not make a 3-pointer since Arizona State on Nov. 27, 1999 (span of 457 games)
• Virginia held its 16th straight opponent under 50% shooting
• Miami's 26.1% (12-46) shooting was the lowest by a UVa opponent this season
• Virginia improved to 35-2 under Tony Bennett when holding opponents under 50 points
• The Cavaliers won their 17th consecutive home ACC game, setting a new school record (16 straight home ACC wins from 1980-1982)
• Virginia's 17-game home ACC win streak is tied for the longest active streak in the league (Duke also has an active 17-game ACC home win streak)
Player Notes
• London Perrantes (15 pts) scored in double figures for the third time this season (all in ACC play)
• Perrantes became the seventh Cavalier to have a 15-point game this season (Anderson, Brogdon, Gill, Harris, Mitchell, Perrantes, Tobey)
• Malcolm Brogdon (15 pts) has scored in double figures in every ACC game (16th consecutive game, 22nd time this season overall, 27th time in his career)
• Brogdon remains the only player in the ACC to score in double figures in every conference game this season
• Joe Harris (11 pts) scored in double figures for the 18th time this season (87th time in his career).
• Joe Harris had a season-high five assists
Player Career Highs
• London Perrantes scored a career-high 15 points
• Perrantes made a career-high four 3-pointers
John Paul Jones Arena Records
• London Perrantes tied the UVa JPJ record for 3-point percentage by going 4-for-4
Virginia Head Coach Tony Bennett
On focusing on today and not looking forward to Syracuse: "We definitely wanted them focused on the game tonight. I thought we played solidly. We had to make Miami earn it and we contested most of their shots. They scored most of their points at the free throw line in the second half. Hopefully, we wore them down a little bit. I think our guys had the right mindset. We adjusted well and the guys played a better second half offensively."
On London Perrantes shooting:  "He got some good looks, and I have seen him shoot the ball well. He has been working on it, so good for him. He played a very good game. We need that – different guys stepping up at different times on this team is what has made us the most successful."
On the Syracuse game:  "I told my son, "Eli, two more games left" and he started chanting "'Cuse, 'Cuse 'Cuse." People like to point to a big game, but everyone in this profession knows just to be ready. Hopefully, we will make it down this road again, but this is definitely the last time Joe, Thomas, and Akil will come down this road. We need to make the most of it by being as prepared as we can physically and mentally. When you put it in that frame, that this is their last chance, to overlook anything would be foolish."
On Syracuse as a team:  "I remember watching them win the Maui Invitational and how potent they were. They have a lot of weapons and there is a reason why they have the record that they have. You have to play at a very high level to compete with that. We know we will have to do certain things well, but the formula does not change for us. We don't need to be different we just need to be the best that we can."
On the rest of the season:  "We are fighting for an opportunity to have a crack at a conference championship, which is a big deal. That means something. It is going to be hard fought, but it won't change how we prepare. You just have to be as tough as you can be defensively, take the shots offensively and know you're going against a top team in the country.
On the 16-5 run:  "We have to play every possession. I don't know if there was a big explosion that ignited it, but we just kept chipping away and getting better shots. I don't know if we wore them down at all, but I feel as though we got in a stride offensively and stayed fairly stingy defensively."
On comparisons between Perrantes and Ennis:  "They both seem unflappable. They are calm, cool, and collected. They seem to play with a level of poise. They let the game come and don't get sped up in their mind or on the floor. Ennis is a heck of a player, but I think our point guard is a heck of a player, too."
Miami Head Coach Jim Larrañaga
On the game: "You have got to love the ACC. You have Virginia hosting Syracuse, battling for the regular season title. It has been a while since UVa has been in this opportunity. Virginia has a terrific team. We couldn't score easily tonight. We had some good looks and they didn't fall for us. We were in a hole that we couldn't dig ourselves out of – the credit goes to them. Virginia makes you take difficult shots. The only guy that was able to get it done for us was Erik Swoope."
On defense:  "I don't think they are a pressure team, they are a pack team. You just can't get inside of them. Virginia takes away all of your twos and they challenge your threes, they only do what they can do. They know great shot selection and they have a great perimeter team. We tried to get in there and make some threes."
On London Perrantes:  "We thought, he makes one three a game, at least, so it's okay if we give up a couple to him – but that doesn't tell the story. The story is their defense. We had twenty at halftime and twenty in the second half."
On Virginia vs. Syracuse:  "Both teams have contrasting styles defensively and similar styles offensively. You have a man-on-man defense compared to a zone defense. Both point guards distribute the ball and are true point guards. Virginia will need to make some threes against them. Harris and Brogdon will need to be there and show up."
On scoring:  "It's not the amount of points that London scored tonight, it's the way. If he continues to be the three-point threat he was tonight, then he will give Syracuse a tough time. Even Evan Nolte becomes a factor. He can come off the bench and hit those threes when you need them. I think legitimately this Saturday it will be a low scoring game between the two teams."
On planning for tonight's game:  "We were concerned about Joe Harris and Malcolm Brogdon, but when Perrantes starts making those shots, we thought 'oh whoa', but he played a terrific game and is a great player. Like Tyler Ennis, they are both two of the best point guards in the country."
Virginia Senior Forward Akil Mitchell
On the defensive effort:  "We fouled so many times. They were just putting their heads down and kind of running into us and at that point there's not much you can do except just stand there. But I feel like we started the game out pretty well, and they weren't shooting the ball too well, but we did what we needed to do."
On Miami's lack of three pointers:  "We knew that their guys could get it going, Rion Brown is a great shooter, and they have a couple guys that can pick & pop and stretch the defense. However, we knew that a lot of their guys really wanted to drive to the paint and kick it, so that was really our focus trying to prevent their game plan."
On not looking ahead to Syracuse:  "It was tough, but at the end of the day this is the team we are playing and you have to focus on what is right in front of you. We got this win and now it is time to focus on Syracuse. You think about it all season, but the time is here now. All this week the media was talking about them, but our first concern was Miami. Now is when we focus on Syracuse."
Virginia Sophomore Guard Malcolm Brogdon
On this week:  "It's been nice to play this well up until this point and to be able to play a really good team. We're looking forward to it, we're going to enjoy this win tonight and then get back to work tomorrow. Nothing changes when preparing for Syracuse, we will prepare the same way for everybody else."
On the game:  "Our focus speaks a lot about Coach Bennett and the maturity of our team, even after we've gotten a lot of applause for our record. For us to come out and still establish ourselves and play good basketball [speaks to how Coach Bennett prepares us]."
On looking forward:  "Honestly, it wasn't that tough to not look ahead. We've had struggles with Miami in the past, everyone knows that, so we knew we had to come in and really impose our will from the beginning. We knew this wasn't going to be a team that would just roll over, we had to come out and play our game and try to dominate."
On the magnitude of the Syracuse game:  "It's huge, but obviously as a player you try and block out the distractions and the publicity that the game is getting. I really feel like it's not about that, and at the end of the day it's just another basketball game that we have to go in and play our game for."
On Senior Day:  "That is more on my team's mind, it's going to be the last time we get to play at JPJ with our seniors Tom, Akil and Joe. It will be a very powerful and emotional night."
Virginia Senior Guard Joe Harris
On tonight's mindset:  "I think that the coaches did a good job keeping us focused and not looking too far ahead, we're worried about Syracuse now but I would say that no one around the locker room was really thinking about it too much. We had to focus on Miami, we knew they are a very good team and the last thing we would want to have happen is a loss here at home going into that game."
On Miami's Rion Brown:  "We knew that he takes a majority of the shots for them, he's their best offensive player. He has a very quick release and is very aggressive. I was just trying to tag on a lot of screens with him and trying to contest every shot that he had. I thought that he hit some difficult shots, but for the most part we made it tough on him."
On Syracuse:  "I've seen them on TV against Duke and Pitt. They are a very good team and we will learn a lot more about them in these next few days when we prepare for them. I can say that we're very excited and it's going to be a cool atmosphere, we're looking forward to it. It would be huge to win an ACC championship and that's one of the reasons we all came here."
On toning down the outside attention for the Syracuse game:  "I don't really get (on edge) at all. Regardless of the situation of the game and all that stuff, even though it is my last game at JPJ, which is sad and I love playing here. It will be emotional, and it is for an ACC title against a great team. It is a huge matchup, but I think if you look at it from a greater perspective, this is what we wanted when we got here as first years. This is something that if we could have looked ahead when we first got here and said 'our fourth year, our last game is going to be for an ACC championship against a top-5 team, we would definitely take that and would be excited about that."
Virginia Freshman Guard London Perrantes
On his three-point shot:  "I've been getting a lot of extra work outside of practice. Coaches and players having confidence in me is definitely paying off now."
On his role in the offense as point guard:  "I just do what the defense gives me. We know that none of us should do anything overboard. We just work on our offense, take what the defense gives us, and I knew that their defense was leaving me open, so I started knocking down shots and making them pay."
On Syracuse's defense:  "Every game they play on TV I like to watch, just to look forward to playing them, scouting them, looking at the Syracuse defense, the 2-3 zone. I've been looking at them basically this whole season, trying to figure out ways that we can penetrate it. Watching Tyler Ennis, you can learn from him and other point guards in the ACC. I have the utmost respect for (Syracuse) and Tyler Ennis, so it should be a crazy atmosphere on Saturday."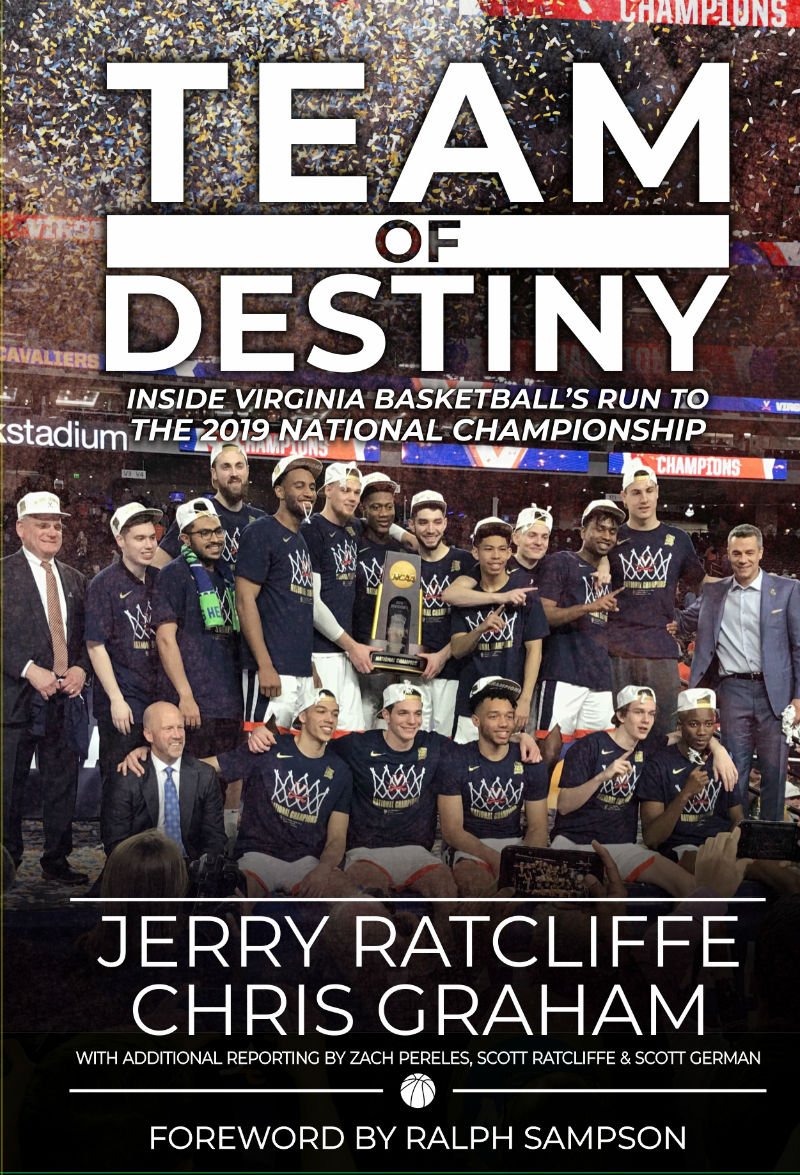 Team of Destiny: Inside Virginia Basketball's Run to the 2019 National Championship, by Jerry Ratcliffe and Chris Graham, is available for $25.
The book, with additional reporting by Zach Pereles, Scott Ratcliffe and Scott German, will take you from the aftermath of the stunning first-round loss to UMBC in 2018, and how coach Tony Bennett and his team used that loss as the source of strength, through to the ACC regular-season championship, the run to the Final Four, and the thrilling overtime win over Texas Tech to win the 2019 national title, the first in school history.

Related Content
Shop Google