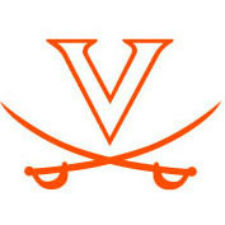 A pair of Virginia wrestlers are seeking a championship this weekend at the Southern Scuffle in Chattanooga, Tenn., as George DiCamillo (Highland Heights, Ohio) and Zach Nye (Enola, Pa.) advanced to the quarterfinals in opening day action on Friday (Jan. 1).
DiCamillo picked up a pair wins on the day after a first-round bye, including a fall in 1:58 against Air Force's John Twomey and a tech fall over Jacob Grigg of Appalachian State. Nye also earned a first-round bye then picked up a pair of decisions over Cornell's Owen Scott and Navy's Michael Woulfe.
In all, eight Cavaliers advanced to the Round of 16 in the Southern Scuffle.
Fox Baldwin (Kissimmee, Fla.) fell to No. 5 Bo Nickel of Penn State at 174 pounds his Round of 16 matchup, while Ethan Hayes (New Lebanon, Ohio) fell to No. 12 Riley Shaw of Cleveland State at heavyweight.
Tyler Askey (Newnan, Ga.) dropped a gritty 3-2 decision on an escape at the buzzer to No. 19 Alex Utley of North Carolina at 184 pounds, while Andrew Atkinson (Lynchburg, Va.) fell 4-2 in sudden victory to Kamaal Shakur of Chattanooga at 157 pounds.
Two Cavaliers withdrew for medical reasons at the event.
In addition to DiCamillo and Nye in the quarterfinals, seven Cavaliers are still alive in the wrestlebacks on Saturday with Will Mason (Virginia Beach, Va.) at 125 pounds, TJ Miller (Medford, N.J.) at 149 pounds and Will Schany (Blair, Neb.) at 184 pounds, joining Atkinson, Askey, Baldwin and Hayes all seeking to place.
Wrestling will resume at 9 a.m. on Saturday (Jan. 2) at the McKenzie Center in the prestigious event hosted annually by UT-Chattanooga.