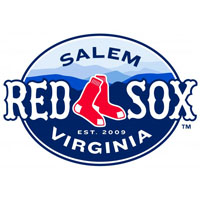 Tim Anderson clubbed a first-pitch leadoff homer to bolt the Dash ahead, and Winston-Salem led wire-to-wire in a 12-4 laugher over the Salem Red Sox on Thursday night at BB&T Ballpark. The Dash racked up 16 hits, including four home runs, easily providing plenty of support for righty starter Tony Bucciferro, who earned his fifth win on the year. Bucciferro was perfect on the hill through three innings and only surrendered a pair of unearned runs in his six inning outing, which featured eight strikeouts and no walks. New Dash catcher Omar Narvaez, making his Carolina League debut, belted two homers to make a tremendous first impression in the Winston win.
Up 1-0 after one thanks to the Anderson jack, the Dash added two runs in the second and three more in the third against Salem starter Pat Light, who served up three homers in his four-inning stint. Winston collected five consecutive singles in the second inning and Narvaez launched a three-run homer with two outs in the third.
While the Sox broke up Bucciferro's perfection and scored twice on two hits and two errors in the top of the fourth to make it 6-2, the Dash quickly countered in the bottom half of the frame. With two outs, Jacob May walked and Courtney Hawkins crushed a two-run homer, lifting the Dash to an 8-2 edge.
The lead grew to 11-2 when Winston registered five straight hits against Kyle Kraus in the sixth inning, with May's two-run triple highlighting the big frame. All told, the Dash scored runs in six of the first seven innings en route to an easy victory. Six Dash hitters registered multiple knocks, while four drove in multiple runs.
While the highlights were slim for the Sox, Carson Blair continued to pound the ball, launching a solo homer in his 2-for-4 performance that improved his recent average to .463 (25-for-54) over his last 15 games. In addition, Aneury Tavarez went 1-for-4 to extend his hitting streak to 13 games, while Mario Martinez went 1-for-4 to extend his hitting streak to 11 games.
Making his Carolina League debut after playing in the South Atlantic League All-Star Game on Tuesday, Jantzen Witte played third base and went 0-for-4 with one RBI.
The Sox and Dash reunite on Friday night, with Corey Littrell schedule to start for Salem. First pitch is slated for 7 PM.