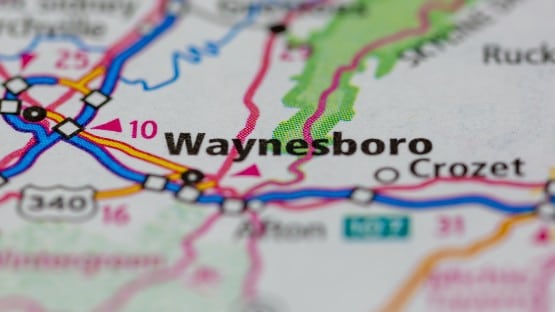 A couple of days after I lost in my only attempt at public office, back in 2008, when I ran for a seat on Waynesboro City Council, I was invited out to lunch by Frank Lucente, who was on the City Council, and would be there for a while yet.
Frank is everything that I think is wrong with how Waynesboro has been run and is run – a fake populist, a pretend conservative, who a few years after this lunch meeting would push the city to spend $3.4 million on a soybean field that one of his political allies couldn't seem to find a buyer for, but otherwise, you know, we need to be careful with people's money.
Anyway, this guy, Waynesboro is a far worse place because of him.
So back to that he invited me out for lunch, and that I accepted, because I was curious as to why.
It felt like a recruiting attempt. His general message: he'd started out like me, bright-eyed, bushy-tailed, wanting to save the world, but as he got older, he came to a different realization about how things worked.
He didn't really spell out what that was, but I got the message.
And, he told me, I would see things like him eventually.
I was reminded of this last night.
This Lucente guy happened to be at a social gathering that we'd each been invited to.
Seeing the dude there looking all satisfied with himself got me thinking back to that lunch 15 years ago.
And it hit me: that I'm still not the selfish prick that he is, and said I would be, and, sorry if I'm cutting too close to the bone there, but it's just what it is.
The Lucente era in Waynesboro politics, which is still ongoing – two of his acolytes, the mayor, Lana Williams, and Bruce Allen, who beat me way, way back in the day in that 2008 election, are still on City Council – has been marked by just how much we've fallen behind.
That $3.4 million soybean field that we bought more than a decade ago, for instance, we've got some drawings together, but the effort, if we can call it that, to turn it into an economic driver is going so slowly that it's obviously never going to materialize.
Meanwhile, we've been starving our school system, which used to be among the best in the state, and now barely keeps its head above water.
The local economy still hasn't recovered from the decades of seeing the good-paying jobs at DuPont and General Electric get shipped overseas.
Waynesboro is, at best, a shadow of its former self, and the old guard, led by this Frank Lucente guy, wants you to think that the most important thing isn't trying to breathe new life into the city, but keeping taxes low.
It's been 15 years, but I'm still not giving up on Waynesboro, like this Lucente clown did, and said I would.
The one thing that bothers me on this: I don't know if anybody else out there gives a damn.
I say that because, not only do we keep electing the likes of Lana Williams and Bruce Allen, but, seriously, Jim Wood?
The Waynesboro that I grew up in was run by the smart people, who wanted the best schools for their kids and jobs for them when they graduated.
What we are now is a town with a few people who are happy with what they have, want to protect it, and the political power, and as for the rest of you, well, too bad, so sad, you're on your own there, pal, should have been born to better parents, I guess.
Maybe it's because I'm one of those who wasn't born to better parents that I see things differently, but, we've got to be better than this.