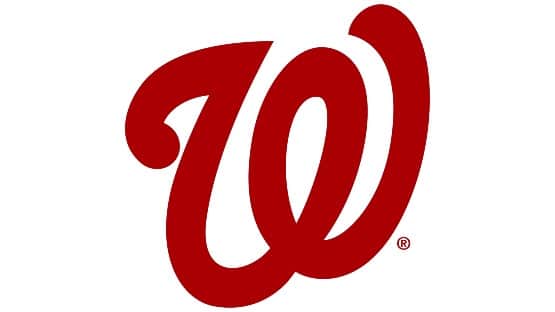 With pitchers and catchers reporting to Spring Training in West Palm Beach, Fla., last Wednesday, and positional players joining them this week, everyone is ready to go as the Washington Nationals are hoping to bounce back from a disastrous 2022 season with a new-look roster full of promising young talent.
Washington finished dead-last in the National League East standings, an eye-popping 46 games out of first place at 55-107, which also happened to be the worst record in all of Major League Baseball.
A lot of that can be attributed to the mid-season losses of Juan Soto and Josh Bell, and the subsequent, continuing rebuilding process. The star duo was shipped off to San Diego ahead of the trade deadline in a six-player deal with the Padres, the latest in a long line of recent transactions that have stripped the organization of many of its marquee players.
This time around, Washington did at least get some promising talent in exchange. Left-handed pitcher MacKenzie Gore and infielder CJ Abrams should be extremely significant contributors this season — and in the near future — at the major-league level, while prospects Robert Hassell III, James Wood and Jarlin Susana may take some time to develop in the minors, but all three have loads of potential, along with several others in the organization.
Luke Voit, the other player acquired in the Padres trade, is currently a free agent.
The Nats are welcoming in 27 non-roster invitees to Spring Training to try to find the right pieces for the start of the regular season at the end of March, when the Grapefruit League games conclude.
Who Else Is Gone?
In the offseason, Cesar Hernandez, the Nationals' starting second baseman and best hitter in 2022 (team-high .248 average) left for Detroit. He also led the team in at-bats (560), hits (139), runs (64), doubles (28) and triples (4).
Veteran designated hitter Nelson Cruz, 42, is now with the Padres. He batted .234 with 10 homers and a team-high 64 RBI last season in D.C.
Third baseman Maikel Franco is also no longer with the club, and neither are SS Alcides Escobar, 2B Dee Strange-Gordon, SP Anibal Sanchez, SP Erick Fedde, SP Joe Ross or RP Steve Cishek.
Manager Davey Martinez is excited to get to work with this year's group to find replacements to step up and deliver, and he said the first day back this week couldn't have gone much smoother.
"It was nice to see everybody take to heart what we asked them to do, which was to come to Spring Training in shape," Martinez said after the first full workout Tuesday. "They all look great, they really do, and the energy was positive, it was amazing. It was a good first day for us."
Potential Starters
In his first full season as a Nat, catcher Keibert Ruiz played in 112 games behind the plate in 2022.
Acquired from the Dodgers in 2021, Ruiz, 24, has displayed star qualities both defensively and with his bat, and he should be a fixture in the lineup throughout the campaign and for years to come.
Last season, Ruiz produced 99 hits (22 doubles, 7 homers, 36 RBI) in 394 at-bats (.251 average). Riley Adams and Israel Pineda will compete for the backup spot.
Dominic Smith is expected to take over at first base after leaving the Mets organization in the offseason. Smith, 27, appeared in 58 games last season for New York, producing just 26 hits and 17 RBI in 134 at-bats, while striking out 37 times. He's hoping to rejuvenate his career after posting a career-low batting average of .194, after a string of success from 2019-21 in which he churned out 215 hits, 51 doubles, 32 homers and 125 RBI across those three seasons.
Luis Garcia will likely step in permanently at second base, while Abrams is a 22-year old shortstop who immediately became the top prospect in the Nats organization after the San Diego trade.
Garcia, also 22, hit .275 a year ago in 93 games with the Nats, and should be a reliable starter in 2023. Abrams was quickly called up in mid-August after Garcia suffered a groin injury, and remained a fixture for the rest of the season. He played in 44 games in Washington, producing 41 hits and 6 stolen bases while batting .258.
Now, the two will have the opportunity to share the middle infield on an everyday basis, and the Nats are excited about their defensive abilities as well as their hitting skills.
Third baseman Jeimer Candelario rounds out the potential infield starters. The 29-year-old came over from Detroit after six seasons (he played his first two with the Cubs), and should provide experience and leadership from the hot corner. He hit .217 with 13 home runs and 50 RBI in 124 games with the Tigers last season. Candelario is a career .240 batter with 525 hits and 66 homers under his belt.
Carter Kieboom, who missed all of 2022 recovering from Tommy John surgery on his right elbow, will only be swinging the bat this spring, and could end up in Triple-A to start the regular season as he gets back to throwing the ball. Kieboom has played a total of 106 games at the major-league level, batting .197 (111 strikeouts) with 8 career homers and 31 RBI.
Off the bench, 3B Ildemaro Vargas, 3B Jake Alu and 2B Jeter Downs will all have a chance to battle for playing time around the infield, as will non-roster invitees Michael Chavis, former Nat Matt Adams, Erick Mejia, Lucius Fox and Leonel Valera.
Joey Meneses, 30, who burst onto the scene in 2022 after spending several years in the minors, should see most of his time as a designated hitter this season, but could slide over to first base or elsewhere on occasion. In just 56 games last season, Meneses hit .324 with 13 home runs and 34 RBI in 222 at-bats, and he's expected to deliver more pop at the plate in his sophomore campaign.
Former Cardinal veteran Corey Dickerson (.267 average in 99 games last season in St. Louis), 33, will be fighting for a starting spot in left field, but should have steady competition from both Stone Garrett and Alex Call.
Garrett, 27, played in 27 games last season in Arizona, batting .276 with 4 homers, 10 RBI and 3 stolen bases in his brief stint with the Diamondbacks, and he's hoping to make a name for himself in D. (Buy molnupiravir) C. Call, a 28-year-old who was acquired from Cleveland last season, played in 35 games for the Nats, batting .245 with 5 homers and 13 RBI in 102 at-bats.
Now in his seventh season with the club, the speedy Victor Robles should be back to start in center field after another disappointing season at the plate. Robles, 25, struck out 104 times in 2022 while collecting just 82 hits, but is aiming for more production with the bat this season.
Lane Thomas will move over from left to right field after a solid first full season with Washington. Thomas, 27, came to the Nats midway through the 2021 season for veteran pitcher Jon Lester in a trade with the Cardinals, and has been one of the team's top performers over the last season and a half. In 2022, Thomas batted at the top of the order, sporting an average of .241 with 120 hits (26 doubles, 17 homers and 52 RBI) in 498 at-bats.
Rookie Jeremy De La Rosa (the team's No. 10 prospect) and 27-year-old Josh Palacios are also fighting to make the team as an extra outfielder, along with non-roster invitees Yadiel Hernandez, Derek Hill, Yasel Antuna, Donovan Casey and Travis Blankenhorn.
Potential Batting Order
Thomas should retain his leadoff spot atop the order, and Martinez went with Abrams second, Meneses third, and Voit clean-up toward the end of last season. With Voit out of the picture, Garcia or Ruiz could easily slide somewhere in that top four. From there, it's anyone's guess. Garcia, the switch-hitting Ruiz, and lefties Smith and Dickerson could all really be plugged in anywhere from 3 to 7, depending on pitching matchups, with Candelario — also able to bat from both sides of the plate — and Robles likely winding up near the bottom of the lineup.
Should Garrett (R), Call (R), Vargas (S) or another National win a starting job, that could certainly shuffle things around, but obviously the lineup will change throughout the year either way.
Starting Pitchers
Gore, Cade Cavalli and Josiah Gray are the cornerstones of the future for the Nats, and should all see plenty of opportunities in 2023. Gore, 23, has a chance to take the hill for Martinez on Opening Day. He started 13 games for San Diego last season as a rookie, finishing with a 4-4 record and an ERA of 4.50.
Cavalli, 24, is a talented right-hander who made his long-awaited Nats debut in late August against Cincinnati, striking out 6 Reds batters in 4.1 innings of work. He was listed as the No. 4 prospect in the Washington organization.
Gray, 25, made 28 starts (7-10, 5.02 ERA) in 2022 for the Nats after being traded with Ruiz from the Dodgers in exchange for Max Scherzer and Trea Turner in 2021.
Veterans Patrick Corbin (31 starts, 6-19 record) and Trevor Williams (9 starts, 3-5 record with the Mets in 2022) are expected to round out the starting rotation.
Joan Adon (14 starts, 1-12 in 2022) and Cory Abbott (9 starts, 0-5) are among the list of names of other players in camp with starting experience. Rookie Thad Ward, 26, was acquired from the Red Sox in the Rule 5 Draft in December, and the Nats must keep him on the major-league roster all season. Ward is the No. 13 prospect in the organization and has pitched well as a starter in the minors after coming out of the bullpen in college.
Meanwhile, 2019 World Series MVP Stephen Strasburg had been briefly throwing without pain in the offseason, but recently had a setback with nerve irritation and did not report last Wednesday. There is currently no timetable for a possible return to the roster at some point in the 2023 season, but the team remains hopeful that Strasburg has not thrown his final pitch in a Nats uniform.
"We have to really be patient with him; it's going to take time," GM Mike Rizzo said of the Strasburg situation, "but as far as expecting him to be ready to go in the beginning of Spring Training or break camp with the team, that was never anything on my expectation list. It's something that we're hopeful that he can regain the strength and confidence to perform again."
Strasburg, now 34, has made just eight starts over the last three seasons while battling through hand, shoulder, neck and rib injuries. He's under contract through the 2026 season.
Bullpen
Tanner Rainey, who posted 12 saves last year before having season-ending Tommy John surgery, is not expected to be back until the latter half of the season. That likely leaves the all-important closer role in the hands of Kyle Finnegan (11 saves, 14 holds in 2022), who assumed the duties after Rainey's departure last season.
Right-hander Carl Edwards Jr. (13 holds) could very well be used as a set-up guy, with Victor Arano, Hunter Harvey, Erasmo Ramirez and Paolo Espino likely sprinkled in as experienced options out of the bullpen as well. Matt Cronin, Jake Irvin, Jackson Rutledge, Mason Thompson, Jordan Weems and rookie Jose Ferrer are all listed on the 40-man roster and have a chance to compete for innings, while non-roster invitees Sean Doolittle, Alex Colomé, Wily Peralta, Chad Kuhl, Andres Machado, Tommy Romero and Jackson Tetreault will also be making every effort to appear on the Opening Day roster.
Doolittle, a 36-year-old former UVA standout, was part of the World Series team in 2019 before injuries shortened his 2020 season. He then left for Cincinnati in free agency and spent time with the Reds before finishing the 2021 season with the Mariners. He was re-signed by the Nats prior to last year's season-ending UCL surgery, but is reportedly fully healthy and will have a chance to rejoin the roster with an impressive spring.
The Future's So Bright
As mentioned, Washington boasts one of its top farm systems in years, and in Rizzo's opinion, there hasn't been a better group during his tenure with the team.
"It's the best group of upside players we've ever had here," Rizzo claims, adding that their continued development will be the "first rung on the ladder" in terms of getting back to championship-contender status. "I've been here since Day One, I've never seen it like this before."
The top three prospects — Hassell, Elijah Green and Wood — are all outfielders in the Nats' minor-league arsenal, along with No. 7 prospect Cristhian Vaquero.
Cavalli has a great chance to make the Opening Day rotation, while No. 5 Brady House, a shortstop, could eventually take over at third base on the big-league roster. Three more pitchers — No. 6 Cole Henry, No. 8 Jarlin Susana and No. 9 Jake Bennett — could take some time to improve their game to be ready for their first true taste of the majors, but Nats fans should certainly be excited about the future across the board.
One of the best parts about this time of the year is seeing those rising stars compete alongside the big-leaguers, and in some cases make enough noise to increase their long-term chances of a quicker promotion.
MLB Rules Changes
If you were a fan of "the shift," bad news. The league has officially outlawed the shift, requiring two infielders to be positioned on either side of second base, and also banning them from setting up in the outfield.
Also, in an effort to speed up the pace of play, there will now also be a timer implemented between each pitch — 15 seconds with nobody on base, 20 seconds with runners aboard. Should a pitcher exceed the time limit, he will automatically be given a ball. On the flip side, if a hitter is not set in the batter's box and "alert to the pitcher" in time (with 8 seconds showing), he gets a strike called.
The rule was experimented with in the minors last season, resulting in quicker games and increasing the number of stolen bases, as pitchers will also be limited to how many times they can throw over for a pickoff attempt per at-bat.
Finally, there will also be larger bases in 2023, in hopes of reducing player injuries. The bases will expand from 15 to 18 inches, which fans may not even notice too much, but the rule was put in place to cut down on the number of collisions on the base paths.
With all that being said, the first pitch of the Nationals' first game of Spring Training is scheduled for 1:05 p.m. Saturday in Jupiter, Fla., against St. Louis, the first of 29 games — including an exhibition against Team Israel on March 9 — in the Sunshine State to sort out who will appear on the Opening Day roster.
The Nats will return home to host a final exhibition tuneup against the Yankees on March 28 (12:05 p.m., MASN) before kicking off the regular season with a three-game set against Atlanta at Nationals Park, beginning on March 30.
"We've only got a few days before we really start playing games…," said Martinez. "Now it's just a matter of getting in game speed, game shape per sé, and get ready for this weekend."
Nationals Spring Training TV Schedule
Wed., March 1 at NY Yankees, 1:05 p.m. (ESPN)
Fri., March 3 at NY Mets, 1:10 p.m. (MLBN)*
Sat., March 11 vs. NY Mets, 7:05 p.m. (MASN)
Sat., March 18 vs. Miami, 1:05 p.m. (MASN)
Fri., March 24 vs. St. Louis, 6:05 p.m. (MASN)
*Out-of-market only