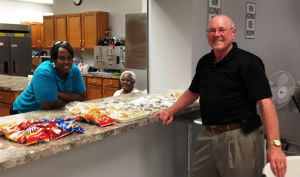 The Elkton Community Center held their annual Organizational Fair on May 22. A VPAS display with handouts was set up. Beth Bland, HR RD, Barry Elwood, ersc Local Council Chair, and Sherry Ross, Local Council member represented VPAS HR and ersc at the event. A number of people at the event shared that they had attended the Town Council meeting on May 19 and heard the VPAS presentation. Their comments were very positive. Several people requested information and one person donated adult undergarments that she no longer needed.
As a fundraiser for ERSC, donated food items were sold for dinner which most of the exhibitors and attendees enjoyed. Since Sherry is well known for her culinary skills it was an easy sale. A total of $190 was raised.
Approximately 20 organizations were represented at the fair.
More online at www.EastRockinghamSeniorCenter.org.