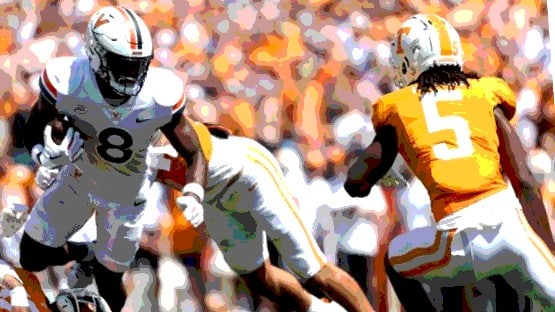 Saturday's 36-point drubbing by Tennessee was about the least stressful and frustrating football loss I've been through over my years of following Virginia football.
No screaming at the 65-inch TV mounted on my wall (Samsung QLED), no innocent dogs running for cover, no wife threatening to put my belongings on the sidewalk (she was away), all in all, just a nice Saturday afternoon.
The game played out to script as I expected it would.
It could have been worse. Much worse.
A few other college football powerhouses put up more than 70 points on overmatched opponents.
There was no doubt about Saturday's 49-13 loss to the Volunteers, from the opening kickoff.
Tennessee backed off the gas in the second half; they took it easy on us.
Were they bored? Or did they just get sloppy? Maybe both.
Saturday's game, while it should not be a benchmark moving forward this season, did raise some of the ongoing concerns about the program.
Why is the offensive line constantly rebuilding?
Good teams have solid and experienced O-lines; they just plug a player or two in every year, never missing a beat.
For the second consecutive season, Virginia is starting the season with a completely new cast of players across the front.
That's not good. Saturday proved why.
Missed blocks, guys overmatched at every spot on the line, and a center that was rolling the football to quarterback Tony Muskett snap after snap.
How is UVA looking for a field goal kicker again?
Is it that hard to find someone to kick the ball through the uprights? George Welsh found a darn good one on the soccer team. Tony Elliott should take in a Virginia men's soccer game. Or even a women's soccer game. No discrimination here. Wherever you can find a kicker.
The injury to QB Tony Muskett was concerning on many levels. It forced true freshman backup signal-caller Anthony Colandrea into the game, and begged the question, do we even have a third-string quarterback?
In 1984, Virginia lost its season opener 55-0 to Clemson. It was George Welsh's third year in Charlottesville.
Those Cavaliers were led by future NFL quarterback Don Majkowski.
Unfortunately, there's no Don Majkowski on this year's roster.
That's not encouraging.
The ESPN crew did about all they could to keep the TVs tuned in to ABC. They were also very respectful in their words honoring our fallen players.
Moving forward, the best way Virgina football can honor 1-15-41 is to start winning football games.
I personally knew D'Sean Perry, Lavel Davis Jr. and Devin Chandler. They would agree. Play hard, play smart, and some wins will come our way.
At some point, the coaching staff must redirect the efforts from simply competing and the moral victories to winning football games.
Hopefully Tennessee will continue to lay the wood to its opponents. It may take the sting out of Saturday's loss a bit, while advancing the notion that the Volunteers were that good.
Regardless of what happened Saturday in Nashville, it's now history. Time to focus on the rest of 2023.
Tony Elliott said of Saturday's game that there was a lot of learning from the experience of playing Tennessee, and that "we'll flush it Sunday and Monday."
That's right coach, as the late Jimmy Buffett sang, "Come Monday," it'll be alright.