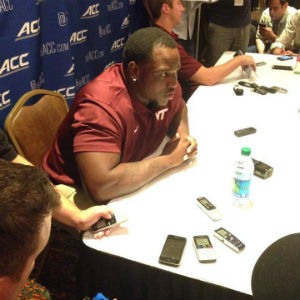 Q. As we get camp started in August, what's the number one goal?
LUTHER MADDY: My number one goal is to get the young guys, get their feet going fast. We lost a lot of experience in the front seven, so we just want the young guys to get comfortable with offenses, watching film, comfortable with blocking schemes and stuff like that.
Q. I asked Willie about kind of the drought in between big-time bowl games for this program. Is Coach Beamer talking to you guys about that at all? Is that something that's brought up and emphasized that we don't want to be good anymore, we want to be great again?
LUTHER MADDY: In my opinion any bowl game is a good bowl game. I really appreciate those guys that put those things together. Yes, I think we need to get back to going to the BCS bowl games. Sugar Bowl my freshman year, Orange Bowl the year before that, so we need to get back to the 10-win seasons, the Beamer Ball that we're used to playing.
Q. You talked about some losses on the front seven. As far as you being a leader as a senior, first part of the question, and the second part being some of those guys that you really think are going to step up this year with those losses that came?
LUTHER MADDY: You said who do I think will step up?
Q. Who will step up and how do you look at yourself as a leader?
LUTHER MADDY: I've been kind of a second-tier guy the past three years because we had so many older guys in front of me, but now that I came back my senior year, it's definitely my time to step up and be the leader. I've taken that role. I think I've been doing a pretty good job, trying to lead by example, getting all my reps during workouts and doing things right to those guys can follow me. I think the person who is going to step up and break through this year is Dadi Nicolas. He's very athletic, 4.4-type 40-plus in spurts. He's really athletic. He's cause havoc for a lot of offenses this year.
Q. The past couple seasons there's been such a disparity between the offensive production and what you guys have been able to do on defense. Do you think that gap is getting any closer, and as a defense, does that put any more pressure on you guys to kind of overcome what the offense hasn't been able to do?
LUTHER MADDY: I'm not going to say I think the defense is perfect. Guys are still scoring points on us. We're not leaving the game with zero points on the scoreboard, so we can definitely improve in our game, also. But I think the offense, the spring workouts and summer preparation and spring ball, they've been taking big strides, and I think we're going to have a really great year this year.
Q. Last season ended on a sour note for you guys, a lopsided loss to UCLA. Is that a game you keep in the back of your mind for motivation, or do you just flush it and move on?
LUTHER MADDY: I mean, it's definitely motivation. It's the last game that we played during the regular season. I think on both sides of the ball we didn't play a very good game, we weren't very focused, we didn't prepare good enough for that game, so I think me being a leader, I think about that game in my preparation and try not to let it happen again and try to prepare our guys better for games this year, being more mentally focused.
Q. Last season you started out the season with Alabama. This year you're coming in, you start with William & Mary, but the week after you go to The Horseshoe and play ohio state. Talk about the significance of playing these big games to start out the season?
LUTHER MADDY: First of all, like you said, we play William & Mary first so we've got to take them into consideration, get that win with William & Mary, then we'll start worrying about ohio state. I think Ohio State, playing a big-name team out of conference gets us more respect, gives us more respect for the ACC, so to improve our record when playing those big-time teams, getting winning records against them.
Q. You've had the chance in your four years to be part of an incredible program through notoriety, through the head coach. What have you learned? What have you seen? What will you take away after this year?
LUTHER MADDY: Out of Virginia Tech?
Q. Yeah.
LUTHER MADDY: Like I was telling a couple guys earlier, when it comes to Coach Beamer and Coach Foster and a couple assistant coaches, they don't just teach us football, they teach us how to be better men, to be better men, better husbands, to live life properly, to be successful. They teach us that. I am really blessed and grateful that I took the scholarship to Virginia Tech. I appreciate those coaches. These past three years I think I've definitely become a better man. I still have another year left, and I'll just keep taking strides.
Q. You talked about defensive losses, but Virginia Tech has always had major defensive losses. It's a who's who of college football over the last 20 years. What is it about Coach Foster that he's able to rebuild a defense with whomever is there, and I want to ask about his secondary philosophy in particular because Virginia Tech has had a as good a secondary the last couple years as anybody and perhaps will again this year?
LUTHER MADDY: Yeah, like you said, Coach Foster is a great coach, but a lot of people forget about his assistant coaches, Coach Gray and Coach Wiles and Coach Brown, those guys do a very good job. You've got to give them consideration for our success on defense. Without them I don't think we'd be as successful. Those guys do a really great job, and Assistant Coach Foster, helping them game plan, coaching us the right way. So I'm really grateful Coach Wiles and Coach Gray. Coach Gray has a great secondary year in and year out. You have to look at the assistant coaches and see what they do, and they're doing a very good job at what they do, also.