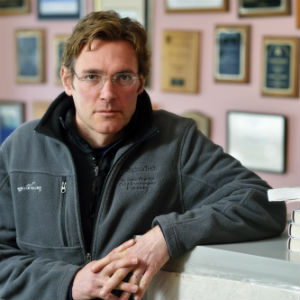 Virginia Tech's Marc Edwards and his team of research scientists and students will give a presentation at 7 p.m. Thursday night, Jan. 28, in Blacksburg to outline their internationally recognized work — done in collaboration with Flint, Michigan, residents — that exposed widespread lead-in-water contamination.
The presentation will provide an overview of the Flint Water Study team's efforts combining ethics engineering, citizen science, laboratory experiments, investigative science, and social media to confirm the high lead levels in Flint's water. The event in Quillen Auditorium, located in Goodwin Hall, 635 Prices Fork Road, is open to the public. Parking is available after 5 p.m. in the adjacent lots to Goodwin Hall and the Perry Street garage. It will also be broadcast live online. A live stream link will be posted on the Virginia Tech homepage.
Flint's 100,000 residents were exposed to lead-tainted water for over 18 months. Virginia Tech's role in uncovering the problem has been widely reported by media around the world.
President Obama declared a state of emergency in Flint, and nearly $100 million has been committed to aid Flint in relief and recovery. Edwards said that as a result of the recent developments in Michigan "we now feel that Flint's kids are finally on their way to being protected and decisive actions are under way to ameliorate the harm that was done."
"No matter what, our overall balance sheet will be closed out as 'priceless,' because… we defended the truth and Flint residents with sound science," Siddhartha Roy of Palanpur, India, a Virginia Tech civil and environmental doctoral student and communications director for the Flint Water Study team, wrote on the group's website.
Background
With rising costs to purchase water, Flint, Michigan, began to work with other Michigan counties to construct a pipeline from Lake Huron. In the interim, a decision was made to use the Flint River as the city's water source. Unfortunately, there was no plan to control the corrosivity of Flint River water. After the switch, Flint residents complained of rusty red-water, high bacteria and rashes, and disinfection byproducts. They were repeatedly told by workers at the Michigan Department of Environmental Quality that there was nothing to worry about.
In early 2015, Flint resident LeeAnne Walters' four-year-old son, who has a compromised immune system, broke out into scaly rashes; and her 14-year-old son became extremely sick and missed a month of school, illustrating problems that afflicted many Flint residents.
Walters was compelled to become a citizen scientist who sought out EPA water expert Miguel Del Toral. After Walters determined her child was lead poisoned, she sought out Edwards, widely-known for his work in bringing to light water quality issues within Washington, D.C., and for winning a MacAuthor Fellowship in 2007, to have her water sampled. Results from her tap exceeded 13,000 ppb, well over hazardous waste levels.
In August of 2015, Edwards and his team formally launched their relief effort and then continued their work as part of a National Science Foundation-funded $50,000 one-year study into what Edwards calls a "perfect storm" of water distribution system corrosion problems.
After coordinating a comprehensive city-wide sampling effort of 277 homes, alongside Flint citizen activists, the Virginia Tech team of engineers and scientists concluded that Flint's water suffered from serious lead contamination as well as bacteria problems including Legionella. Independent research by Hurley Medical Center (Dr. Mona Hanna-Attisha) and the Genesee County Health Department later discovered higher levels of lead poisoning in children and an outbreak of Legionnaire's disease (resulting in 9 deaths).
"Lead is the best known neurotoxin, it adversely impacts every system in the human body," said Edwards.
Many old cities in the United States, including Washington D.C., Philadelphia, New Orleans, Detroit and Flint, have lead pipes in their water distribution system or lead-bearing plumbing inside homes, which can be a significant source of lead exposure to children. When water sits in those pipes, lead can leach into the water. But without corrosion control, even more lead leaches into the potable water.
The Flint Water Study Team
The Flint Water Study team comprising of Edwards —  the Charles Lunsford Professor with the Virginia Tech Charles E. Via Jr. Department of Civil and Environmental Engineering, environmental engineering faculty member and professor Amy Pruden, Joe Falkinham, of the Department of Biological Sciences within the Virginia Tech College of Science, and a cohort of Virginia Tech researchers and students, will further explain the details of their  work at Thursday night's event.
Support for Marc Edwards and his research can be contributed online. Under Gift Amount and Designation heading, click on "Enter your Own," and fill in, "Flint Water Study research fund."
The civil and environmental engineering graduate students presenting at the Thursday's event include:
Rebekah Martin, of Midlothian, Virginia;
Min Tang of Chingqing, China;
William Rhoads of Joplin, Missouri;
Emily Garner of Swanton, Maryland;
Christina Devine of Alexandria, Virginia;
Anurag Mantha of Hyderabad, India;
Ni Zhu of Hubei, China;
Pan Ji of Xianyang, China;
Siddhartha Roy of Palanpur, India;
In addition Margaret Carolan, of Stafford, Virginia, an undergraduate in the College of Natural Resources and Environment; and Otto Schwak, post-doctoral researcher, also with civil and environmental engineering, will help with the presentation. Go to the team's website to see all of the other students working on the project.