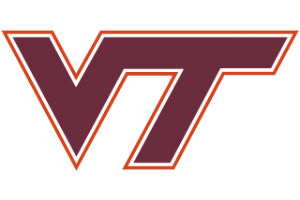 The ACC Kickoff is a time to look at where each team is and to look ahead to the 2022 season. Virginia Tech coach Brent Pry is excited about the team's chances to be good this upcoming campaign, but he couldn't help but think a bit about the future while in Charlotte.
While at the podium conducting interviews on Thursday, Pry paused, pulled out his phone and said, "Oh, excuse me. We just got a commitment."
He then turned to his trio of players on the stage and said to them, "We just got better, guys."
That's because the Hokies landed a pledge from Richmond cornerback Cameren Fleming. A three-star recruit, he plays at Trinity Episcopal and is the ninth commit from the state in the 2023 class.
"I am going to Virginia Tech," the 6-foot, 185-pound Fleming said, according to 247 Sports. "It was just the right fit for me and my family. Not sure if many people know, but I was committed to Minnesota for a bit, silently, and I thought I was really following my heart to go to Minnesota, but then I kept second-guessing staying home and playing ball for the Hokies.
"I have a great group of guys coming in with me in Braylon Johnson and Dante Lovett, and our relationship has been growing so it was kind of a no-brainer to stay home and play ball for Tech."
The No. 17 recruit in Virginia according to 247 Sports, he picked Tech over UNC, Arkansas, FSU, Tennessee and West Virginia, among others.