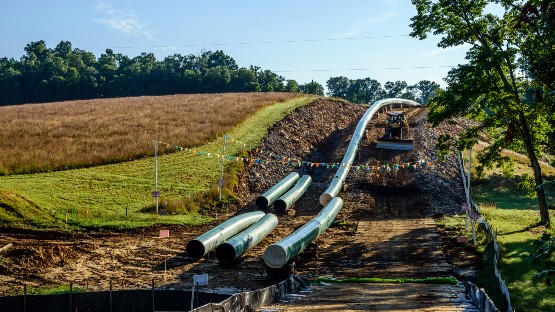 An amicus brief was submitted today by five members of Congress in support of a lawsuit to prevent the automatic approval of the Mountain Valley Pipeline.
The pipeline, which would be built through Virginia and into northern North Carolina, is being sued by the Southern Environmental Law Center and the Wilderness Society. In The Wilderness Society v. United States Forest Services et. al. and Mountain Valley Pipeline LLC, the constitutionality of Section 324, the Mountain Valley Pipeline provision is challenged, which is included in H.R. 3746, the Fiscal Responsibility Act, legislation to raise the nation's debt ceiling and avoid a catastrophic default.
The brief is from U.S. Reps. Jennifer McClellan, Don Beyer, Gerry Connolly, Robert C. "Bobby" Scott and Jennifer Wexton, all representing districts in the Commonwealth.
"The MVP has drawn community objections because it would extend roughly 300 miles through Appalachia, damage hundreds of streams, harm several acres of wetlands, and require a taking of private property from many Virginia families," the lawmakers wrote in the brief. "At a minimum, this Court should retain jurisdiction until it has heard Petitioner's claims on the merits. Short-circuiting ongoing litigation to greenlight the MVP — before a substantive hearing on Petitioner's new claims has even been afforded — is plainly contrary to the public interest."
The lawmakers assert that the pipeline provision sidesteps National Environmental Policy Act (NEPA) protections, silences the voices of impacted communities and represents a constitutional violation of the separation of powers between Congress and the judiciary.
"[We] opposed inclusion of Section 324 in the Fiscal Responsibility Act of 2023 because it ran roughshod over access to Article III courts in pending cases for the most vulnerable of Virginia citizens — including low-income, elderly and Indigenous populations," the lawmakers wrote. "[We]… request this Court deny the pending motions from Respondents' and Intervenor and allow Petitioner's claims to proceed until they can be afforded a substantive hearing on the merits. Our constituents deserve to have their day in court on the new claims they have raised in the underlying petitions."
After release of the text of the Fiscal Responsibility Act was released, Virginia Democratic House Members submitted an amendment to strip the MVP provision from the bill. House Republicans blocked the amendment.