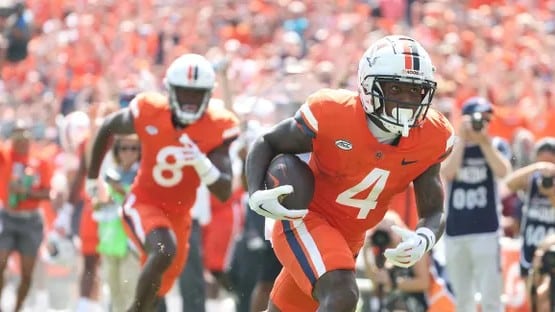 Virginia wide receiver Malik Washington was named the ACC Offensive Receiver of the Week, announced by the league office on Monday.
On Friday night against NC State, Washington established career highs in receptions (10), receiving yards (170) yards and touchdown receptions (2). He had 107 yards after contact and had a long reception of 59 yards in the contest.
His last TD catch came with 36 seconds remaining that allowed UVA to tie the game at 21 before falling 24-21.
Washington extended his consecutive games with a reception streak to 29.
With 119 receiving yards vs. JMU, 141 at Maryland and 170 against NC State, Washington became the third Cavalier ever to record three-straight 100-yard receiving games in a season.
Dontayvion Wicks did it in 2021, and Germane Crowell had three-straight 100-yard games in 1997.
Washington did not have a 100-yard effort in his first 41 games of his collegiate career, including all 40 at Northwestern.
Washington is one of 12 receivers in UVA history to record 170 receiving yards or more in a game. He currently leads the ACC in receptions per game (7.0), receiving yards per game (114.75), total receptions (28) and total reception yards (459).
QUARTERBACK – Jack Plummer, Louisville, QB, Gilbert, Ariz.
Plummer finished 18-of-21 for 388 yards passing with five touchdown passes and no interceptions in addition to a nine-yard touchdown run in Louisville's 56-28 win over Boston College. The Cards totaled 582 yards of total offense and scored touchdowns on seven straight possessions. Plummer is the first Louisville quarterback to pass for five touchdowns in a single game since 2021 and only the 12th quarterback in school history to throw for five scores in a game. He became the first UofL player to account for 36 points since Malik Cunningham had six touchdowns versus Syracuse in 2019. Plummer completed five passes of at least 40 yards each, giving him nine on the season, and completed 15 straight passes before an incompletion on his final attempt, tying him for the fourth-longest completion streak in program history.
RUNNING BACK – Jawhar Jordan, Louisville, RB, Long Island, N.Y.
Jordan rushed for 134 yards on 18 carries, including touchdowns of 33 and two yards to go with a 75-yard touchdown reception, in Louisville's 56-28 win over Boston College. Jordan logged his seventh career 100-yard rushing game, all coming in the last nine games, and has rushed for 478 yards and six touchdowns this season in four games.
OFFENSIVE LINEMAN – Bryan Hudson, Louisville, C, Georgetown, Ky.
Hudson started at center and guided the Cardinals' offense to a 56-28 win over Boston College. Hudson didn't allow a sack and graded out at 89 percent as the UofL offense recorded over 500 yards for the second time this season. Louisville finished with 582 yards of total offense, its 30th-highest total in program history and second 500-yard game under head coach Jeff Brohm. Louisville scored touchdowns on its first seven possessions for the first time since scoring touchdowns on its first 10 possessions versus Murray State in 2007.
DEFENSIVE LINEMAN – Kaimon Rucker, North Carolina, Jack, Hartwell, Ga.
Earning his second weekly honor this season, Rucker tallied seven total tackles, two tackles-for-loss, two sacks and two quarterback hurries in North Carolina's 41-24 road win at Pittsburgh. North Carolina is 4-0 to start the season for the first time since 1997.
LINEBACKER – Kalen DeLoach, Florida State, LB, Savannah, Ga.
DeLoach totaled seven tackles, including two sacks for 15 yards, one forced fumble and a recovery returned 56 yards for a touchdown. He sacked Clemson for a 15-yard loss, forced the fumble, recovered the fumble, and ran 56 yards for a game-tying touchdown as the Tigers were driving to extend the lead late in the third quarter. The FSU defense allowed just seven points after halftime in a comeback overtime victory at Clemson, snapping the Tigers' 25-game ACC home winning streak.
CO-DEFENSIVE BACK – Renardo Green, Florida State, CB, Orlando, Fla.
Green finished with seven tackles, one tackle-for-loss and one pass breakup in the Seminoles' overtime win at Clemson. The tackle-for-loss came on third-and-1 in overtime with Clemson trying to tie the game. The Noles forced an incompletion on fourth down to secure their first win versus Clemson since 2014.
CO-DEFENSIVE BACK – Jaylon King, Georgia Tech, DB, La Vergne, Tenn.
King had two interceptions – tied for the most by an ACC player and the third-most by any NCAA Division I FBS player this season – to help lead Georgia Tech to a 30-16 win at Wake Forest. Both of his interceptions came in GT territory – the first thwarting a Wake Forest scoring threat in the second quarter and helping stake the Yellow Jackets to a commanding 20-3 halftime lead and the second coming at the GT 10-yard line in the waning seconds of the game and ending any possibility of a Wake Forest comeback. King became the first Yellow Jacket with two interceptions against an FBS opponent since A.J. Gray vs. North Carolina in 2017. He also added five tackles and a pass breakup.
SPECIALIST – Alijah Huzzie, North Carolina, PR, LaGrange, Ga.
Huzzie tallied two punt returns for a total of 81 return yards, including a 52-yard punt return for a touchdown in North Carolina's 41-24 win at Pittsburgh. With the win, North Carolina is 4-0 to start the season for the first time since 1997.
ROOKIE – Kevin Concepcion, NC State, WR, Charlotte, N.C.
Concepcion totaled 116 receiving yards on six catches in NC State's 24-21 road victory over Virginia in the two teams' ACC opener. The true freshman wideout averaged 19.3 yards per catch and scored two touchdowns, including a 48-yard catch and run. The first true freshman receiver to start the first four games of the season for the Wolfpack since 2014 (Bo Hines), Concepcion has accounted for 27 percent of the Wolfpack's receptions this season.