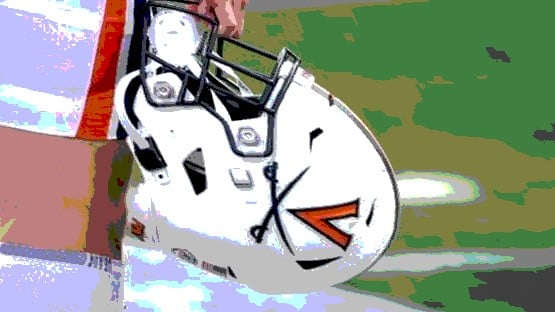 With fall camp wrapping up last week and the new college football season right around the corner, one of the most intriguing storylines — not just on the UVA practice field, but in all of sports — has been the tale of 34-year-old kicker Matt Ganyard battling for a starting role with the Cavaliers' special teams.
In case you haven't heard, Ganyard, who is married with two kids, is a UVA graduate who went onto a career in the military before joining the team prior to the start of fall camp.
Ganyard has been impressive, giving incumbent second-year starter Will Bettridge a run for the first-team kicking duties in both the kickoff department and on extra points and field goals.
Special teams coordinator and running backs coach Keith Gaither said last week that Ganyard has been "a pleasant surprise," and that he could very well be handling kickoffs in the opener Saturday night in Nashville against Tennessee.
"It's a heated competition in the place kicking as of right now between Will and Matt," Gaither said last week, "and we'll see the best man win, but they both were competing for kickoff and field goal. So that's been a heated competition which should go into next week… Matt's not taking a back seat to Will."
Bettridge, who hails from Miami, will be switching jersey numbers from No. 17 to 41 this season in honor of fallen teammate D'Sean Perry. Both Bettridge and Perry attended Gulliver Prep in Florida, and he has made it a point to honor his fallen teammate's memory throughout the season.
"He's been way more mature compared to last year, which you expect that as a first-year to continue to get better," Gaither said of Bettridge. "Going into year two, he's still got a lot of room to grow up, and he should be better. He's ultimately already stronger, he's kicking it a little bit better — one area is better than the other. So we've got to continue to work with him, but he's definitely more mature, a little bit more reliable and more consistent from last year."
Bettridge, listed at 5-foot-10, 175 pounds, had a solid freshman season, connecting on 12 of his 14 point-after attempts and 7 of his 10 field-goal tries, including a career-long, 47-yarder against Louisville. He became the first Wahoo kicker to convert four field goals in a game since Ian Frye in 2015 when he hit from 24, 27, and twice from 41 yards out against Miami on Oct. 29.
Brendan Farrell (5-for-6 extra points; 4-for-8 field goals for UVA in '22) transferred to South Florida and Justin Duenkel is no longer on the roster, leaving the competition between Bettridge, Ganyard, sophomore Vadin Bruot and freshman Elijah Slibeck.
Senior punter Daniel Sparks was the lone Wahoo to make the Preseason All-ACC Team last month, and the Minnesota transfer is expected to have another successful year. The 6-6, 213-pounder punted 46 times last season (12 of them downed inside the 20-yard line) for a total of 2,113 yards, an average of 45.9 yards per boot (tops in the ACC and eighth in Division I), tying the school's single-season mark. Gaither said everything revolves around what Sparks can do with his leg.
"Sparky is just like a quarterback. He's a weapon," said the coach. "I mean, he can flip the field with his kick. He's done a great job as far as ball placement and hang time, and we've got to do a good job protecting him and allowing him to be himself, because he is a weapon for our team."
Graduate Aidan Livingston, who transferred in from Boston College prior to last season, is expected to retain the long-snapping duties. In terms of punt and kickoff coverage, Gaither is pleased with the groups he has at his disposal.
"We're still a work in progress, but it should be much improved," he said. "But it starts with ball placement, and then it starts with obviously having some capable gunners that can get down there and force a fair catch or down the ball. So we worked really hard at that as far as the coverage aspect of it."
On the flip side, speedy veteran wideout Demick Starling, sure-handed sophomore Ethan Davies and true freshman Suderian Harrison are all among the group of Cavaliers who could be called upon to return kicks in 2023, according to Gaither.
Starling got the bulk of the kickoff-return work a year ago, hauling in 14 of them for 306 yards (21.9 per return), while Davies has the most experience returning punts (he snagged 5 of the team's 13 last year) following the departure of Billy Kemp IV, who transferred to Nebraska in the offseason.
"He's a legit 10.4 guy, he's as fast as most college players in the country, and so he's capable of scoring every time he touches the ball," Gaither said of Starling.
Harrison, meanwhile, is an intriguing, athletic newcomer who has impressed Gaither enough in camp to have his name included in the conversation.
"During the recruiting process with Suderian, he played quarterback, he played defensive back. We knew he was going to be athletic," said Gaither. "We knew he could help us on special teams, so we're not surprised. He's been taking reps as the punt returner and as a kickoff returner. He's got room for improvement, but he's a guy that's gonna be thrown in the mix early."
Familiar names Mike Hollins (5 kickoff returns last season) and Perris Jones (1), as well as a couple of transfers — WR Malik Washington (Northwestern) and RB Kobe Pace (Clemson) — were also mentioned by Gaither when asked who could see time in those returner spots throughout the campaign.
"We've got a buttload of guys that are more than capable of getting the job done…," the coach pointed out. "We've got a large number of guys that are capable of going, so that makes me feel good as the guy that is making the call. They've just got to show and prove during the game."