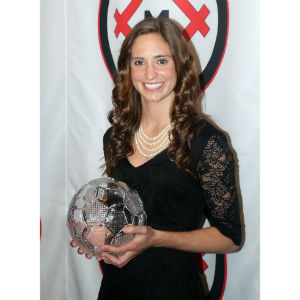 UVA senior midfielder Morgan Brian (St. Simons Island, Ga.) was named the winner of the 2014 Missouri Athletic Club's hermann trophy during Friday's banquet in St. Louis. Brian, who also won the award last year, became just the fourth woman to repeat as the recipient of collegiate soccer's most prestigious award.
Brian was honored along with of Leo Stolz of UCLA, who was the men's recipient of the award. The winners were decided by a vote of NCAA Division I soccer coaches whose programs are current members of the National Soccer Coaches Association of America (NSCAA), along with a fan vote that cumulatively counted as the equivalent of one coach's vote. Dagny Brynjarsdottir of Florida State was the runner-up for the women's award and Sam Mewis of UCLA was third in the voting.
"I want to thank my teammates and coaching staff and Virginia, because this honor belongs to them too," said Brian. "This award means a lot. When you hear the list of previous winners and you know what they have accomplished, to be part of group, especially as a two-time winner is an incredible honor. This a great way to end my college career."
Brian, who was also named the TopDrawerSoccer.com National Player of the Year for the second consecutive season, had 10 goals and 14 assists in 2014, appearing in 18 games as the Cavaliers reached the NCAA final for the first time. The first three-time NSCAA First-Team All-American in Virginia history, she was named the 2014 U.S. Soccer Young Female Athlete of the Year. Brian missed eight games this season because of international duty as she was the only collegiate player on the United States Women's National Team for the CONCACAF World Cup Qualifying tournament in October. Upon her return to the lineup, she was the leading scorer in this year's NCAA Tournament with four goals and nine assists, including tying the NCAA Tournament single-game record with five assists in the 8-0 first-round victory over High Point.
Brian joins Mia Hamm of North Carolina (1992 and 1993), Cindy Parlow of North Carolina (1997 and 1998) and Christine Sinclair of Portland (2004 and 2005) as the only repeat female winners of hermann trophy. Kerri Hanks of Notre Dame also won it twice, in 2006 and 2008, but not consecutively.
"On behalf of the University of Virginia we would like to thank the Missouri Athletic Club, the NSCAA, and the city of St Louis for hosting and presenting the hermann trophy honoring the top college soccer player in the country," said Virginia head coach Steve Swanson. "Obviously, we are thrilled for Morgan and her family that she has won this prestigious honor for the second year in a row. It is no small feat when you consider the caliber of players who have distinguished themselves this season, including Dagny Brynjarsdottir and Sam Mewis, the other finalists. Like Dagny and Sam, Morgan is an exceptional talent who has not only helped our program reach new heights during the past four years, but has also helped elevate the college game with her skills, creativity and teamwork. As sad as we are to see her leave our program at Virginia, we are proud of all her contributions to the program, proud of the way she has competed and carried herself these last four years, proud of her hard work academically, but most of all, we are proud of Morgan Brian the person. She is one of a kind and we are confident that she will continue to be a leader, both on and off the field, in the years to come."
Brian is one of five Virginia players to receive the crystal ball as the nation's top player, joining the four Cavalier men to be named hermann trophy winners: Tony Meola (1989), Claudio Reyna (1993), Mike Fisher (1995 and 1996) and Alecko Eskandarian (2002). Virginia is one of three schools to produce both a men's and women's hermann trophy winner, along with Notre Dame and Penn State.