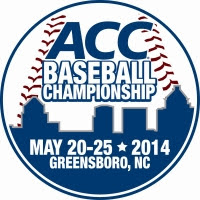 The UVA baseball team dropped a 7-6 contest to Maryland Thursday in the Cavaliers' first game at the 2014 ACC Baseball Championship at NewBridge Bank Park in Greensboro, North Carolina. Virginia (43-12) is next in action in the pool-play format at 7 p.m. Friday when it takes on North Carolina. The Cavaliers also are slated to face Florida State at 7 p.m. Saturday.
Nick Howard (Jr., Olney, Md.) recorded a career-high four hits, going 4-for-4 for Virginia, which finished with a dozen hits. Derek Fisher (Jr., Rexmont, Pa.) and Joe McCarthy (So., Scranton, Pa.) each hit two-run home runs for the Cavaliers. The game featured six home runs, as Maryland (35-19) hit four, the most allowed by Virginia since June 14, 2010, against Oklahoma. Coming in, Virginia had allowed just 16 home runs in 54 games in the regular season.
Virginia reliever David Rosenberger (So., Bethlehem, Pa.) took the loss and fell to 1-1 after allowing three runs in two-plus innings. UVa starting pitcher Artie Lewicki (Sr., Wyckoff, N.J.) worked five-plus innings, giving up four earned runs, five hits and no walks while striking out three.
Maryland starting pitcher Jake Stinnett (7-6) earned the victory after firing eight strong innings. He gave up four runs (three earned), eight hits and no walks while striking out 10 in earning the win. Kevin Mooney pitched the ninth inning to notch his 10th save.
The Terrapins struck quickly for the game's first run as Charlie White cranked a leadoff home run down the right-field line in the first inning.
Virginia used the long ball to take the lead back in the second inning. After a leadoff single by Howard, Fisher launched a two-run home run over the right-center field wall for his third homer of the season.
Maryland took a 3-2 lead in the fifth inning. Blake Schmit and Tim Lewis hit back-to-back doubles to start the inning and tie the game. A groundout moved Lewis to third, and he scored on an Anthony Papio sacrifice fly.
UVa knotted the score in the bottom of the inning. A one-out fielding error allowed Mike Papi (Jr., Tunkhannock, Pa.) to reach base. He moved to second when Branden Cogswell (Jr., Ballston Lake, N.Y.) singled and scored on a two-out single to left by Howard.
Maryland promptly responded in the sixth on a leadoff home run off the scoreboard in right-center by LaMonte Wade. UVa again countered in its half of the inning when Nate Irving (Jr., Yonkers, N.Y.) blooped a two-out single to right to bring home Daniel Pinero (Fr., Toronto, Ontario) from second base.
The Terrapins took the lead for good in the seventh inning as Rosenberger hit Papio with a pitch with two outs and Kevin Martir followed with a two-run home run to left field. Maryland added a run in the eighth when Wade led off with his second homer of the day.
Virginia made things interesting in the ninth inning when McCarthy cranked a two-run homer to right field with one out, his sixth homer of the year. Howard then drew a walk before Fisher hit a screaming liner on which Schmit made a terrific leaping grab at shortstop. Mooney struck out John La Prise (So., Exton, Pa.) on a 3-2 pitch to end the game.