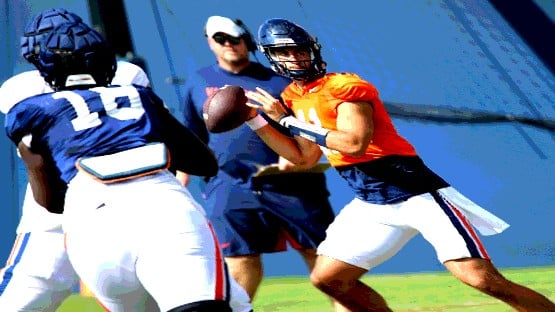 The big news from earlier in the week out of UVA football camp was Tony Elliott telling us that Anthony Colandrea is pushing Tony Muskett for the starting QB job, and that Delaney Crawford is moving from quarterback to wideout to try to get on the field this fall.
Offensive coordinator Des Kitchings provided updates after practice on Thursday on how things are going with those three.
Starting with the QB1 battle, Kitchings hedged when asked by a reporter about the battle between Muskett, a three-year starter at Monmouth, a mid-tier FCS school, and Colandrea, a three-star recruit who enrolled a semester early so that he could take part in spring practice in 2023.
"They both have been really good, honestly," Kitchings said. "Tony has been very consistent and efficient throwing the football, commanding things. Colandrea has gotten better each week, each practice, rather. With that, you can see his growth from the spring through the summer, and it's been fun to see, because it gives you look some comfort knowing that you have two quality guys."
Kitchings sounds like he's trying to tell us that Muskett, the presumed starter going into camp, after Jay Woolfolk, the backup to Brennan Armstrong the past two years, decided to step away from football to focus on his promising baseball career, is still at the top of the depth chart.
But you could tell that he likes the young guy.
"You know, obviously, Anthony had played any college football, but he's wired the right way," Kitchings said. "He's a competitive guy, you know, he's got a chip about him, a little undersized guy, so he's always in here competing and wanting to know, how can he get better."
Here's to hoping that he can get better getting the second-team reps, preparing as the backup each game week, and ultimately not having to take any live-game snaps this fall, so that he can get all of that and still keep his redshirt.
Next, to Delaney Crawford. Crawford, a sophomore, was passed on the QB depth chart by Colandrea, and on his own volition approached Elliott and Kitchings to tell them that he wanted to move to receiver so that he could try to help the team from there.
A champion sprinter and hurdler in high school, Crawford could make a difference with his game-breaking speed, once he gets the nuances of the position down.
"His learning curve obviously has to change from being a quarterback to a receiver. But athletically, you know, he's a six-two kid, 190 pounds, and he can run, you know," Kitchings said. "Now he's got to get more comfortable with catching the football, some of those things, but I mean, I believe we can get him up to speed if need be. And he wants it. That's the key thing, he wants it. It was his decision to do it. So then he'll work at it."
Is there room for him to contribute at wideout? Kitchings seems to think so.
The OC said he likes where the wideout room is right now, citing his expectations for Northwestern grad transfer Malik Washington, who had a team-best 65 catches for the Wildcats in 2022, and Malachi Fields, a supersized 6'4", 220-pound big target.
"Demick Starling has had a tremendous camp thus far, JR Wilson, you know, Ethan Davies, Suderian Harrison, Jaden Gibson, right there, that gives us seven, you know. If we can get to eight guys, add another one to that mix, I think that'd be good for us," Kitchings said.